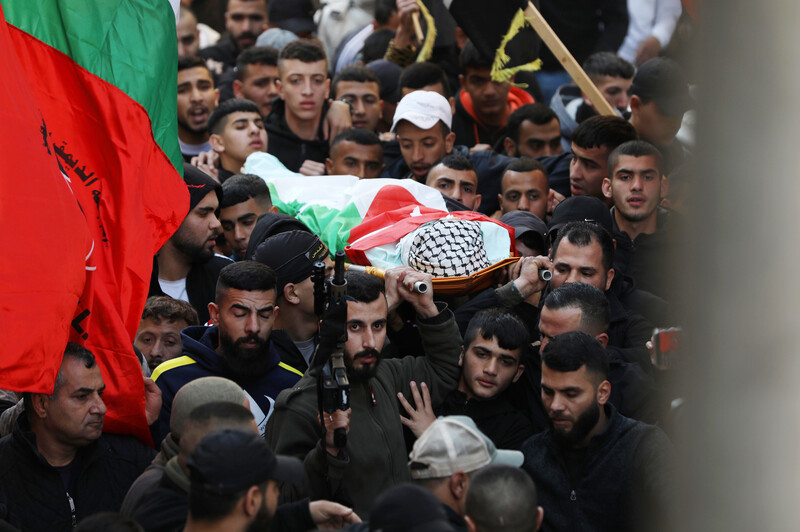 There has been no let-up in Israeli violence against Palestinians in the occupied West Bank this week as a second Palestinian child was killed by Israeli forces.

As dawn broke on Tuesday, an Israeli undercover unit entered al-Faraa refugee camp in the northern West Bank in a car with Palestinian Authority license plates.

While cordoning off a house in the neighborhood, Israeli snipers positioned themselves on the roof of another building.

Several children were standing about 80 meters from the cordoned-off house when Mahmoud Majed al-Aydi started walking towards another house about 100 meters away from where snipers were stationed, according to the Palestinian Center for Human Rights, which investigated the killing.

An Israeli soldier opened fire on the 17-year-old, shooting him in the head. He was declared dead hours later.

Defense for Children International-Palestine (DCIP), another human rights group that also conducted a field investigation, confirmed that "an Israeli sniper stationed on top of a building about 100 meters (328 feet) away shot Mahmoud in the left side of his head with a live bullet."

The Israeli army claims that "a suspect approached the forces with a bomb," but there's no evidence to support this.

The teenager was carrying a small oxygen cylinder, according to the Palestinian Center for Human Rights, which also interviewed eyewitnesses.

It is also doubtful that the teen could have posed any imminent threat to the invading soldiers from such a distance.

The Israeli incursion sparked confrontations between unarmed Palestinians and Israeli occupation forces, according to DCIP.

Mahmoud Majed al-Aydi's killing on Tuesday brings to 11 the number of Palestinian children killed by Israeli fire since the beginning of the year.

On Sunday, Israeli forces killed a 14-year-old boy during a raid on Jenin refugee camp.

"Israeli forces' near-daily incursions into Palestinian communities too often result in an Israeli soldier's bullet in a Palestinian child's body," said Ayed Abu Eqtaish, accountability program director at DCIP.

On Monday, another Palestinian, Amir Bustami, died of injuries suffered during an Israeli invasion of Nablus.

Israeli forces also wounded at least five other Palestinians with live bullets as well as rubber-coated steel bullets.

Local media circulated Bustami's picture following his killing:
Death of Israeli officer
Later on Monday, an Israeli Border Police officer died from injuries suffered earlier that day in what the Israeli police claim was a stabbing attack followed by an unintentional shooting by another Israeli.
Israeli police claim they were conducting a "routine inspection" on a bus near the entrance of the Shuafat refugee camp in occupied East Jerusalem when 13-year-old Palestinian child Muhammad al-Zalbani pulled out a knife and stabbed Asil Suead, an officer in Israel's paramilitary Border Police.
A "civilian" security guard accompanying Suead opened fire supposedly in an attempt to "neutralize" the child, but he ended up shooting Suead instead.
Suead later died from his wounds. A member of the Palestinian Bedouin community which is forced to do military service by Israel, Suead reportedly stayed on voluntarily in the Border Police following his mandatory service.
The Border Police is notorious for its brutality against Palestinians.
Israel's track record of lying and distorting facts when it comes to alleged Palestinian attacks makes it impossible to know for certain what happened on the bus.
Israel initially claimed that the 13-year-old "terrorist" had injured Suead while omitting the fact that the latter also sustained a gunshot wound. The Israeli police only later admitted that the officer was shot by one of his own comrades. It is also difficult to believe a child could have done much harm to an armed combatant who was presumably also wearing body armor.
Israeli occupation forces invaded and ransacked Muhammad al-Zalbani's home in Shuafat refugee camp and detained his parents and other members of his family.
Paralyzed Palestinian dies of injuries
Meanwhile, a Palestinian man who had been shot and paralyzed by the Israeli military in 2021 succumbed to his wounds on Tuesday.

Harun Abu Aram, 24 at the time, was shot while he and others were trying to take back a generator that soldiers had confiscated from a family living in the Masafer Yatta area south of Hebron.

Israel had declared the area a military firing zone, one of its common tactics to force Palestinians off their land so it can later be taken over by Jewish settlers.

The Israeli military investigated the incident, which was caught on video at the time, cleared itself of any wrongdoing, claiming its soldiers were acting in self-defense.

The Palestinian Authority refused to support Abu Aram's family financially so that he could receive rehabilitation in Israel.

His father requested that the Israeli government pay for his son's treatment, but they declined to do so, according to Tel Aviv daily Haaretz.

With the financial support of Physicians for Human Rights, Abu Aram eventually got rehabilitative treatment in Tel Aviv, but most of his hospitalization was in the occupied West Bank.

The group said Abu Aram "bravely battled his condition despite obstacles and difficulties put on him and his family by the military."

They added that the "refusal to fund his medical treatment is a badge of shame for the State of Israel."

Meanwhile, the number of Palestinians known to have died in the devastating earthquake that struck parts of Turkey and Syria has risen to over 100, according to the Palestinian Authority foreign affairs ministry.

The overall toll has passed 41,000 but is expected to rise further as rescue workers struggle to reach people thought to be trapped in ruined buildings.

There are more than 438,000 Palestinian refugees living in 12 camps in Syria, according to UNRWA, the UN agency for Palestinian refugees. More than 60,000 of them live in northern Syria, which was badly hit by the earthquake.

More than 12,000 Palestinian refugees have reportedly been affected, according to UN monitoring group OCHA.