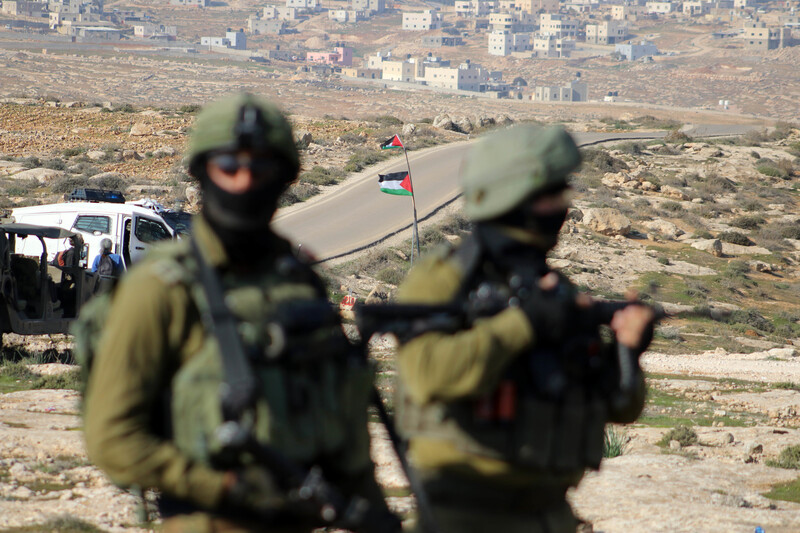 The Israeli military cleared itself of wrongdoing in the shooting and grave injury of a Palestinian man in the southern West Bank last week, claiming soldiers acted in self-defense.
The perfunctory investigation closed less than a week later exemplifies the culture of impunity long decried by human rights organizations seeking war crimes investigations at the International Criminal Court.
The military claimed that the man who was shot, Harun Abu Aram, was "hit by a stray bullet fired when a Palestinian tried to seize a commander's weapon," as the Tel Aviv daily Haaretz reported.
Abu Aram, 24, is paralyzed from the neck down as a result of his injury.
He was shot while he and others were trying to take back a generator that soldiers had confiscated from a family living in an area declared a military firing zone by Israel. Palestinians residing in that area, a collection of rural hamlets known as Masafer Yatta, are forbidden from building or improving their dwellings.
The incident in Masafer Yatta was recorded on video:
Language
The Israeli military described unarmed Palestinians defending the Masafer Yatta residence raided by heavily armed soldiers as "a violent riot … where [Israeli] forces were attacked."
The language used to justify Abu Aram's shooting at close range echoes that used by Israel regarding the use of live fire against protesters in Gaza.
More than 200 Palestinians were killed during regular mass protests dubbed the Great March of Return beginning in March 2018 until their suspension at the end of 2019. Thousands more were injured by Israeli sniper fire, many of them permanently.
Only one soldier has been indicted over the use of lethal force against protesters.
The military repeatedly referred to Palestinian protesters as "rioters" in its argument to the Israeli high court regarding its "rules of engagement."
Such language is intended to obscure the fact that Palestinians had mobilized to call for specific demands. In the case of the Great March of Return, Palestinians were demanding to exercise their right to return to the lands from which their families were expelled in 1948.
Context of oppression
The "law and order" language is used to obscure decades of injustice in the West Bank as well.
The Israeli military refers to Abu Aram as a "rioter" to avoid addressing the context in which the young man was permanently injured.
Abu Aram and the other "rioters" with him belong to a community that has been subjected to forcible transfer, multiple home demolitions and continuous harassment by soldiers and settlers.
This broader context of oppression is not helpful to Israel's reputation.
And so Israel says that Abu Aram and those with him "sought to obstruct [Israeli military] enforcement activity" – never mind that this "enforcement activity" is part of a coercive environment created by Israel to push Palestinians off of their land.
As the United Nations has made clear, "individual or mass forcible transfer or deportation" of the population of an occupied territory, like the West Bank, is a grave breach of the Geneva Convention "and is also considered a war crime."
The imposition of a coercive environment, like that endured by Palestinians in Masafer Yatta, is a form of forcible transfer. While Israel may use the language of "law and order," characterizing its military's behavior as "enforcement activity," occupation forces are, in fact, carrying out violations of international law.
System of oppression
Whether it's forcible transfer or the use of lethal force against Gaza protesters, Israel's high court rubber-stamps these policies intended to pacify all Palestinian resistance to the occupation.
In Masafer Yatta, that resistance was about retaining an electricity generator used by a family who are not allowed the basic infrastructure provided to Israelis living in nearby settlements built in violation of international law.
It is not surprising that Israel's system of oppression and injustice would clear itself of wrongdoing in the shooting of Abu Aram.
As human rights groups stated this week, Israelis responsible for war crimes against Palestinians "have not been subject to any independent legal investigation in Israel."
The Israeli military's self-investigation system "is empirically and conclusively evidenced to be unwilling or unable to genuinely carry out investigations and prosecutions," the Palestinian groups added.
The four groups – Al-Haq, Al Mezan, Al-Dameer and the Palestinian Center for Human Rights – noted Israeli courts' complicity in the legitimization of war crimes and crimes against humanity.
"It is beyond time for a formal investigation" by the International Criminal Court, the groups said.
In late 2019, the court's chief prosecutor concluded a five-year preliminary examination, stating that requirements to launch a full investigation into suspected war crimes in the West Bank and Gaza had been met.
More than a year later, an investigation has yet to be opened.
The absence of accountability, the Palestinian human rights groups observe, has only allowed for the "consolidated, ongoing and internationalized assault on the right of the Palestinian people to dignity and to self-determination."
Tags