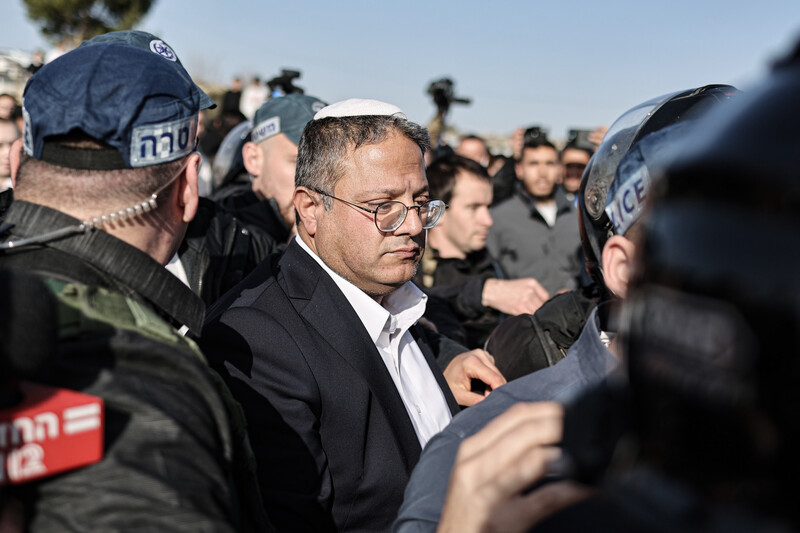 An Israeli sniper shot and killed a teenage boy in Jenin refugee camp in the occupied West Bank on Sunday, a day after settlers killed a Palestinian man.

Qusai Radwan Waked, 14, was shot by a sniper from a distance of more than 500 meters, according to Defense for Children International-Palestine.

A day earlier, Israeli settlers shot and killed a Palestinian man in Qarawat Bani Hassan, a village near Salfit in the occupied West Bank.

And on Friday a Palestinian man crashed his car into a bus stop in the West Bank settlement of Ramot, killing three Israelis, two of them children.

The Palestinian driver involved in that incident, who had been experiencing severe psychiatric symptoms, appears to have been summarily executed at the scene.

In Saturday's incident, Mithqal Suleiman Rayyan, 27, was shot in the head by a settler, according to the Palestinian health ministry.

Settler leaders claimed that prior to the shooting, Palestinians attacked a group of settlers who were on a field trip with fireworks and stones. But Palestinians reject this account.

There have been regular attacks by armed settlers in Qarawat Bani Hassan, according to the town's mayor.

He said that settlers were provoking farmers, residents in their homes and construction workers, prompting villagers to come out to confront and stop the settler attacks.

A settler opened fire at Rayyan in a "crazy" manner "in order to kill" him, the mayor said.

A Palestinian worker told Israel's Haaretz newspaper that dozens of settlers came to the area and told workers they could not work at a nearby construction site.

He said he called the municipality for assistance, but one settler in particular who is known in the area as a shepherd boasted about killing many Arabs.

The settler opened fire despite attempts to diffuse the situation, according to the worker.

The worker rejects claims that Palestinians attacked settlers with fireworks but confirms that Palestinians threw stones at the settlers – albeit to defend themselves.

"It's true that they threw stones at them, but they came to us," the worker told Haaretz. "When someone comes to you and starts shooting, that's reasonable. When the young man was shot, he was just standing there."

Gangs of settlers routinely harass and attack Palestinians and their property as part of organized efforts to force them off their land. Settler violence is so routine and pervasive that even Israel's staunch ally the European Union has condemned it.

The EU's diplomatic mission to the West Bank and Gaza tweeted following Rayyan's killing that it was "Saddened by yet another victim of settler violence."

"The EU firmly condemns settler violence and is concerned about the growing number of settler attacks," the mission added.

Local media shared Rayyan's picture following his killing:
Three Israelis killed in settlement
In Friday's incident, a Palestinian man crashed his car into a bus stop in the settlement of Ramot, north of Jerusalem, killing three Israelis.

Yaakov Pellay, 6, and his 8-year-old brother Asher Pellay, who died the following day, lost their lives. Alter Shlomo Liderman, 20, was also killed in the incident and several others were injured.

Israel began building Ramot in the 1970s, on land stolen from the Palestinian villages of Beit Iksa and Beit Hanina.

An off-duty Israeli police officer reportedly killed the driver, Hussein Qaraqe, as he sat in his car after it stopped at the scene.

Qaraqe is reported to have lived with severe psychological difficulties. He had a dozen convictions for driving offenses and had been accused of violence on at least one previous occasion.

The 31-year-old lived in East Jerusalem's Issawiyeh neighborhood and was married with three children.

He had previously worked at a construction site but was injured six months ago and had experienced continuing health problems.

"His family and a director of a medical center said that Qaraqe was recently released from a psychiatric ward on Thursday despite going through a psychotic episode only 24 hours prior," Haaretz reported.

"I'm sorry for what happened. It's a tragedy, but it's not a terror attack," one relative told Haaretz. The relative said that six years ago, Qaraqe fell from a crane and was seriously injured and consequently developed a mental illness.

The relative described Qaraqe being heavily medicated in recent months.

"He never talked about politics, he wouldn't even listen to the news. I can assure you a million percent that it wasn't a terror attack," the relative added.
Apparent execution
"For about a minute, several people with guns stood around the vehicle and pointed at the driver, but did not shoot," a yeshiva student who was present at the scene told the newspaper.

"The driver made a sign with his hands as if to say 'no,' and everyone held their fire. At some point, someone threw a large stone at the vehicle, the attacker moved, and everyone fired at him."

A video said to be of the incident shows what may well be an extrajudicial execution.

The video shows two armed men pointing weapons at a crashed car with its windows shattered and driver's side door open. The passenger side of the car is wedged up against the bus shelter.

One of the armed men is standing by the open door and appears to carefully take aim and fire several shots at a person inside the vehicle at point-blank range. At least one gunshot goes through the car and shatters the glass of the bus shelter on the other side.

Although the clip is brief, it does not show the driver of the crashed car posing any obvious continuing threat to anyone, or the Israelis trying to detain him using non-lethal means.

Senior Israeli politicians, police and military personnel have regularly incited and encouraged the killing of Palestinians suspected of attacks even when they no longer pose a threat, a policy of extrajudicial killing long condemned by human rights organizations.
Collective punishment
Despite the strong indications that mental illness could have played a role in Qaraqe's actions, Israeli occupation forces moved swiftly to punish members of his family and satiate their desire for revenge.
They sealed off Qaraqe's home in preparation for a punitive demolition, a war crime that Israel only perpetrates against the families of Palestinians accused of harming Israelis, and never against the families of Israeli Jews who harm Palestinians.
But since Qaraqe's home is rented, Israeli officials are still reportedly discussing how to proceed.
Occupation forces also swept into the East Jerusalem neighborhood of al-Tur, and detained 10 of Qaraqe's relatives, including his brother and wife, for questioning. The raid sparked violent confrontation with local residents.
Another form of collective punishment is also being discussed, namely a full lockdown on Issawiyeh.
Israel's ultra-far-right police minister Itamar Ben-Gvir called for "Operation Defensive Shield 2" – in reference to Israel's violent crackdown in the occupied West Bank two decades ago during the second intifada.
Israeli occupation forces killed hundreds of Palestinians during the popular uprising.
But Benjamin Netanyahu, Israel's prime minister, and other senior officials, quickly slapped him down, emphasizing that only the so-called security cabinet and not a single minister acting alone, could authorize such a large-scale operation.
After a cabinet meeting on Sunday, Netanyahu said the country's top "security" officials would discuss a large-scale operation in the occupied West Bank, including East Jerusalem.
"The appropriate response to terrorism is to strike it forcefully and deepen even more our roots in our country," Netanyahu said.
Ben-Gvir is demanding that Israel formally adopt a death penalty for Palestinians, while Netanyahu is vowing a new law to revoke the citizenship and permit the expulsion of anyone accused of terrorism.
But since Israel already routinely executes Palestinians without even the pretense of a trial, and since it has arbitrarily imprisoned and expelled Palestinians for decades, the threats of more such repression show that Israeli leaders are at a total loss.
The one thing they will never do is admit to this reality: The relentless and pervasive violence of Israel's regime of occupation, settler-colonialism and apartheid is at the root of all the conflict-related bloodshed that claims primarily Palestinians, but also Israeli, lives.
Since the start of the year, Israeli soldiers and settlers have killed almost 50 Palestinians, 10 of them children. Friday's deaths in Ramot brings to 11 the number of people killed in Israel and settlements by Palestinians this year.
That number includes seven Israelis killed in a shooting attack in the settlement of Neve Yaakov last month.
On Sunday, Israel's "security cabinet" legalized nine settlements built without government authorization on occupied Palestinian land, another provocation and escalation.
All of Israel's settlements remain illegal under international law.
An unnamed senior US official told Haaretz that the US strongly opposed the Israeli move. But there's no reason to believe that Washington will take any action to sanction Tel Aviv.
The consequences are entirely predictable: More Israeli land theft, killing and repression will only result in more bloodshed.
Ali Abunimah contributed reporting and analysis.