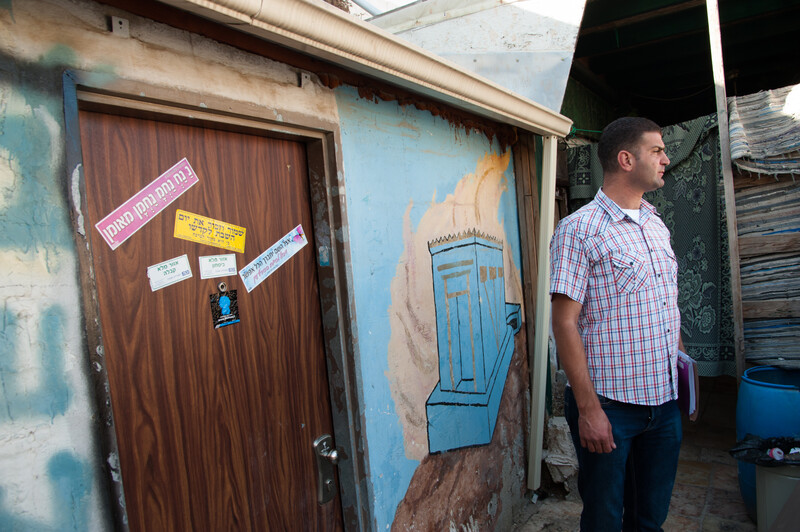 Palestinian tour guide and youth organizer Daoud al-Ghoul was sentenced to 18 months in prison last week. An Israeli court convicted him of membership in a prohibited organization.
Sources close to al-Ghoul told The Electronic Intifada that he was accused of being a member of the Popular Front for the Liberation of Palestine, a Marxist political party banned by Israel.
Al-Ghoul had already spent months in jail before last week's trial and sentencing. In June last year, he was called in for questioning at the Israeli interrogation center in Jerusalem known as the Russian Compound and subsequently arrested. That came after a months-long order banning him from Jerusalem, the city of his birth and lifelong residence.
In December 2014, al-Ghoul and four other Jerusalem activists were expelled from Jerusalem for four months. Israel declared that the men were a danger to public security, based on secret evidence which they were prohibited from seeing or disputing.
Israel twice renewed the ban on al-Ghoul's ability to visit Jerusalem or the West Bank, lengthening the ban to six months.
Secret file
Al-Ghoul likened the orders to administrative detention, Israel's practice of indefinitely imprisoning Palestinians without charge or trial.
"We don't have any information," al-Ghoul told Middle East Eye at the time of his expulsion. "The Israeli police are saying it was a secret file. And in the Israeli file they tell me they are saying that I am a danger to the Israeli state."
Al-Ghoul also received orders banning him from the rest of the occupied West Bank and prohibiting him from traveling abroad, so he temporarily relocated to Haifa, a city in present-day Israel.
"We are not afraid," al-Ghoul told The Electronic Intifada soon after receiving the expulsion orders. "We are fighting for our future and we have nothing to lose. We refuse this decision. It is our homeland. It is our basic right to live in our houses in Jerusalem."
Expulsions and raids
More activists and community leaders have been hit with expulsion orders since then.
Prior to his expulsion and arrest, al-Ghoul was a grassroots youth organizer for the Health Work Committees. In May 2015, the Israeli authorities raided the group's offices in the Shuafat neighborhood of East Jerusalem, seized computers and issued a closure order accusing the health and development organization of "terrorist activities."
Since 1990, the group provided medical exams, preventative screenings, health education and vaccinations to Palestinian students in dozens of schools in Jerusalem.
Al-Ghoul also worked as a tour guide with an activist's perspective. Tours of the steep streets of his home neighborhood of Silwan focused on the Israeli settler organization Elad's agenda to turn the area into a religious tourist attraction called The City of David.
With the cooperation of the Jerusalem municipality and the Israeli Nature and Parks Authority, Elad has seized Palestinian properties to convert them into settler homes and tourist facilities.
In the process, Israeli authorities regularly demolish Palestinian homes and arrest neighborhood children.
Just months before his initial expulsion order, al-Ghoul had testified before the European Parliament about the conditions Palestinians live under in Israeli-occupied East Jerusalem.
Residency revoked
Israel occupied East Jerusalem in June 1967, formally annexing it in 1980, a decision that the UN Security Council has declared to be null and void. All of Israel's settlement activities, including in East Jerusalem, violate international law.
Palestinians in Jerusalem generally do not hold Israeli citizenship but instead have "permanent resident status," and are required to prove that their center of life is in the city to maintain that status.
More than 14,000 Palestinians have had their Jerusalem residency rights revoked over the past decades.
Despite being more than one-third of Jerusalem's population, less than one-tenth of the city's 2013 budget was spent in Palestinian neighborhoods in the city, according to the Israeli human rights organization Ir Amim.
Tags