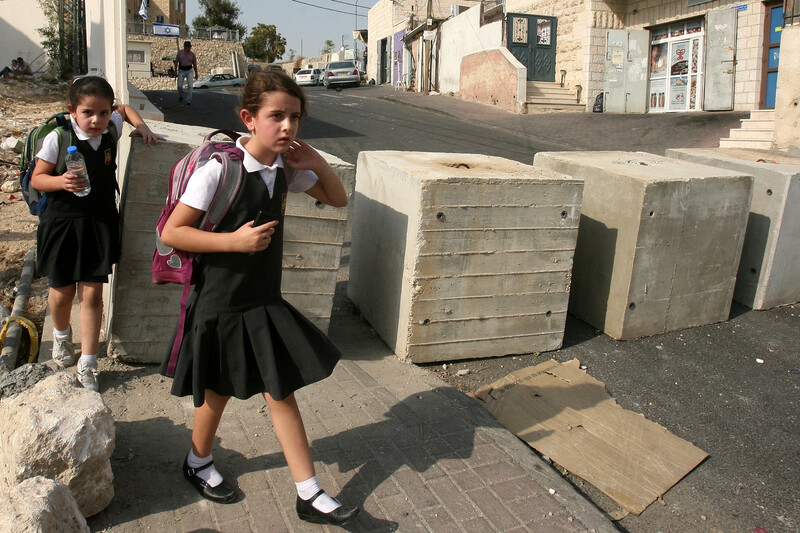 Israeli settlers assisted by occupation forces evicted Palestinians from two homes in the Baten al-Hawa area of Silwan in East Jerusalem on Monday.

Separately, an elderly Palestinian woman died the same day after suffering from the effects of Israeli tear gas, her family said.

"They came at 9 a.m., one hundred soldiers," Rajai Abu Nab, one of the residents expelled by the settlers in Silwan, told Alaraby TV.

"They broke down the doors and forced us out. They smashed our furniture and threw it outside," he added.

Some two dozens members of the Abu Nab family are now homeless.

Ateret Cohanim, a far right organization that helps settle Jews in East Jerusalem with the goal of creating a Jewish majority there, claims the homes have belonged to the organization since before 1948.

Palestinians expelled from their property in Jerusalem and the rest of the country in 1948 and after are denied the right to recover it by Israel.

According to settlement watchdog Peace Now, the settler population in Baten al-Hawa has doubled in the last year.
"My mom is dying"
On Monday, hundreds of Palestinians attended the funeral of 65-year-old Huda Muhammad Darwish, who died after she was delayed on her way to a hospital due to Israeli movement restrictions in East Jerusalem.
Darwish fled her home early Monday morning after it was filled with tear gas fired by Israeli forces in the village of Issawiyeh, family members said. Relatives tried to take Darwish to a hospital, but their car was held up by Israeli forces.
"At around 3 a.m., my mother started feeling ill because of the tear gas fired in the village," one of Darwish's sons told the Wadi Hilweh Information Center, a local news agency.
He said they headed toward the village's eastern entrance, the only way in or out since Israel sealed the main entrance to Issawiyeh as part of its crackdown on Palestinians in Jerusalem.
"There were a lot of people at the checkpoint, so we tried to pass the other cars, but a soldier opened fire towards our vehicle," the son explained.
"We were held up, the soldier swore at us and searched us. I told him my mom is dying. After half an hour another soldier told him to check on the health condition of my mother, who showed clear signs of severe illness. After that, they let us pass," he added.
"When we reached the hospital, she was admitted to intensive care and just 10 minutes later we were told she had died."
One of Darwish's sons explained what happened in this video:
Barbed wire
The death of Huda Darwish is a direct consequence of the measures ordered by Prime Minister Benjamin Netanyahu to close off Palestinian neighborhoods in East Jerusalem to appease public outcry over a series of attacks that have killed eight Israelis since the start of October.
Meanwhile, at least 43 Palestinians and one Eritrean refugee have also been killed. According to the Palestinian Authority health ministry, 11 of the slain Palestinians were 16 years old or younger.
The ministry reports that more than 1,800 Palestinians have been injured by live fire or rubber-coated steel bullets as protests continue throughout the West Bank and in the Gaza Strip along the boundary with Israel.
Israel reportedly plans to completely seal off Issawiyeh with cement blocks and barbed wire.
It has almost completely sealed off East Jerusalem's Jabal al-Mukabir neighborhood from the rest of the city with a prefabricated wall that also separates Palestinian homes from each other.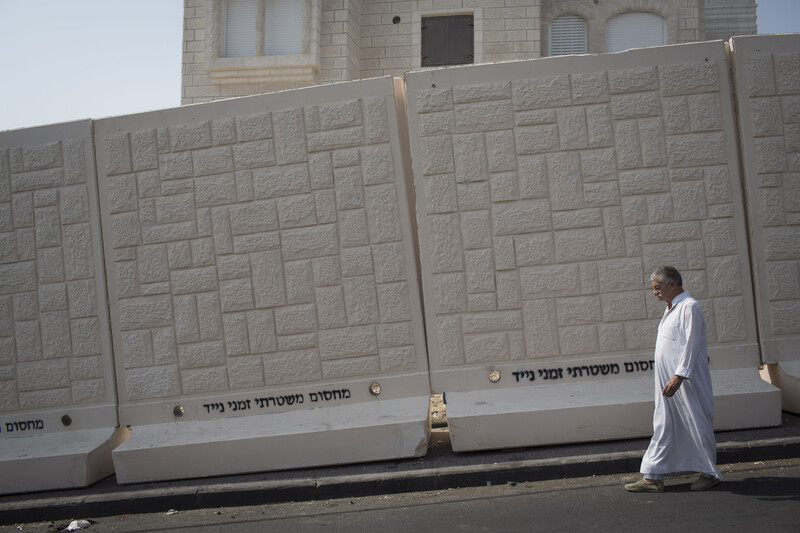 Netanyahu has reportedly halted construction of the wall, but Israel continues to place checkpoints and roadblocks throughout East Jerusalem.
Lynching
Israeli police say they are investigating the lynching of a seriously injured Eritrean refugee following the fatal shooting of an Israeli soldier at a bus station in Bir al-Saba (Beer Sheva) on Sunday.
Israeli authorities named the assailant as 21-year-old Muhannad al-Aqabi, a Palestinian Bedouin citizen of the state who lives in the Naqab (Negev) town of Hura.
During the incident, a security guard shot 29-year-old Haftom Zarhum, an asylum seeker from Eritrea, apparently mistaking him for a gunman.
After he was shot, a crowd of people kicked the bleeding Zarhum and shouted obscenities at him. He died from his wounds a few hours later in hospital.
The attack was captured on video.
Punishments for non-Jews only
Israeli culture minister Miri Regev called on the government to revoke the citizenship of al-Aqabi's mother, who was born in Gaza.
This would be another example of collective punishment, similar to punitive home demolitions in occupied East Jerusalem and the rest of the West Bank, that Israel reserves exclusively for non-Jews.
Israel is also planning to revoke the residency of Palestinians from East Jerusalem suspected of attacks. The human rights groups Adalah and the Association for Civil Rights in Israel have condemned the plan.
In a letter to Israeli interior minister Silvan Shalom, the groups state that "the right to citizenship and status must be defended equally."
"Even though Jews have also been involved in severe security and criminal incidents, and some of them have also been sentenced, the status of residency or citizenship has never been revoked from a Jewish person for reasons of 'breach of trust,'" the groups add.
No country in the world recognizes Israeli sovereignty over East Jerusalem. Israel has long treated Palestinians who have lived in the city for generations before the Israeli occupation began in 1967 as if they are foreigners whose residency it can arbitrarily revoke.
Settler attacks
Elsewhere in the occupied West Bank, some 200 Israeli settlers attacked Palestinian villages near Hebron on Sunday night, Ma'an News Agency reported.
They threw firebombs at Palestinian homes, setting some on fire, local residents and medics said. Meanwhile, Israeli soldiers assisted the settlers by firing tear gas and live ammunition at Palestinians trying to aid families under attack.
One Palestinian was injured with live ammunition during the settler rampage.
Israel continued its campaign of raids and arrests in the West Bank, detaining more than 30 Palestinians over the weekend.
On Saturday, Israeli forces shot dead five Palestinians in the West Bank, including East Jerusalem, alleging they had tried to stab members of its forces.
Racist atmosphere
Throughout present-day Israel, Palestinian citizens and others are at grave risk of racist attacks and outright discrimination, as the lynching of Haftom Zarhum demonstrated.
Palestinians have been subjected to what human rights groups have condemned as extrajudicial executions in the streets.
An increasing number of municipalities are banning Palestinians from working in schools, and some cities are moving to ban Palestinian employees altogether, Haaretz reported.
While some cities are presenting their new "security" measures as race-neutral, others are explicitly banning "minorities."
Authorities in Hod Hasharon, for instance, informed residents that school janitors will be accompanied by security guards throughout their work on campuses.
Sikkuy, an organization that promotes the equal treatment of Palestinian workers in present-day Israel, denounced the deteriorating conditions for Palestinian workers amid the escalating violence.
Dov Khenin, a lawmaker belonging to the Joint Arab List, said these sorts of restrictions were illegal.
Meanwhile, in another sign of its growing sensitivity to mounting international criticism, the Israeli government is moving forward with a bill to bar the entry to the country of any non-citizen who has called for a boycott of Israel, including of goods produced in West Bank settlements.
Ali Abunimah contributed reporting.
Tags