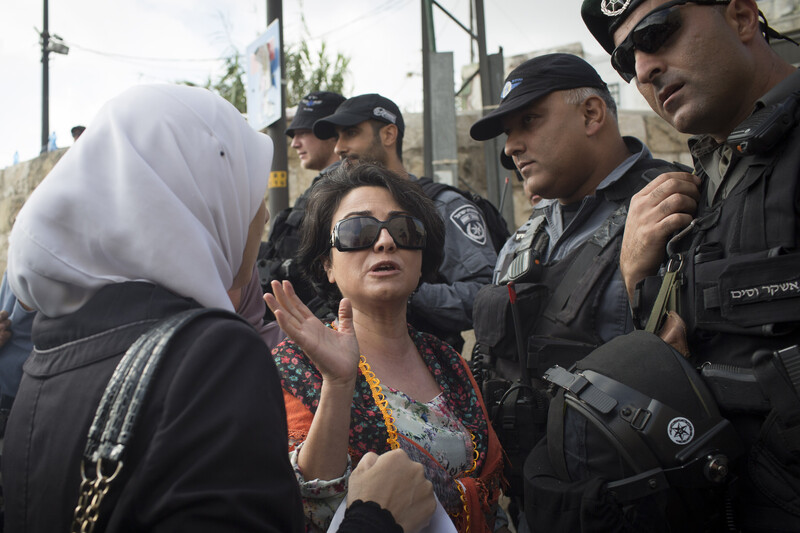 Update: Israel's high court on Wednesday overturned the Central Electoral Committee's decision to ban Palestinian lawmaker Haneen Zoabi and Israeli candidate Baruch Marzel from running the upcoming elections, scheduled for 17 March. Israeli politicians quickly lashed out at the court's decision.
Hardline Foreign Minister Avigdor Lieberman called the high court's decision "a stain on Israeli democracy which does not know how to defend itself," the Israeli daily Haaretz reported yesterday. The Zionist Union, a coalition of "centrist" parties, reaffirmed its "opposition to the incitement and racism that Zoabi and Marzel represent."
Original article
Israel's Central Electoral Committee last week voted to ban prominent Palestinian lawmaker Haneen Zoabi from running in the upcoming elections for its parliament, the Knesset.
The committee voted 27 to six to ban Zoabi, who is a member of Balad, a political party representing Palestinians in present-day Israel. It also voted to ban right-wing extremist Baruch Marzel, an American-born Israeli settler who lives in a Jewish-colony in the occupied West Bank city of Hebron.
The committee voted to ban Marzel, however, by a much slimmer margin – seventeen in favor of the ban and sixteen against. Marzel has a history of history of anti-Palestinian incitement and brags of having been the "right-hand man" of Meir Kahane, founder of the Kach terrorist organization.
According to the right-wing website Israel National News, the petition to disqualify Zoabi was initially submitted by Alex Miller, a Knesset member from the hardline Zionist party Yisrael Beiteinu (Israel Our Home) headed by foreign minister Avigdor Lieberman.
Members of Likud, Jewish Home and Shas – all Zionist parties that support expedited Jewish-only settlement in the occupied West Bank – quickly pledged their support for the ban on Zoabi, Israel National News reports.
Although the decisions to ban Zoabi and Marzel still have to be reviewed by Israel's high court, targeting Zoabi is part of a longstanding trend in Israel to marginalize influential Palestinian voices.
False claims
Calls for Zoabi's disqualification stem back to a comment she made during the summer of 2014 after three Israeli teenagers were kidnapped and killed while hitchhiking in the West Bank. Referring to the kidnappers – Palestinians from the Hebron area – Zoabi said: "They are not terrorists. Even if I do not agree with them, they are people who do not see any way open to change their reality, and they are compelled to use means like these until Israel wakes up and sees the suffering, feels the suffering of the other."
She was subsequently accused of supporting Hamas, the Palestinian political organization that governs the besieged Gaza Strip. This accusation continues to be hurled at Zoabi, despite Israeli police spokesperson Micky Rosenfeld having told BBC journalist Jon Donnison that the kidnappers were a "lone cell" and "were not acting under the leadership" of Hamas.  
When Zoabi attempted to address the committee, "her statement … was repeatedly interrupted," the right-wing Jerusalem Post reported. "You have the blood of our soldiers on your hands," one of them shouted.
Zoabi replied, "I cannot understand why I am here. I fight the murder of civilians wherever they take place, I fight racist laws," The Jerusalem Post added.
Referring to Israeli politicians' intense incitement against Palestinians in Gaza and elsewhere, she asked, "Why are those calling for death and destruction, land appropriation, and the death of the people of Gaza not standing here?"
History of harassment
Zoabi has long been the target of Israeli leaders' ire. Back in July, she was suspended from the Knesset for six months for the same comments regarding the kidnapped teens.
In November, hardline Israeli Prime Minister Benjamin Netanyahu lent his support to the "Haneen Zoabi bill," legislation that, if passed, would allow the Knesset to expel lawmakers who supposedly support armed struggle against Israel's ongoing occupation of Palestinian land.
"No parliament that expels its members has a right to speak in the name of democracy. This is a hostile act against my constituency and against every democrat in the country," Zoabi told the Israeli daily Haaretz at the time. "This is an insane bill that will allow coalition members of Knesset to strip the minority of parliamentary representation."
That bill enjoyed the support of Israeli politicians from across the political spectrum, the right-wing Times of Israel reported in November.  
Zoabi was a passenger on board the MV Mavi Marmara in May 2010, a vessel which was part of flotilla that attempted to reach the shores of Gaza with humanitarian aid and construction materials in order to break the Israeli-Egyptian siege of the narrow coastal enclave. Israeli commandos raided the ship and killed nine activists.
While addressing the Knesset after the fatal raid, Israeli politicians shouted her down and physically assaulted her.
In addition to being "shoved after relating her experience as a passenger on the Mavi Marmara," right-wing lawmaker Anastasia Michael (Yisrael Beiteinu) "charged the podium in an attempt to physically block Zoabi from continuing her speech," The Jerusalem Post reported.
Parliamentarian Miri Regev, a member of Netanyahu's Likud Party, shouted: "Go back to Gaza, you traitor!"
Yoel Hasson, a Knesset member from the "centrist" Kadima party, called Zoabi a "terrorist."
"Cheap political points"
When I interviewed Zoabi at Al Jazeera English earlier this month, she said that she is targeted by right-wing Zionist politicians like foreign minister Avigdor Lieberman and senior Likud party member Danny Danon as part of a strategy "designed to score cheap political points. It is not about me; it is about their political maneuvering."
"The other reason is more ideological in nature," Zoabi continued. "There has always been an Israeli strategy to differentiate between 'the good Arab' and other Palestinians. This is the Palestinian who struggles for individual rights of Palestinians in Israel, but never crosses Israel's red line."
She further added that "Israel doesn't want Arabs [with Israeli citizenship] to criticize the army as a basic political starting point."
Double standard
Given that Zoabi is accused of "inciting" against Israel, there is a clear double standard at play. Israeli politicians, including those in the highest ranking offices of the government, regularly espouse intense anti-Palestinian incitement in the Knesset and media.
As Palestinian bodies piled up during Israel's 51-day assault on Gaza last summer, calls for more bloodshed were common. Moshe Feiglin, deputy speaker of the Knesset, called for the Israeli military to "concentrate" and "exterminate" Palestinians in Gaza.
Just two weeks earlier, Feiglin had called on Israel to settle Gaza with Jewish Israelis and expel its indigenous Palestinian population.
"Gaza is part of our Land and we will remain there forever," he said. "Subsequent to the elimination of terror from Gaza, it will become part of sovereign Israel and will be populated by Jews. This will also serve to ease the housing crisis in Israel."
By the time a lasting ceasefire was reached in late August, more than 2,200 Palestinians were dead, mostly civilians.  
Shortly before the slaughter in Gaza began, lawmaker Ayelet Shaked (Jewish Home Party) issued a call for genocide of Palestinians on her Facebook when she approvingly posted an article in its entirety by the late Israeli speechwriter and Netanyahu advisor Uri Elitzur.
In that article, Elitzur wrote that the entire Palestinian people are Israel's enemy, "including its elderly and its women, its cities and its villages, its property and its infrastructure." The article also called for Israel to slaughter Palestinian mothers, who raise "little snakes."
Shaked celebrated the article as equally "as relevant today as it was at the time" it was written twelve years ago.
Unsurprisingly, Israel's Central Election Committee takes no issues with Feiglin's or Shaked's calls for the increased bloodshed of Palestinians.
Tags