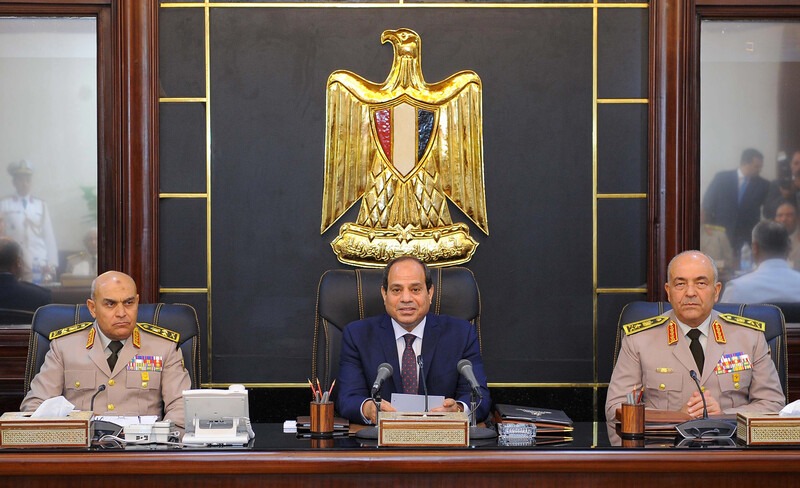 Slowly, surely and increasingly openly, Abdulfattah al-Sisi, the Egyptian president, is moving his country closer to Israel.
This week, it was a $15 billion gas deal that will see Delek, an Israeli company, supply Egypt with natural gas over a 10-year period.
A "joyous day," Benjamin Netanyahu, the Israeli prime minister, proclaimed when the news broke.
"We have scored a key goal," echoed al-Sisi a few days later as he tried to distance his government from the deal by emphasizing, in what the egypt today website characterized as an "important speech," that this was purely a private sector deal.
The news comes not long after revelations in the US press that Israel's military is helping its Egyptian counterpart fight an insurgency in the Sinai, including by flying bombing sorties over the impoverished area.
Relations don't grow much more intimate than when one party invites the other to violate its sovereignty, and this does not promise to be an equal relationship. Rather, Egypt, the Arab world's most populous country with traditionally its most powerful military, is growing ever more reliant on Israel in two crucial areas: defense and energy.
This dependence bodes ill for Egyptians, who will find their politics circumscribed by Israel's, and Palestinians, for whom any normalization of Israel's role and position in the region and the world is a normalization of occupation and oppression that shows no sign of ending.
Anxious autocrats
Palestinians are increasingly finding their struggle obstructed not only by Israel but by autocratic Arab regimes whose legitimacies have been thoroughly shaken by the events of the so-called Arab Spring and who now fear the shadows where those Shia/ Muslim Brothers/ progressive democrats (all three of them)/ Jihadis/ Bahai/ Kurds or that fellow down the street with the shifty gaze all lurk.
Anxious autocrats are low hanging fruit for Israel, who can offer the assurance of a highly primed military that sees regular action in neighboring countries and over occupied Palestinian and Syrian territory while enjoying the seemingly unending and unbending support of the US. The cost, of course, is acquiescence with Israel's brutal treatment of Palestinians, silence in the face of continued settlement expansion and acceptance of the annexation of Jerusalem and whatever other territory Israel might set its heart on.
Egypt's autocrat has more reason for concern than most. Al-Sisi came to power in a military coup that ousted Egypt's first and so far only democratically elected president. He has held on to power by force and by outlawing the main opposition Muslim Brotherhood. So tenuous does he feel his grip on power to be that he has even had to threaten and cajole potential rivals from within Egypt's ruling class to drop any thoughts of candidacy in an upcoming presidential poll that may still shatter his own 96.91 percent record win in 2014.
In addition to the Sinai in the north, Egyptian national security interests are threatened in all directions: there is trouble with Sudan to Egypt's south, an ongoing civil war in Libya to Egypt's west, while Ethiopia's plans for a Nile dam has also angered Cairo.
With friends like these
Egypt is vulnerable for the reasons all autocracies are. Rulers have no popular legitimacy, systems are unwieldy and elites are beholden to foreign interests and the military. The weaker a ruler, the more unwieldy the system and the more beholden the elites. Popular support for Palestinians has little impact as a result, perhaps especially in Egypt, protest weary and embittered as people there may understandably be.
Al-Sisi may still feel the need to distance his government from a lucrative gas deal with Israel, but that is probably because he wants to be loved rather than because he fears any serious public backlash.
Warming Egyptian-Israeli relations are part of a new reality forming in the region under which Palestinians are very much seen as pawns in a bigger game. What the bigger game is depends on where your vantage point is. It looks different from Riyadh than from Cairo, Doha, Ankara or Tehran.
And with red lines crossed every day in Syria and Yemen, it is little surprise that the days when Arab leaders might feel some shame at abandoning even the pretense of support for the Palestinian struggle are long gone.
Tags