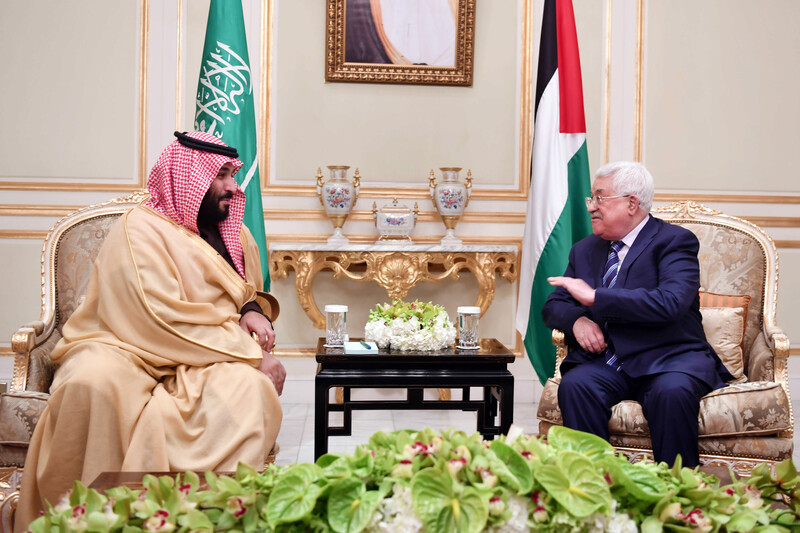 The reverberations from US President Donald Trump's bungling demolition job on the two-state solution continue.
Entangled is a region already in chaos and confusion. Old certainties have been uprooted and traditional allies and alliances, for whom the peace process provided convenient cover for inactivity, have been unsettled.
On 14 January, even Mahmoud Abbas, the Palestinian Authority leader so faithful so long to a process he was instrumental in creating and maintaining, was moved to declare that "today is the day that the Oslo accords end."
He announced few concrete consequences in an angry two-and-a-half hour speech from Ramallah, and the apparatchiks sent out later to expound were similarly vague (what does "freezing recognition of Israel" even mean?).
Nevertheless, the frustration was real, and his characterization – however obvious and late – of the state of play accurate.
The PA is indeed an "authority without any authority;" Israel is certainly allowed – with PA complicity, he might have added but didn't – an "occupation without any cost;" US ambassador to Israel David Friedman is, in fact, "a settler who is opposed to the term 'occupation'" and undoubtedly "an offensive human being."
Abbas also had hard words for Arab governments, suggesting that if they did not offer Palestinians "a real hand," they could "all go to hell."
Trouble stirs in Arabia
It is no secret that Arab countries, especially, but not only, the so-called "moderate" ones that include Saudi Arabia, the United Arab Emirates, Egypt and Jordan – who are defined as such in western circles largely for their stance toward Israel – have mostly been all icing and no cake when it comes to Palestine.
Nevertheless, they have also and in public long held (mostly) sharp red lines: neighbors Jordan and Egypt apart, there would be no full diplomatic relations with Israel until the Palestinian "question" was solved. And prescriptions for that solution had to include a (vaguely defined) "just resolution" of the refugee problem, as well as (the more clearly spelled out) statehood and independence for Palestinians in the entirety of the West Bank and Gaza Strip with a capital in East Jerusalem.
The latter was never seen as simply a Palestinian issue but as a wider Arab and Muslim one. Accordingly, the official response to Trump's December declamation that Jerusalem is the capital of Israel has been unanimous and unambiguous.
On 13 December, the 57-member Organization of Islamic Cooperation, which includes the world's Arab and Muslim countries, unequivocally rejected as illegal the American president's Jerusalem position and declared East Jerusalem as the Palestinian capital.
Then on 6 January, the Arab League announced that Arab states would embark on a diplomatic drive at the United Nations to seek international recognition for a Palestinian state on 1967 boundaries with East Jerusalem as its capital.
So far, so countless other times. This time, however, for at least some of these countries, it seems this is not just empty rhetoric: it is an outright lie.
New (Arab) world order
Take Egypt. Where the OIC emergency meeting in Istanbul saw the participation of some prominent regional heads of states, including the Turkish president and host, Recep Tayyip Erdogan, as well as Jordan's King Abdullah and Iran's president Hassan Rouhani, notable too were the absences. Neither Saudi Arabia's King Salman (or his Crown Prince Mohammad bin Salman) nor Egypt's president Abdulfattah al-Sisi were present.
Indeed, even as Cairo denounced the new US position on Jerusalem, an Egyptian inteligence officer was reportedly recorded on audio attempting to persuade prominent Egyptian TV personalities to convince their viewers to accept it, in effect arguing that Ramallah is just as good a place to have a capital as Jerusalem.
Cairo has denied the report, the Egyptian state prosecutor has announced an investigation into the New York Times article making the allegation, and the TV personalities in question have since walked back some of the comments they made previously.
But the Times has stood by its reporting and in the current political climate, little in it rings false. And that there should even be any doubt about what Arab governments are privately advocating on the fate of Jerusalem underlines the extent to which Arab leaders and governments have become vulnerable to outside pressure.
Arab state weakness generally conforms to a pattern across the region: poor governance as a result of autocratic clientelist state systems that are resistant to outside ideas but reliant on outside funding and patronage or single-resource economies. Corruption, nepotism, toadyism and stagnation follow as a matter of course, with – to paraphrase – sectarianism the last refuge of the scoundrel.
The last few years of revolutions, counter-revolutions, civil wars, wars and invasions right across the Arab regions have also seen the Palestinian issue slide down the list of priorities and ended its role as a safe outlet for popular anger. And then there is Saudi Arabia.
Riyadh revolution
The rise to prominence of Crown Prince Mohammad bin Salman, often referred to as MBS, has unsettled regional politics-as-usual and shaken old alliances and old certainties. Apparently determined to pivot full face toward a confrontation with Iran, Riyadh's position on other regional issues has suddenly become unpredictable.
Yemen, Lebanon, Syria and Egypt have all felt the cold winds of change to various degrees as the new power in Riyadh tests the waters and pursues what he has identified as Saudi interests, right or wrong, with unbridled vigor and in, for Saudi Arabia, unprecedented ways.
It is allegedly Saudi reports of the Trump administration's ultimate vision for a peace deal – something less than a state for Palestinians, not based on 1967 boundaries and without Jerusalem – that really pushed Abbas over the edge and into apoplexy this week.
In addition, sources close to Abbas let it be known that MBS had pressured the PA leader, during a recent visit, to accept the Trump plan, indicating that Riyadh now firmly valued potential Israeli support against Iran over any push for Palestinian rights.
Bold it may be, but such pressure, on Abbas and others, is likely to fail, just like recent Saudi foreign policy adventures elsewhere in the region have so far failed.
Partly, such a dramatic departure is far too rapid a change for staid Arab state systems to absorb, especially in the face of widespread and deep public disapproval. And partly, while this might just fly in Gulf countries, insulated by money, neither Egypt nor Jordan are likely able to play ball, even if leaders there wanted.
What money can't buy
Egypt is simply too unstable at the moment to absorb too many shocks to the system. Still reeling from the revolution of 2011 and the counter-revolution of 2013, Cairo also has to deal with a festering civil war in neighboring Libya, tensions with Sudan, a dispute with Ethiopia over a Nile dam that could impact Egypt dramatically and an ever-more deadly insurgency in the Sinai.
Al-Sisi might want to try to accommodate US and Saudi pressure. The humiliating recordings of Captain Ashraf al-Kholi imploring his interlocutors to explain the difference between Jerusalem and Ramallah suggests Cairo has tried. He just can't.
The last thing al-Sisi needs, with everything else, is to stand accused of abandoning Jerusalem and the Palestinians. And as recently as Wednesday, the Egyptian president again felt compelled to reiterate long-time Egyptian two-state policy that asserts East Jerusalem as a Palestinian capital.
Jordan has long had to balance Palestinian and Jordanian – or West and East Bank – interests and has done so largely successfully. But every regional refugee's favorite destination is full, impoverished and not about to trade its custodianship of al-Aqsa and Jerusalem's Christian holy sites for responsibility more than two million unhappy and unwilling Palestinians in non-contiguous areas of the West Bank, as envisaged by some in the Trump administration.
Indeed, Amman has already made its displeasure clear, reportedly sacking three princes for getting too close to Riyadh.
Money can't buy you love, but it can buy you a whole lot of grief. And grief is what is in store for Abbas, Abdullah and al-Sisi should they even begin to go along with a Trump plan that is dead in the water.
MBS will probably soon figure that out. But by then, the game will have changed completely.
Omar Karmi is a former Jerusalem and Washington, DC, correspondent for The National newspaper.
Tags