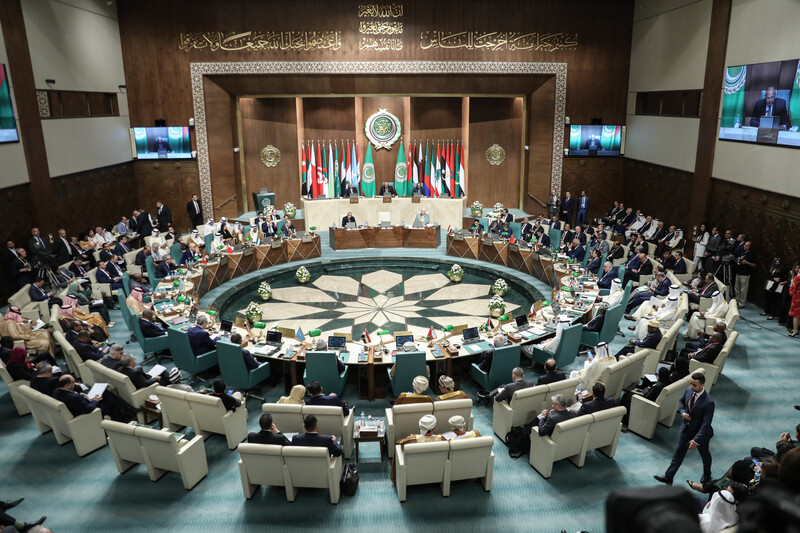 Arab diplomacy is slowly swinging into gear, just over a week since Hamas launched its operation on 7 October and Israel began its genocidal response.

So far, however, and aside from a couple of careful Arab League statements – one calling the forced transfer of a million people from north Gaza a "crime," another urging Israel and the Palestinians to resume negotiations – collective Arab diplomacy has been muted.

But growing anger over the situation in Gaza from their own publics may well focus minds in the region, as Arab leaders ponder how to influence events on their doorsteps in which they have long played only bit parts.

US Secretary of State Antony Blinken has been on a whirlwind tour of six Arab countries, hearing the same concerns about the toll of Israel's massive military assault on Palestinian civilians.

Flanked by Arab leaders, Blinken has reaffirmed Washington's "unwavering" support for Israel, but has also begun to shift the US public position on the protection of civilians.

Blinken said that, in every meeting with Arab leaders, he had heard a "shared view to safeguard innocent lives, a shared view to get assistance to Palestinians in Gaza who need it and we're working very much on that."

Even US President Joe Biden has begun to urge caution, warning Israel yesterday that reoccupying Gaza would be a "big mistake."

Jordan's King Abdullah has been traveling around Europe, urging leaders to deliver emergency aid to Palestinians and condemn civilian casualties.

In the UK, he told British Prime Minister Rishi Sunak on Sunday that the cutting off of food, water, electricity and fuel supplies to Gaza amounts to a war crime the world must condemn.

London's official position is, like Washington's, one of "unqualified support" for Israel. A press release from Sunak on Friday made no mention of the unfolding massacres of Palestinian civilians.

Indeed, Britain's foreign secretary, James Cleverly, took to Twitter/X on Sunday to lay sole blame for all civilian casualties in Gaza at the door of Hamas.

It's the kind of "unqualified support" that some people, including members of Sunak's own Conservative Party, say could make the UK complicit in war crimes.
Jitters
The tiny shift in US rhetoric is in part an attempt to assuage jittery Arab leaders who are now facing populations deeply angered by Israel's brutal assault on Gaza.
Tens of thousands answered the call for a "day of rage" on Friday across the Arab world and beyond, with angry denunciations of Western hypocrisy and confrontations in some places.
Algiers, Amman, Baghdad, Beirut, Cairo, Damascus, Islamabad, Rabat, Sanaa and Tehran, even Kabul, all saw mass protests angrily denouncing war crimes in Gaza and Western complicity.
Jordanian riot police confronted protesters heading toward the kingdom's boundary with the West Bank, an area the Jordanian government has declared off-limits for demonstrations.
Unrest in Jordan, which signed a peace treaty with Israel in 1994 and is a long-time ally of the US, would quite possibly concentrate minds in Washington and perhaps focus attention on what Israel is actually doing on the ground and the repercussions for its allies across the region.
Jordan has been a repository for refugees fleeing many conflicts in the region. It's estimated that between a third and a half of Jordan's population is of Palestinian origin, but the kingdom has also been inundated with refugees from Syria and Iraq over the past 20 years.
Into this potential powder keg, the wholesale mass expulsion of Palestinians from Gaza will cause deep ruptures, as well as serious concerns that West Bank Palestinians will be next.
No good choices
The immediate brunt of the displacement of Palestinians from Gaza will be carried by Egypt, which borders Gaza.

Israeli military personnel have been clear that the intention is to drive Palestinians in Gaza into the Egyptian side of the Sinai desert.

Egypt has so far refused US and UN pressure to open the Rafah crossing to either dual nationals or Palestinians fleeing Gaza, however.

It is a predicament for Egypt. Abdelfattah al-Sisi, the president, came to power after a 2013 military coup that ousted Egypt's only democratically elected government, which hailed from the Muslim Brotherhood and was close to Hamas.

Under Muhammad Morsi, who eventually died in prison, Egypt kept the Rafah crossing open daily for people to cross. Since Sisi came to power, however, the crossing has been shut for large periods of time, and almost completely for four years between 2014 and 2018.

Before 7 October, the Rafah crossing was open relatively regularly, but only to those who met Egypt's own criteria.

Sisi has no good choices here. Close the border, and Cairo will be seen as complicit in genocide. Open the border, and Cairo risks bearing the burden of another round of massive ethnic cleansing from Palestine.

Palestinians themselves, while clearly keen to escape certain death under Israel's unrestrained onslaught, are deeply wary of yet another mass expulsion leaving them bereft as in 1948.

Cairo is willing to deliver emergency aid to Gaza and has opened the airport at El Arish for international aid flights. But Egyptian Foreign Minister Sameh Shoukry on Sunday told CNN that recent Israeli bombings in the area had left the crossing inoperable.

Sisi himself is reported to have told Blinken that Israel's assault on Gaza has gone beyond the "the right of self-defense" and turned into "a collective punishment."
Abraham Accordists
The UAE, after first calling the Hamas operation a "grave escalation," has been largely silent since. It has donated $20 million to UNRWA's emergency appeal for Gaza, but it has not used any influence in Washington yet to any noticable effect.
The UAE was the first of three Arab countries to sign on to the so-called Abraham Accords in 2020, and in March it became the first Arab country to have a free trade agreement with Israel.
No questions have been raised about its treaty with Israel, or that free trade agreement, and Abu Dhabi is unlikely to want to jeopardize any gains it may have identified from these accords. So far, there has also been no reported public backlash, but then, this is a country where even a polite letter can land you in jail.
Also less fearful of a public backlash is Bahrain. Unlike with the UAE, the US was concerned enough to dispatch Blinken there on his current tour of the region. Manama has urged restraint on Israel, but it also appears to have ordered state media to ignore Gaza.
Remarkably, the home page of Bahrain's state-owned press agency had barely a mention of Gaza on 16 October.
Not able to exercise such media control, Morocco is the one country of the trio to have been rocked by large demonstrations in solidarity with Gaza. Having secured Israeli recognition of its own occupation of Western Sahara, however, Rabat will be equally keen to resist any pressure to cool its relations with Israel.
Tags