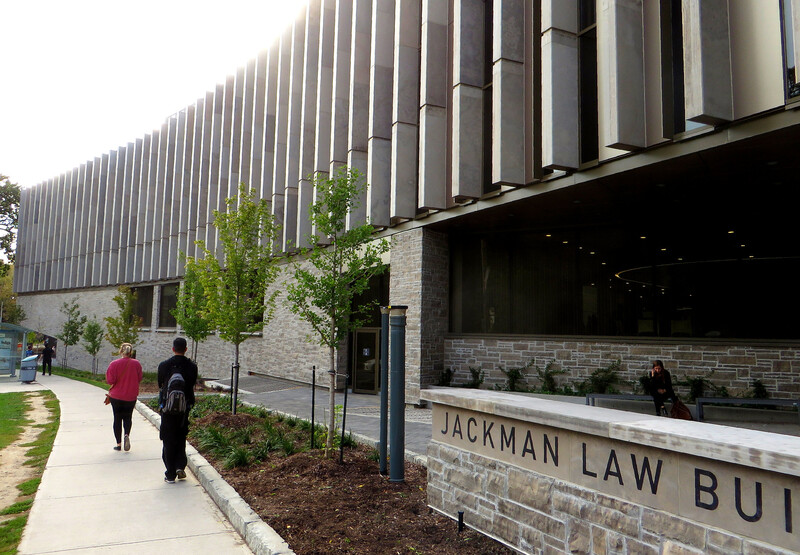 The University of Toronto has allegedly rescinded a job offer to a prominent human rights scholar after a sitting Canadian tax court judge complained about her research on Palestinian rights.

Justice David Spiro is a former board member of the Centre for Israel and Jewish Affairs, the premier Zionist organization in Canada.

He is also a major donor to the university.

More than 1,400 human rights advocates, scholars and lawyers say that this is blatant censorship, a violation of academic freedom and dangerous acquiescence to a donor's political agenda.

The letter calls on the university to reinstate the professor and investigate the judge's conduct.

The university offered professor Valentina Azarova, a human rights scholar who has written about Israel's violations of international law, to head the law school's International Human Rights Program on 11 August.

She accepted the offer on 19 August, according to The Globe and Mail and members of the hiring committee.

In early September, the law school's dean, Edward Iacobucci, killed the job offer and suspended the search for the human rights program's director indefinitely.

Iacobucci and the university then denied that Azarova was hired in the first place. "We can confirm that no offer of employment was made to any candidate, and therefore, no offer was revoked," the administration stated, adding that the faculty of the law school "canceled the search."

But email records refute such claims.

Protesting the dean's actions, the chair of the hiring committee, law professor Audrey Macklin, and the entire three-member advisory board resigned, as did the law school's research associate Vincent Wong. Wong told The Globe and Mail that before Justice Spiro's intervention, the university's employment lawyer had confirmed that Azarova, who is based in Germany, could be hired as an independent contractor until she received a work permit.

But after Spiro contacted the university administration, the dean attempted to obscure his decision and deflect it as a problem with Azarova's immigration.
"No one should pay such a price"
Dania Majid, founder of the Arab Canadian Lawyers' Association, told The Electronic Intifada that scholars and faculty who first heard that Azarova's job was rescinded gave the university an opportunity to resolve the situation before the story hit the media.

"There were quite a few people who wrote to the dean personally, and said: 'this was a bad call and you should take steps to rectify it,'" she said.

"The university decided to not just [refuse] to take the opportunity, but to call everybody a liar – all the academics, all the professors, those who resigned from their positions, all of them were just 'liars,'" Majid added.

"But they never denied the fact that the interference was made. They were just quibbling over what counts as a job offer."

Itamar Mann, a professor at the University of Haifa and a referee in Azarova's hiring process, called on Iacobucci to resign. Farida Deif, Human Rights Watch's Canada director, warned of the chilling effect the university's action would have on other academics and researchers.

"No one should pay such a price simply for exposing human rights violations by any country, including Israel," Deif said.

Amnesty International and the Canadian Association of University Teachers also called for a full investigation of events.

Iacobucci's attempt to placate the interests of donors and deflect scrutiny recalls the hiring and subsequent firing of professor Steven Salaita in 2014 by the University of Illinois at Urbana-Champaign, over Salaita's criticism of Israel's bombing of Gaza.
Shielding Israel from criticism
Justice Spiro's interference, and his association with CIJA, highlights the ways outside individuals and lobby groups aim to shape academic instruction to shield Israel from criticism and accountability.

CIJA, in particular, has been instrumental in pushing for Canada to adopt the International Holocaust Remembrance Alliance's so-called "working definition of anti-Semitism," which seeks to conflate criticism of Israel's human rights record with anti-Jewish bigotry.

B'nai Brith, another major Israel advocacy group in Canada, applauded the University of Toronto for rejecting Azarova's hire.

The group and its supporters are also urging the university to " 'stand strong in refusing to hire Valentina Azarova,' while smearing her as a terrorism supporter because of ties to Palestinian human rights organizations," says Michael Bueckert of Canadians for Justice and Peace in the Middle East. The groups hope to shut down criticism of Israel's Zionist state ideology under which Palestinian refugees are barred from returning to their homeland solely because they are not Jewish.

The equation by Israel lobby groups of anti-Jewish bigotry with anti-Zionism has been denounced by many Jewish organizations around the world.

Independent Jewish Voices Canada has documented dozens of incidents in Canada, the US and Europe where the IHRA definition has been invoked in order to cancel educational events and suppress speech in support of Palestinian rights.
Combating the chilling effect
Azeezah Kanji is a graduate of the International Human Rights Program (IHRP).
Kanji said that pressure to ignore Azarova's work on Palestinian rights issues extended even to some of her supporters, who downplayed her Palestine scholarship to the Canadian media.
"A scholar who's managing to do work on human rights under such conditions of constraint, that's considered at best irrelevant to an appointment to lead a human rights program – when it actually should be a mark of commendation and something that would recommend her for the position," she told The Electronic Intifada.
Together with David Palumbo-Liu at Stanford University, Kanji and Majid organized the statement in defense of Azarova and her work on Palestinian rights.
"We're calling for the employment offer to be restored to Azarova, an apology to be issued, and an investigation by the Canadian judicial council into the behavior of the judge who interfered," Kanji said.
The letter also demands that academic and government institutions cease suppressing and penalizing speech and scholarship on Palestine.
Additionally, more than 140 current and former students of the International Human Rights Program have signed a letter stating their concerns about the future of the program and urging that Azarova be reinstated.
"We have to combat the chilling effect that this case in particular has brought up, but also across the board," Majid said, adding that some universities might not want to hire scholars who have done work on Palestine because they see what is happening at the University of Toronto.
However, Kanji hopes the outrage over the university's actions "will show them that it is much more of a risk" to censor scholarship on Palestine, because in the long run kowtowing to Israel lobby demands will not be worth the reputational price.
Tags