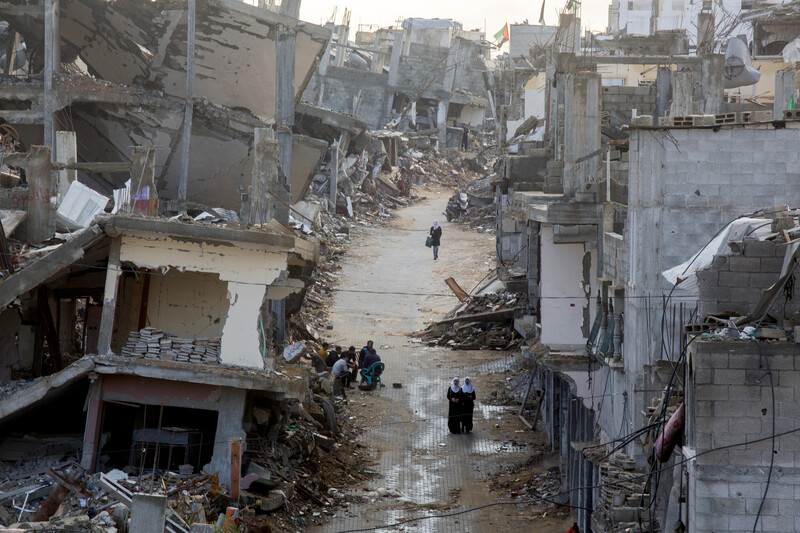 For decades, Israel's crimes against Palestinians living under its military occupation were subject to little more oversight than that of public opinion. This may soon change, and Israel is putting on a show of applying the law in order to evade accountability.
Nearly two years ago, the Palestinian Authority, with non-member state status at the United Nations, ratified the Rome Statute, giving it access to the International Criminal Court.
With war crimes files now formally submitted, for the first time Israel may be held accountable outside its own courts, thus posing a test of the ICC's mandate "to combat impunity and prevent the recurrence of violence."
Since its founding in 2002, the ICC has almost exclusively investigated and prosecuted the heads of African states who are not only considered responsible for reprehensible crimes but also hold little power on the global stage – neither being attributes with which Israel wants to be associated.
While Israel might easily shrug off a critical UN report or condemnatory statement, it would prefer to avoid appearing in a courtroom whose earliest incarnation in Nuremberg tried and convicted Nazis.
At the beginning of 2015, the ICC opened a preliminary examination into the "Palestine situation," bringing under review all potential war crimes committed in the occupied West Bank and Gaza Strip since 13 June 2014. The date marks the beginning of Israel's massive military operation in the West Bank after three Israeli teens went missing and later were found dead.
The manhunt saw six Palestinians killed and hundreds arrested, and led to Israel's Operation Protective Edge in Gaza, the most ferocious of three wholesale assaults on Gaza between December 2008 and 2014.
Immediately after the ICC opened the preliminary examination, Israeli officials reacted with customary belligerence.
Prime Minister Benjamin Netanyahu is reported to have ordered a media campaign against the ICC and its prosecutor Fatou Bensouda. Then-foreign minister Avigdor Lieberman called on Israel's allies, including Canada, Australia and Germany, which are members of the ICC, to stop funding the court.
Advantage
But despite the bombast, Israel has been cooperating with the ICC to its own advantage.
While in the past Israel has denied the requests of UN bodies to access the West Bank and Gaza in order to conduct investigations, this month it allowed entry to an ICC delegation.
Permitting representatives from The Hague would allow Israel to showcase its system of internal investigations, developed over the last seven years for this very purpose, as war crimes cases are taken up by the ICC only when justice cannot be reached in local courts.
Though Bensouda dispelled rumors that the delegation would be assessing Israel's and the Palestinians' legal systems, some found it hard to believe the team would not be taking a look at Israel's ongoing investigations.
In the wake of Judge Richard Goldstone's fact-finding report into Operation Cast Lead, Israel's massive military assault on Gaza in December 2008 and January 2009, Israel put out a hiring call for a team of lawyers capable of strategizing a defense in the event of an ICC probe, a source close to the investigation told The Electronic Initfada, adding that the Israeli justice ministry hired personnel to work specifically on an ICC contingency plan.
Since that three-week onslaught, Israel has waged two more full-scale assaults on Gaza and attacked an international flotilla aiming to break the naval blockade on the territory, causing the deaths of 10 civilian passengers. Consequently, it has come under increasing international scrutiny, just dodging an ICC criminal investigation in 2014 that was referred to the court by the Union of the Comoros, where one of the attacked vessels was registered.
Along the way, Israel has acted to make sure it continues to protect itself from prosecution. After the Goldstone report and two additional UN reports found that Israel's internal investigative mechanism did not meet international standards, Israel published six top-level reports and created the Turkel Commission, ostensibly to correct the failings.
But observers say those changes are cosmetic, and "have done nothing to improve the essence of the investigations," as the Israeli human rights group B'Tselem recently stated.
Following the 2014 ceasefire, B'Tselem announced that it would break with previous practice and not provide the military investigators with information, stating they were incapable of carrying out "serious investigations."
B'Tselem completely severed cooperation with the Israeli military earlier this year, announcing they would no longer refer complaints to Israel's military investigators. "We will no longer aid a system that whitewashes investigations and serves as a fig leaf for the occupation," its director stated.
The UN's Commission of Inquiry into the 2014 Gaza war still found Israel's investigative mechanism lacking.
Israeli army investigates itself
While the 51-day assault was ongoing, Israel's military opened examinations into what it called "exceptional incidents" for possible criminal investigation.
This means that Israel's Military Advocate General was providing legal counsel to the army's commanders as it was simultaneously reviewing incidents for criminal investigation. B'Tselem has stated that this "dual role creates an inherent conflict of interests."
Soon after Israel launched so-called Operation Protective Edge in Gaza on 7 July 2014, Palestinian human rights groups Adalah and Al Mezan Center for Human Rights began filing incident reports alleging criminal conduct by the military with Israel's top lawyers, the Military Advocate General and the Attorney General.
Between 10 July and 1 September 2014, the two groups jointly filed a total of 27 reports from a war that left at least 2,251 Palestinians dead, including 1,462 civilians, among them 551 children, according to the UN Human Rights Council's independent investigation.
Al Mezan eventually submitted 107 more complaints. Of the approximately 500 complaints submitted to the Military Advocate General for review, according to B'Tselem, Israel indicted a total of three Israeli soldiers for a single incident of looting in Shujaiya, a neighborhood in Gaza City that came under intense bombardment.
More than 55 civilians were killed there, including 19 children, according to Al Mezan's documentation. The UN Commission of Inquiry found evidence of war crimes, but Israel had carried out no investigation into the bombing.
In its fifth and latest report on its probes related to the summer assault, the military cleared itself of wrongdoing in 12 more cases.
This brings the total number of alleged crimes reviewed and cleared by the Military Advocate General to more than 90, though it has offered explanations for only a fraction of those closed. It appears to have summarily dismissed referrals to 140 incidents. Though the body's reports do not provide comprehensive data on its progress, it appears it is still reviewing approximately 270 complaints, according to its own update.
Among the cases closed was a criminal investigation opened against a senior Israeli military officer who ordered the shelling of a medical clinic in an apparent act of revenge. The Military Advocate General said the officer's comments indicating that the shelling was meant to avenge the shooting of an Israeli soldier were "inappropriate," but found no evidence to justify criminal or disciplinary legal action.
The army has also cleared itself of wrongdoing in the shelling of a group of boys playing on a beach, killing four of them. The shelling took place in full view of foreign journalists, who witnessed and documented the incident.
The Israeli military did not even bother to collect testimonies from the journalists, according to the rights groups Al Mezan and Adalah.
The two groups say the Military Advocate General also closed its investigation into a strike on a UN-run school in Rafah that killed 15 persons, including eight children. According to the brief, the file was closed based on "classified military evidence," and no field investigation was conducted.
While Israel goes through the motions of investigating itself for the sake of averting international justice, Palestinian human rights groups working with the International Criminal Court have been subjected to a covert campaign of intimidation, including death threats and sabotage of communication networks.
The source of the attacks is still unknown, but some believe they are connected to the Israeli government. While researching this article, this reporter spoke to multiple sources who wished to remain off the record or expressed anxiety about revealing too much detail in light of the harassment and threats.
Where ICC probe stands today
Right now the Office of the Prosecutor at The Hague is sifting through every document submitted by the Palestinian Authority, the Israeli government, human rights groups and other nongovernmental organizations to determine whether to open a criminal investigation.
International Criminal Court preliminary examinations have been known to take as long as a decade or more, but there is little doubt among legal observers closely following the case that there will be a criminal investigation into Israeli war crimes.
"There is no shortage of prima facie information to say we will open an investigation, particularly in some of the clearer cases such as the settlements," international legal scholar Valentina Azarova told The Electronic Intifada.
The legal scholar Sharon Weill has stated that it's "only a matter of time" before the ICC opens an investigation.
But what exactly will come under investigation remains to be determined, as the prosecutor considers the gravity of alleged crimes.
In 2014, Bensouda ruled she would not open an investigation into Israel's deadly attack on the Gaza flotilla four years earlier. While she believed Israel had committed war crimes, she stated, it did not satisfy the gravity requirement, which is assessed both qualitatively and quantitatively according to the "scale, nature, manner of commission of the crimes."
Israel's internal investigative apparatus, as hollow as it may be, may also make war crimes difficult to prosecute.
Last month the ICC released a document explaining its methods for prioritizing its reviews, suggesting deference to a country's internal investigations, where they exist.
"If the national authorities are conducting, or have conducted, investigations or prosecutions against the same person for substantially the same conduct, and such investigations or prosecutions have not been vitiated by an unwillingness or inability to genuinely carry them out, the case will not be selected for further investigation and prosecution," the ICC stated.
Unlike the State of Israel, Hamas and the Palestinian Authority, which respectively administer the internal affairs of Gaza and the West Bank, have no mechanisms like the Military Advocate General. The Palestine Liberation Organization did say this month, however, that it will probe alleged crimes, offering no elaboration.
It is the expansion of settlements, a violation of international law, that some Israeli commentators speculate will be the target of an ICC investigation, rather than Israel's lethal military assaults against Palestinians in Gaza, which, according to the government, are thoroughly investigated.
Israel has constructed an architecture of law under which claimants can petition specific offenses like the killing of a protester or the destruction of personal property. But within this complex legal system, Palestinian rights are virtually nonexistent. The occupation regime's own book of laws consistently overrides conventional international law.
Whether the ICC also recognizes this and provides a real venue for Palestinians to achieve justice will be a testament to – or refutation of – its own legitimacy.
Charlotte Silver is Associate Editor for The Electronic Intifada.
Tags