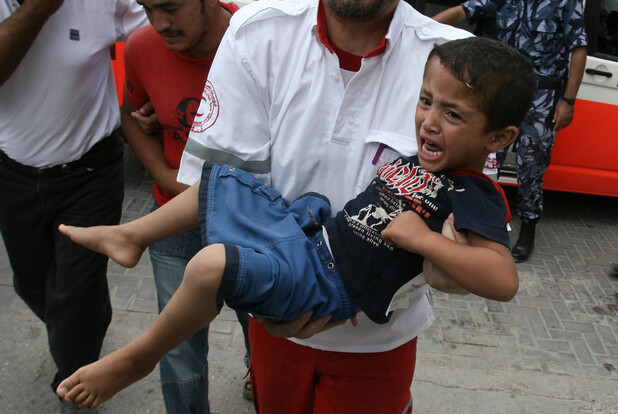 Israeli forces began shelling a United Nations girls' school today, where hundreds of Palestinians have sought refuge since Israel's attacks began two weeks ago. According to Chris Gunness, spokesperson for UNRWA, the UN agency for Palestine refugees, Israel shelled the school and then shelled it again when humanitarian aid workers went to investigate the damage.
On Monday, Gunness stated that more than 100,000 Palestinians have been internally displaced from their homes in Gaza and have sought refuge in 69 UN facilities, including the Maghazi girls' school. Gunness added that the number of persons seeking sanctuary has risen by more than 400 percent in the last four days.
Al Jazeera Arabic reported than 73 Palestinians were killed on Tuesday alone in the latest series of attacks, bringing the death toll in Israel's two-week-long assault to over 600.
Israel slaughters children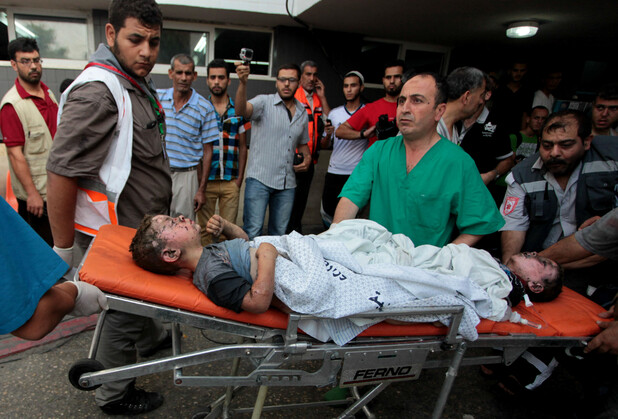 Defence for Children International - Palestine Section released a report today confirming that of the 600 dead, at least 95 are children, with a further 65 cases being investigated by the organization. The aid agency UNICEF's initial estimates are higher — it stated that 121 children have been killed, including at least twenty who were killed during Israel's massacre in the Shujaiya neighborhood on Sunday. "Over eighty of those killed are 12 or younger," reports Ma'an News Agency. UNICEF estimates that one-third of all civilian casualties are children.
During an interview with The Electronic Intifada on Sunday, Dr. Belal Dabour of al-Shifa Hospital reported that children made up the majority of those who arrived with serious injuries sustained during the Shujaiya massacre. Dabour added that many of these children will have life-long disabilities or will remain severely disfigured.
DCI-Palestine reports that:
The numbers of child fatalities grew rapidly as Israel continued its ground attacks on the Gaza Strip, with day three of the invasion, Sunday, 20 July, proving the deadliest yet. In Khan Younis, 19 children from the same family were killed when bombs from an Israeli aircraft destroyed their home. A further three children across Gaza lost their lives on the same day.

… Dina Rushdi Omar Hamada, 16, died when her house in Gaza City was targeted by a drone missile.

In the southern Gaza town of Rafah, 16-year-old Anas Mahmoud Hussein Muammar was targeted by a drone missile as he sat with his brothers on the balcony of their apartment, drinking coffee. He was pronounced dead in hospital after sustaining critical injuries.

At al-Bureij refugee camp in central Gaza, 12-year-old Shaaban Jamil Shaaban Zeyadeh was killed along with six of his family members as they tried to evacuate their home, which was bombed in an airstrike.
DCI-Palestine adds that "Based on a preliminary investigation, Israeli forces unlawfully targeted the Abu Jami' family home as it was not being used for any military purpose at the time of the attack. The mere alleged presence of a member of a Palestinian armed group is an insufficient justification for an attack on the Abu Jami' family home."
Extensive psychological trauma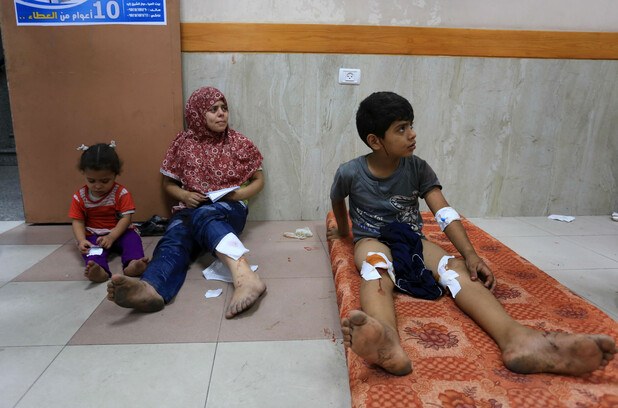 The UN Office for the Coordination of Humanitarian Affairs stated today that "At least 107,000 children require direct and specialized psychosocial support on the basis of families who have experienced death, injury or loss of home" since Israel's attacks began on 8 July.
Speaking to Ma'an News Agency, Ivan Karakashian of Defence for Children International - Palestine section said, "This is the highest number [of child deaths] since Operation Cast Lead [in late 2008 and early 2009]. It is a huge toll, and rising, and more worryingly, 76 children were killed in the past three days."
Ma'an reports that more than 900 children have been injured in Israel's attacks. "Shrapnel wounds, severe burns, and the loss of limbs account for a high rate of critical injuries which will require long-term attention and severely impact the victims' future quality of life," the agency adds.
Karakashian explained: "It's clear from the insane amount of children killed over the past three days that children are bearing the brunt of Israel's offensive. To be honest, we have never seen it this bad for children," adding: "There is no safe place for children at this moment, no safe havens to escape to. Israel says it is carrying out targeted operations, precision strikes, but it is very difficult to see that when you look at the mounting casualties of women and children."

Ma'an reports that "With over half of Gaza's population under 18, children have the highest likelihood of being killed by Israeli military attacks. Karakashian says nearly all children in Gaza are in a state of 'shock and horror,' barely able to process the psychological trauma they have witnessed."
Karakashian adds:
One day children have a large family and the next day they are orphans. The practical implications of this will affect them forever. Children grow up in a environment where they realize they have no security in their own homes. Even their bedrooms are not safe anymore.
Israel killed 19 children from one family
DCI-Palestine lists the names of the children from the Abu Jami' family in Khan Younis. "All were sheltering in their four-storey house when the strike occurred without warning," the organization says.
Njoud Tayseer Ahmad Abu Jami', 4 months
Bisan Bassam Ahmad Abu Jami', 6 months
Nour Yaser Ahmad Abu Jami', 2
Rinas Tayseer Ahmad Abu Jami', 2
Suheila Bassam Ahmad Abu Jami', 3
Seraj Yaser Ahmad Abu Jami', 4
Batoul Bassam Ahmad Abu Jami', 4
Tawfiq Tawfiq Ahmad Abu Jami', 4
Rayan Tayseer Ahmad Abu Jami', 5
Sajed Yaser Ahmad Abu Jami', 7
Maisa'a Tawfiq Ahmad Abu Jami', 7
Husam Husam Abu Qnais, 7
Ahmad Tawfiq Ahmad Abu Jami', 8
Haifa Tawfiq Ahmad Abu Jami', 9
Ayyoub Tayseer Ahmad Abu Jami', 10
Aya Tawfiq Ahmad Abu Jami', 12
Fatima Tayseer Ahmad Abu Jami', 12
Jawdat Tawfiq Ahmad Abu Jami', 13
Razan Tawfiq Ahmad Abu Jami', 14
Tags