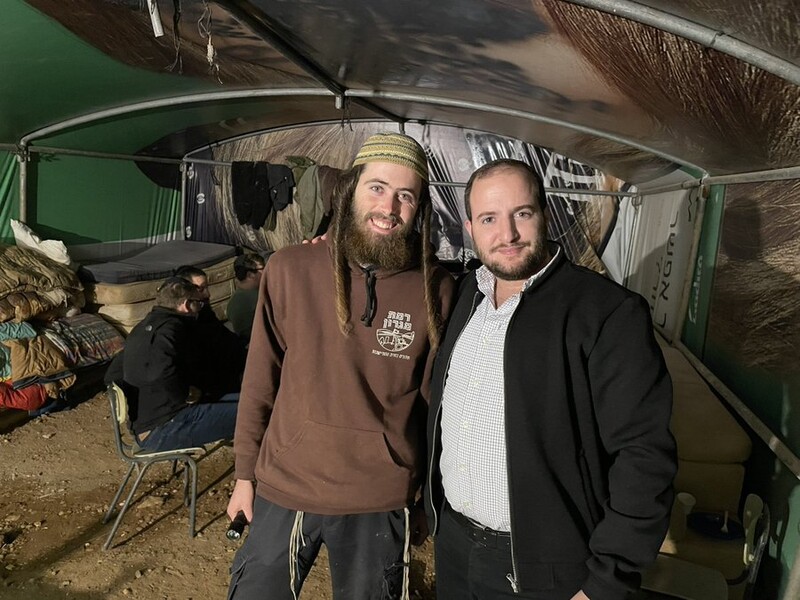 The last few weeks have done much to highlight the extremists in the new Israeli government.

Prime Minister Benjamin Netanyahu claims to be above it, emphasizing in November to CNN's Fareed Zakaria that "I decide the policy" and "I've had such partners in the past and they didn't change an iota of my policies."

How's that working out?

He's not controlling the extremists, they're dictating to him. Ultimately, he likes the direction.

The calls on Netanyahu's watch for anti-Palestinian violence are not limited to finance minister Bezalel Smotrich calling for the Palestinian village of Huwwara to be "wiped out" by the "state of Israel" and "not, God forbid, [by] private individuals." They extend beyond Smotrich's claim that there is "no such thing as Palestinians because there's no such thing as the Palestinian people."

Nor is it just Zvika Fogel, a lawmaker from the Jewish Power party, pushing war crimes to Galei Israel radio when he said, "A Huwwara that is burning – that's the only way we'll achieve deterrence."

The lawmaker added, "We need to stop shying away from collective punishment."

Limor Son Har-Melech, another Jewish Power lawmaker in Netanyahu's coalition, issued her own threats.

She called on 19 March for "the occupation of the centers of terrorism in the cities and villages and the collection of the weapons until the last of them, the deportation of terrorist families."

She labels whole communities "centers of terrorism" to press for even more violence from the Israeli military, the most powerful in the region. And her language about "terrorist families" is a clear call for collective punishment against Palestinians that she would never contemplate for Israel's West Bank settlers, though international law prohibits their settlement activities.

In late February, Har-Melech also recommended for the West Bank a "disproportionate response that will make it clear to the enemy that the owner of the house has gone mad." That is a call for uncontrolled Israeli violence meted out against the occupied Palestinian population.

She was not alone in this. Shortly before her comment, Smotrich tweeted: "'Calm' will only be achieved when the IDF [Israeli military] hits the cities of terror and its perpetrators mercilessly, with tanks and helicopters, in such a way that it will broadcast that the owner of the house has gone mad and will take away their desire to harm us."

There is an infatuation in the extreme right with showing violent "madness" against Palestinians that should be taken up by the International Criminal Court every bit as much as the day to day apartheid administration over the years by "left," centrist and right-wing governments.

Har-Melech's spokesperson Elisha Yered has also repeatedly pressed for Huwwara to be "wiped out."

On 20 March, he tweeted: "I do not back down from the clear statement: the village of Huwwara should be wiped out."

Citing former US State Department spokesperson Ned Price who called a similar statement by finance minister Smotrich "irresponsible," "repugnant" and "disgusting," a State Department spokesperson emailed The Electronic Intifada on 24 March that "As Mr. Price said, Minister Smotrich's comments were irresponsible and repugnant, and just as the United States condemns Palestinian incitement, we condemn these provocative remarks that amount to an incitement to violence."

On 26 March, Yered expressed dismay that "this village is still standing." These are the types of people associated with the governing coalition receiving $3.8 billion in annual US military aid.

Earlier, on 21 March, Yered shared a video called "Questions and answers: Why Huwwara should be wiped out" in a WhatsApp group used by journalists.

Yered has previously said that "we must expel the goyim," meaning Palestinians. He also contends that Palestinians wishing to live in his expansionist country can do so only if "they keep their heads down."

In August, Yered was arrested on suspicion of stealing from Palestinians. He lives in an illegal outpost – again, all settlements are illegal under international law – in the occupied West Bank. Unsurprisingly, he promotes spreading settlements all over the West Bank.

The State Department did not make any comment about the relationship between the war crimes pushing spokesperson for Har-Melech and Netzah Yehuda Association CEO Yossi Levi when asked by The Electronic Intifada.

The two men can be seen in this photograph Levi posted to Twitter:

The photograph of the two came less than a year after the Netzah Yehuda battalion, which receives tax-deductible contributions from American citizens, was involved in the killing of American citizen Omar Assad.

Adam Shapiro, advocacy director for Israel-Palestine at human rights organization DAWN, told The Electronic Intifada that "it is not surprising to see Yossi Levi with Elisha Yered, who recently called for settlers to wipe out Huwwara. While Netzah Yehuda may now be deployed out of the West Bank, the armed militia that is the Israeli settler movement rampages across the occupied Palestinian territory."

In November, DAWN issued a report on the Netzah Yehuda battalion's "track record of gross human rights abuses and war crimes, including extrajudicial killing, torture and physical abuse."

Yered also retweets incitement against Palestinian children and the most well-known Muslim holy site in occupied Palestinian territory.

In the first example below, the tweeter says of the Israeli military and Palestinian children: "IDF soldiers on alert next to happy little kids who don't give a damn about them." In the second example, the commenter says that what is missing is the third temple rather than the golden dome of the Dome of the Rock.

Such provocative comments help clear the way for more Israeli violence against Palestinian children and for the targeting of Muslim and Palestinian holy sites.

According to Jonathan Ofir in Mondoweiss, Avichay Buaron, a recently added member of Israel's parliament, the Knesset, published an editorial in 2010 advocating "extermination camps" for Israel's enemies.

I don't think literal extermination or death camps will be built, but with Knesset members actually calling for Huwwara to be "wiped out," we are at a very dangerous juncture.

Palestinians, who were forced out by the hundreds of thousands in 1948 as the state of Israel was being formed through anti-Palestinian violence and massacres, are well aware of how quickly rhetoric can turn to action. Recent history demonstrates just how willing the Israeli government is to send its military into Palestinian cities and refugee camps.

Scores and even hundreds of Palestinians – over 2,000 in approximately seven weeks in Gaza in 2014 – have been killed within days with the US merely claiming that Israel is exercising self-defense. This overwhelming violence targets a dispossessed people forced into refugee camps and open-air prisons.

For all intents and purposes, Palestinians are already rounded up. Now, presumably, Netanyahu seeks Buaron's counsel and that of other coalition members such as Smotrich and Fogel who have both called publicly for an entire Palestinian community to be "wiped out" or be left "burning."

Buaron, like coalition colleagues supposedly even more to his right, also raged against Huwwara. The Likud lawmaker's preference is that rather than individuals taking matters into their own hands, as transpired in part, it would be "much better if the IDF would come to its senses and carry out retaliatory actions as it did in the past."

Just last month, Buaron tweeted that with "the expected departure of Abu Mazen [Palestinian Authority President Mahmoud Abbas]," Israel would have an opportunity to "create a new order." Buaron did not appear to be referring only to PA funding decisions he disagreed with, but seemed to be suggesting that Israel play a role in choosing future Palestinian leadership.

The racist Buaron clearly prefers that Palestinian citizens of Israel be regarded as second-class citizens – which they already objectively are – whose participation in Israeli elections is illegitimate.

Buaron and the lawmakers previously mentioned are the people in the Israeli government that US politicians are intent on funding. Netanyahu willingly entered into coalition with them because they share the same anti-Palestinian beliefs.

The situation gets worse and worse and yet the US funding goes on and on.
Update, 7 April
Elisha Yered announced on Twitter today that a few days ago he decided to leave his job as spokesperson for Jewish Power party lawmaker Limor Son Har-Melech.

Israel's right wing wanted a harsher military policy against Palestinians, got it, and when that didn't work to their satisfaction called for even more violence. Not getting as much violence as he wanted, Yered announced his departure.

New Likud lawmaker Avichay Buaron called today for Israeli "sovereignty" in the Jordan Valley – in other words formal annexation of that occupied territory.
Tags