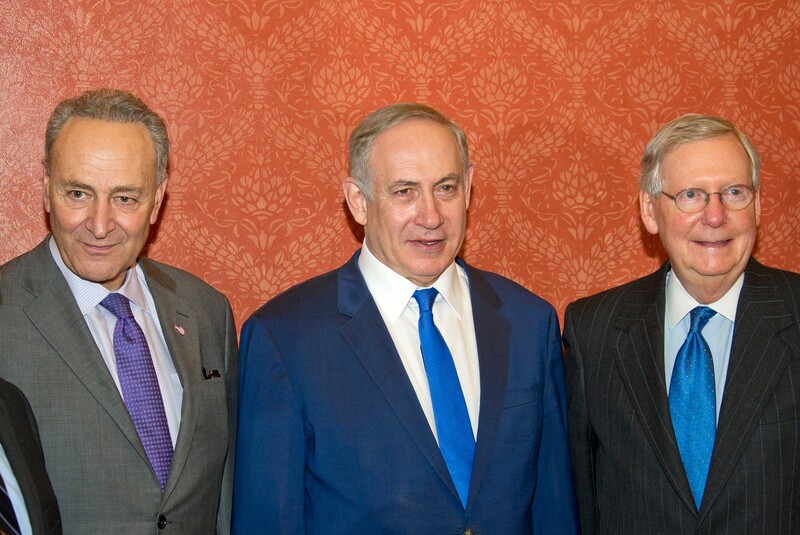 Members of the US Congress have spent the past week visiting Israel and the Israeli-seized city of Jerusalem while declaring their absolute support for the apartheid state.

Developments since then strongly suggest the politicians gave no serious warnings to Prime Minister Benjamin Netanyahu about Israel's violent military actions and violent settlement activities during their joyful time with him.

US Ambassador Tom Nides, who is desperate to pass the Visa Waiver Program for Israel despite Israeli discrimination against Palestinian American travelers, welcomed them.

Senator Majority Leader Chuck Schumer said Friday at Yad Vashem, the Holocaust memorial in Jerusalem, that as "the highest-ranking Jewish American elected official in history, I stand here today in the shadow of my ancestors who perished in the Holocaust to promise that as long as Hashem breathes air into my lungs, the United States Senate will stand behind Israel with our fullest support."

That evidently means there is no line Israel can cross that will give Schumer pause.

Israel has spent the past two months crossing lines – or more accurately crisscrossing lines – at a feverish pace with new illegal settlement activity, deadly invasions of West Bank cities, apartheid-bolstering judicial reform and racist governing coalition member Almog Cohen disparaging opposition lawmakers, including Palestinians, as animals and worse.

Cohen and his colleagues in the Jewish Power party are proudly anti-Palestinian. Itamar Ben-Gvir, the party's leader, is a follower of the racist extremist Meir Kahane.

Ben-Gvir pushes collective punishment against Palestinians, even as many Americans learned this past week that for a first date he took his wife to the grave of Baruch Goldstein, the settler who 29 years ago this month gunned down 29 Palestinians worshiping at the Ibrahimi mosque in Hebron.

None of this has come remotely close to leading the US government to reconsider its $3.8 billion in annual military aid to Israel.

Instead, the US pushed for an empty statement on Israeli settlements from the United Nations Security Council that was quickly followed by Israel's deadly raid last week on Nablus and more news of Israel's determination to disregard the UN and proceed with its colonization of the West Bank.

Meeting Sunday in Aqaba, Jordan, representatives of Israel, the US, Egypt, Jordan and the Palestinian Authority seemed to come to yet another temporary agreement on settlements. They announced that "the government of Israel and the Palestinian National Authority confirmed their joint readiness and commitment to immediately work to end unilateral measures for a period of three to six months."

The statement added, "This includes an Israeli commitment to stop discussion of any new settlement units for four months and to stop authorization of any outposts for six months."

The US government welcomed the decision on Twitter, but minutes later Netanyahu scuttled it, not that it ever had real significance.

Per Netanyahu: "Contrary to the tweets, construction and regulation in Judea and Samaria [the West Bank] will continue according to the original planning and construction schedule, without any changes." He added that there "will not be any freeze" in settlement activity.

And so it goes, whether from the State Department, the White House or members of Congress, Israeli impunity carries on.

As for Schumer, his views on Israel have not changed. His religious language and support for Israel is not far removed from the remarks he made at an AIPAC conference in 2018 when he intoned in bigoted and exclusivist terms against Palestinians: "We say it's our land. The Torah says it. But they [Palestinians] don't believe in the Torah. So, that's the reason there is not peace. They invent other reasons, but they do not believe in a Jewish state."

When the Democrats are led by anti-Palestinian racists, there should not be any surprise when the Democratic leadership stands by and allows apartheid to flourish with American taxpayer support. They have enabled and funded Israel's actions every step of the way.
Content with status quo
No matter the Kahanists and other racists included in Netanyahu's government, Republicans and Democrats alike are happy to meet with the prime minister and he with them.

Democrat Schumer and Senate Republican leader Mitch McConnell both led delegations of their own parties. Participant Katie Boyd Britt, the new Republican US senator from Alabama, declared, "Now, more than ever, we must stand with Israel." Jim Crow segregation is no longer the law of the land in Alabama, but Britt is perfectly happy to see Israel enact a dual system of law with inferior rights for Palestinians.

Both delegations also met with Israeli President Isaac Herzog, an anti-Palestinian and anti-Black racist who has said that there was "an actual plague" of Jewish people in the United States who were "married or coupled with non-Jewish partners."

Yet Ambassador Nides said in a recent interview, "I love Bougie Herzog," while calling him the "heart and soul of Israel regardless of whether you are right, left or center."

Nides made his priorities crystal clear when he tweeted about some recent deadly incidents, but not others. He noted Sunday that he was "horrified by the terrorist attack in Huwwara today that left two Israeli brothers dead," while not tweeting in the aftermath of Israeli settlers rampaging through Huwwara, a village near Nablus.

Palestinian Sameh Aqtash was shot dead by Israeli settlers as Palestinian homes, vehicles and livestock were also targeted as Israeli soldiers stood by, protected or abetted Israeli settlers intimidating and attacking Palestinians.

Tzvika Fogel, a lawmaker from the extremist Jewish Power party, told Galei Israel radio on Monday, "A Huwwara that is burning – that's the only way we'll achieve deterrence." He added, "We need to stop shying away from collective punishment."

Yet Nides keeps silent.

Congressman Jim McGovern also recently led a delegation from the educational fund of the pro-Israel lobby group J Street that included 14 other Democratic representatives.

He, like most Democrats who have spoken out recently, limited his tweet on his visit to being "inspired to see the hundreds of thousands of protesters standing up for their beliefs – as well as members of the @KnessetENG opposition standing up for democracy and against gutting the independence of [the] Israeli supreme court."

The vast majority of Israeli protesters, of course, are motivated not by the denied rights of Palestinians in the West Bank, or even in Israel, but by upholding the Israeli high court notwithstanding its routine discrimination against Palestinians.

In promoting the Twitter handle for Israel's parliament, the Knesset, McGovern was normalizing an account pushing the Israeli settlement of the West Bank and collective punishment – from deportation to home demolitions – that are illegal under international law. Standing immediately next to Netanyahu in a photo of the J Street delegation is Congresswoman Katie Porter who recently announced that she is running for US Senate in 2024 to replace long-standing Senator Dianne Feinstein of California.
Pompeo meets Ben-Gvir
Former US Secretary of State Mike Pompeo has visited Kahanist Knesset member Itamar Ben-Gvir in recent days.

Ben-Gvir tweeted Thursday about the meeting, though Pompeo – a potential Republican candidate for president in 2024 – did not.

"I was happy to meet Mike Pompeo – the US secretary of state under the Trump administration – and to talk with him about the relations between the countries and Israel's policy under our right-wing government," Ben-Gvir tweeted.

Pompeo reportedly accepted at face value Ben-Gvir's claim to have no intention to harm Palestinian citizens of Israel. Far less was apparently revealed to right-wing Israeli media Arutz Sheva about Palestinians in occupied territory and Ben-Gvir's intentions there.

Current Republican elected officials probably won't be far behind Pompeo in publicizing meetings with the extremist right in Israel that seeks to dispossess Palestinians and outdo one another in enacting oppressive policies.

As of Friday, none of the visitors – Republican or Democrat – tweeted any concern that I could find about Israel's deadly rampage through Nablus on Wednesday, nor did they propose counteractions against Israel's moves in the occupied West Bank.
Nikki Haley
Elsewhere, back in the US, Republican Nikki Haley, the former governor of South Carolina and President Donald Trump's anti-Palestinian ambassador to the United Nations, has officially declared she is running for president.

John Hagee, founder and chair of Christians United for Israel, stood at Haley's side as she kicked off her campaign in Charleston, South Carolina.

According to The New York Times, 2008 Republican presidential nominee John McCain "repudiated the Rev. John C. Hagee, a televangelist, after a watchdog group released a recording of a sermon in which Mr. Hagee said Hitler and the Holocaust had been part of God's plan to chase the Jews from Europe and drive them to Palestine."

Haley, on the other hand, declared, "Pastor Hagee, I still say I want to be you when I grow up."

Palestinians can expect to be vilified by the 2024 Republican presidential contenders as Democratic President Joe Biden and his allies mouth antiquated rhetoric about keeping the two-state solution alive even as Israeli apartheid is strengthened every day.
Tags