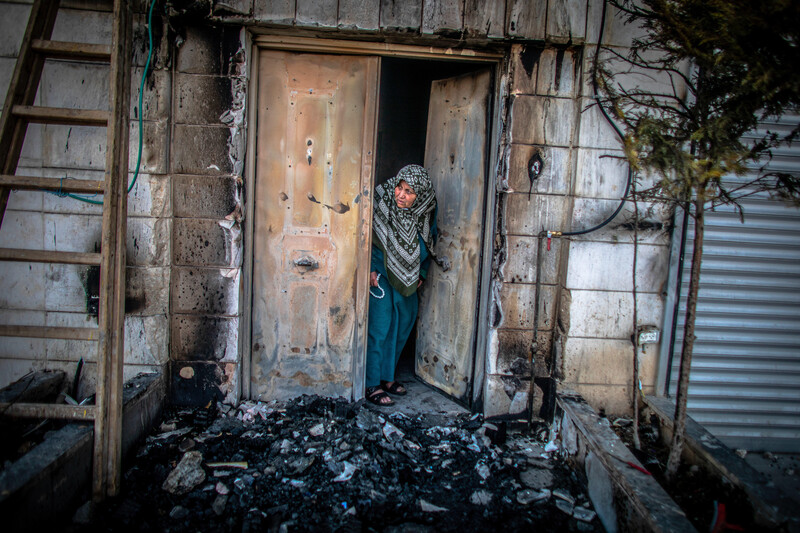 "The village of Huwwara needs to be wiped out. I think that the State of Israel needs to do that – not, God forbid, private individuals," Israel's finance minister Bezalel Smotrich said on Wednesday.

This genocidal call came just days after hordes of Israeli settlers, protected by the army, attacked the occupied West Bank village, burning Palestinian homes and cars and ransacking businesses.

One Palestinian was killed in the rampage, which was the settlers' revenge for the killing of two of their fellow colonists in the village on Sunday by unknown assailants.

Smotrich is a senior Israeli minister who has just been handed sweeping powers over the occupied West Bank.

His call for wiping out Huwwara came in response to a question on an Israeli television show about why he had "liked" a tweet from another settler leader who had urged that "the village of Huwwara should be wiped out today."

And in a similar spirit, Zvika Fogel, an Israeli general and a lawmaker in Prime Minister Benjamin Netanyahu's governing coalition, had praised the pogrom in the Palestinian village.

"A closed, burnt Huwwara – that's what I want to see," Fogel said.

And on 26 February, the day of the Huwwara pogrom, Smotrich himself incited Israel to "mercilessly" attack Palestinian cities with tanks and helicopters for the killing of the two settlers.

He urged that Israel should show through vengeful violence that "the owner of the house" – meaning Jews – "has gone mad" in order to deter Palestinians from any sort of resistance.

Palestinians know there is nothing new about such incitement, but it is now at a point where Israel's top officials are free to call for and act on their genocidal impulses completely secure in the knowledge that the so-called international community will do absolutely nothing to restrain them.

And wiping out whole towns and villages isn't new either: Zionist militias destroyed hundreds of them during 1948, as they expelled and murdered Palestinians during the Nakba in order to establish Israel over the ruins of their lives and society.

Ever since, the Israeli settler-colony has been destroying Palestinian homes and communities and stealing their land under the guise of "legal" procedures that have no legitimacy whatsoever.

That's what makes Smotrich's call so dangerous: Israel is perfectly capable of doing it. His supposed objection to the Huwwara pogrom is not to the pogrom itself, but that it is the role of the state to perpetrate atrocities against Palestinians.

In reality, however, there is no difference between the settler mob and the Israeli state: They are one and the same.
Never again?
Just a few weeks ago, Israeli President Isaac Herzog received a warm reception from European Union leaders in Brussels on the occasion of International Holocaust Remembrance Day.

The annual commemoration is an occasion for many pious speeches admonishing everyone to learn the "lessons of history," so that nothing like the German-led European Christian genocide of European Jews can ever happen again.

EU Commission President Ursula von der Leyen declared that "We cannot remain silent when injustice takes place, when massacres are committed."

"We have to call out anti-Semitism, antigypsyism and all forms of hatred and discrimination – be it on the grounds of racial or ethnic origin, religion or belief, gender, sexual orientation, age or disability," the German politician added.

And European Parliament president Roberta Metsola told Herzog that the legislative body was upholding the "timeless promise of never again" by taking positions against Russia and Iran – although she said nothing about Israel's crimes against Palestinians.

That silence is typical of European leaders, who maintain it now when their precious "lessons of history" demand that they cry out in the face of the escalating genocidal rhetoric and actions from the leaders of their beloved Israel.

The best the EU has managed was a tepid statement on Tuesday expressing how "highly concerned" it is about "spiraling violence in the occupied Palestinian territory."

Displaying its usual bias against Palestinians, the EU characterized the killing of settlers as "terror," but pointedly refrained from using this word to refer to lethal attacks by the settlers or Israeli occupation forces against Palestinians.

Nowhere did the EU mention the incitement by Israeli leaders or warn of consequences.
"Core values"
Following Israel's daytime attack on the West Bank city of Nablus last month, which killed a dozen Palestinians, ECCP – a coalition of more than 40 Palestine solidarity organizations in Europe – demanded that European governments take action.

They called for the EU to end Israel's privileged access to EU research funds, ban all economic transactions with Israeli settlements and impose sanctions on Israel over its violations of human rights and international law, including a two-way arms embargo.

The EU is perfectly capable of doing all these things – as it has done to Russia over its military intervention in the war in Ukraine.

Last week, the EU – apparently for the first time ever – imposed sanctions on a former Israeli diplomat.

But not surprisingly, it had nothing to do with anything he did on behalf of Israel. Rather, it was because the EU accused the Russian-born former Israeli official of advancing "the most controversial claims of Russian officials and propagandists" relating to Ukraine.
Inaction is complicity
"The aggravated spate of settler attacks and calculated collective punishment of Palestinians and the destruction of civilian properties in Huwwara is a direct consequence of the international community's inaction to take effective and meaningful measures to end Israel's illegal occupation, and settler-colonial apartheid regime," Al-Haq, a prominent Palestinian rights group, said Wednesday.

Al-Haq also urged third countries and international bodies "to match statements of condemnation with arms embargoes, economic sanctions and countermeasures against Israel; and targeted individual sanctions against Israeli settlers and Israeli settler organizations."

The group also called on countries to revoke the charitable status given to organizations that raise funds for settlers in many countries, including the United States, Canada and across Europe.

In Washington, the State Department effectively shrugged when one reporter asked about the incitement from "outright fascistic" members of the Israeli government on Monday.

"None of these members are the prime minister of Israel," State Department spokesperson Ned Price said. "We work directly with the prime minister, with his team, with our direct counterparts."

On Wednesday, Price went slightly further, describing Smotrich's latest comments as "irresponsible, "repugnant" and "disgusting," and he called on Netanyahu to "publicly and clearly reject and disavow" them.

The US has an immediate opportunity to put its money where its mouth is, as Smotrich plans to head to the US for a visit later this month.

Democracy for the Arab World Now, a Washington-based advocacy group founded by murdered Washington Post columnist Jamal Khashoggi, called on the US to revoke Smotrich's visa.

DAWN says Smotrich's call to wipe out Huwwara may amount to "incitement to genocide."

"The Biden Administration should not allow senior government officials inciting atrocities against Palestinian civilians to spread their violent and hateful rhetoric in the United States, just as it has banned government officials inciting violence against civilians from several African countries," said Sarah Leah Whitson, the group's executive director.

There's little reason however to think that the US will go beyond its verbal admonition.

As for ECCP, it asserts that the EU's "lack of reaction and its continued unconditional ties to and cooperation with the Israeli apartheid state is in contradiction to its core values."

That sentiment is understandable, but at this point we can only conclude that the EU's support for Israel's increasingly brazen barbarism against the Palestinian people is no contradiction of its "core values."

Rather, it is a true and sincere expression of them.
Tags