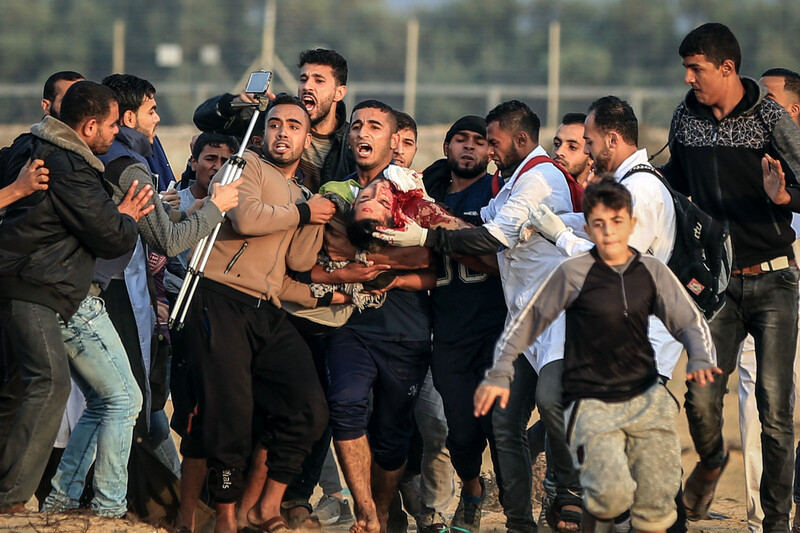 One Palestinian was killed during the 33rd consecutive Friday of mass protests along the eastern perimeter of the occupied Gaza Strip.

The protester slain Friday was identified by Gaza's health ministry as Rami Wael Ishaq Qahman, 28. He was shot east of Rafah:

Another Palestinian was killed by Israeli forces one day earlier.

Muhammad Abu Sharbin, 21, was fatally shot when a group of youths reportedly approached the boundary fence east of al-Maghazi refugee camp in central Gaza on Thursday.

More than 220 Palestinians have been killed by Israeli forces in Gaza over the past seven months, all but approximately 50 of them fatally wounded during Great March of Return protests in the boundary areas.

Nearly 40 more Palestinians were injured by live fire during Friday's protests, including six children and a paramedic.

Israel continued to use lethal force against unarmed protesters despite a reported agreement with Palestinian factions in Gaza to ease tensions along the boundary.

But on Friday, Yahya Sinwar, the leader of Hamas in Gaza, denied there was any such agreement with Israel. He said his faction was reaching "understandings" with Egypt, Qatar and the United Nations to lift the blockade.

Palestinian protesters continued to approach the boundary fence and confront Israeli soldiers on Friday: Organizers had stated earlier in the week that though the protests would continue until Israel's 11-year siege is fully lifted, demonstrators would not approach the Gaza-Israel boundary fence.

Qatari officials brought in $15 million in cash to Gaza in recent days, disbursing it to some 30,000 civil servants hired by Hamas since 2007 whose salaries hadn't been paid in months.

The money will also be used to create 10,000 jobs in Gaza, where unemployment is currently nearly 55 percent – believed to be among the highest rates in the world, if not the highest.

The Qatari funding is the first installation of a total of $90 million pledged by the Gulf country for Gaza to be paid over the following six months.

"Members of Hamas' military wing will be paid from tax proceeds collected by Hamas in Gaza and not from the Qatari funds," the Israeli daily Haaretz reported.

The funding has been approved by Israel, which is reportedly vetting which civil servants in Gaza get paid.

A top Qatari diplomat, Muhammad al-Emadi, paid a brief visit to a Great March of Return protest on Friday.

Reuters reported that "as the diplomat's convoy departed, some youths threw stones that smashed a window on his bodyguards' car – suggesting not all Palestinians were pleased with Qatar's intervention."

Video shows part of the incident:

Certainly not everyone is happy with Qatar's infusion of cash and fuel for electricity into Gaza.

Palestinian Authority leader Mahmoud Abbas has insisted that any international projects in Gaza remain under the auspices of his West Bank government. But reports this week indicate that he has promised not to thwart what appears to be a de facto truce between Israel and and Hamas by imposing further sanctions on the Strip.

Palestinian Authority leaders vehemently reject such a truce, saying it would cement the split between the West Bank and Gaza.

Meanwhile a Palestinian man crossed the Gaza boundary, reaching an Israeli community before being arrested on Friday.

Israel claimed that the man, who was unarmed, set fire to a greenhouse in the area, though earlier the Israeli military said that it had accidentally started the blaze by firing a flare during the arrest.

Video shows the flaming structure:

On Wednesday, a Palestinian fisher was reportedly killed by Egyptian navy fire while in waters off of Gaza's southern coast.

Mustafa Khalil Abu Odeh, 30, from al-Shati refugee camp in Gaza City, was hit by two bullets, the head of Gaza's fishing syndicate told media.

He is the second Gaza fisher to be killed by the Egyptian navy this year. Abdullah Zeidan, 33, was shot and killed in Gaza's southern waters in January.

In the occupied West Bank, Israel returned the body of a Palestinian killed by its forces weeks earlier.

Muhammad Yusif Alayan, from Qalandiya refugee camp near Ramallah, was shot and killed by Israeli police in Jerusalem in September.

Police said at the time that the man charged at a Jewish man, knocking him to the ground, and then ran towards the officers who fired at him while he waved a screwdriver. No Israelis were injured during the incident.

Videos show crowds receiving Alayan's body in Ramallah on Friday:

Two Israelis were lightly injured after an unidentified shooter opened fire on a bus near the Beit El settlement near the West Bank city of Ramallah on Wednesday.

A Palestinian who allegedly shot and killed two Israelis at a West Bank industrial settlement last month remains at large.

The military surrounded the alleged gunman's home and called on him to turn himself in on Wednesday. But Ashraf Walid Suleiman Naawla, 23, was reportedly not there at the time.

Naalwa's family members have been detained and interrogated.

On Thursday Israel's high court froze a demolition order against the home of Naalwa and his family after an appeal by the Israeli rights group HaMoked.

Since late 2015 Israel has accelerated the demolitions of the family residences of Palestinians alleged to have attacked Israelis, a form of collective punishment Israel never applies to Jewish perpetrators.

Such collective punishment measures violate the Fourth Geneva Convention and other international laws and thus are war crimes.
Tags