A Palestinian child in Gaza has died from wounds sustained during Israel's 51-day bombardment of the territory four years ago.
On Saturday, Muhammad Nasir Ziad al-Rifi, 13, succumbed to his injuries from a 21 August 2014 drone strike that killed his father, twin brother and five other members of his family – most of them children.
The child's spine was hit by shrapnel, causing paraplegia. "The injury also left Muhammad reliant on medical devices for breathing and other functions," according to Defense for Children International Palestine.
Muhammad was among a group of family members who were irrigating agricultural fields in Gaza City when a missile struck around two meters from where he and the other children were standing.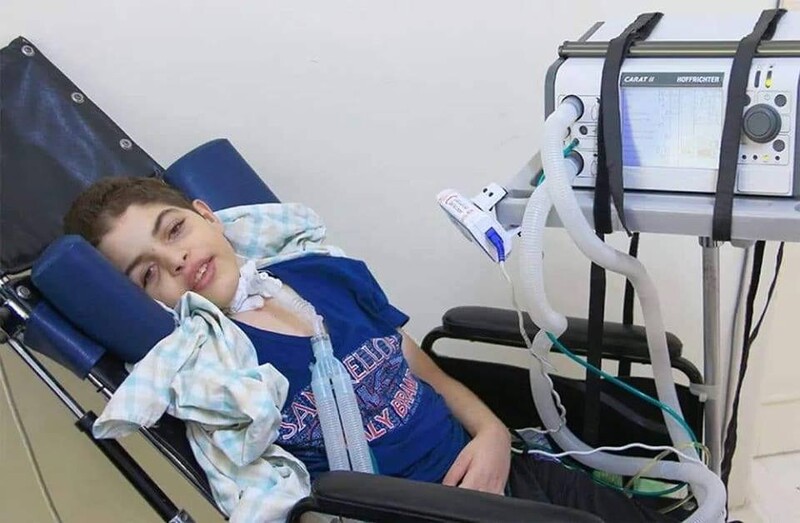 According to Muhammad's grandfather, the boy was admitted to a rehabilitation hospital in 2015 but his condition did not improve. He was pronounced dead after "a period of critical deterioration," Defense for Children International Palestine stated.
Another Gaza child, 9-year-old Muhammad Abu Hadaf, died last December from shrapnel injuries to his spine sustained during the 2014 bombardment.
Around 550 children were among the approximately 2,220 Palestinians fatally injured during that offensive. At least 164 of those children died as a result of Israeli drone strikes, according to Defense for Children International Palestine.
One child was among the five Israeli civilians were killed during the fighting, along with 67 soldiers.
On Sunday, a Palestinian man from Gaza died in an Israeli hospital from injuries sustained one day earlier.
Israel claimed that the man, identified by Palestinian media as Imad Shahin, was shot after he allegedly crossed the Gaza boundary fence.
Shahin was detained by Israeli forces and transferred to Soroka hospital in Beersheva, where he died. Shahin's family received no formal notice of his death, the Palestinian outlet Arab 48 reported.
Israel is holding the body of Shahin as well as those of 10 others from Gaza killed since 30 March, when mass protests under the banner of the Great March of Return were launched.
No fatalities were reported during the most recent protests in Gaza on Monday and Friday, though Israel continued to injure Palestinians with live fire and tear gas.
More than 220 Palestinians have been killed by Israeli forces in Gaza over the past seven months, all but approximately 50 of them fatally wounded during Great March of Return protests.
Around 12,000 Palestinians have been injured during the protests, more than half of them by live fire, according to the Gaza-based rights group Al Mezan.
Thirty-three children are among those killed, and more than 1,200 boys and girls were wounded by live fire.
Subdued protests
Protests in Gaza have been subdued in recent days following a reported agreement between Palestinian factions in the territory and Israel that would see an easing to Israel's 11-year siege and an end to mass confrontations at the boundary, including the launching of incendiary balloons and kites.
Last Friday's protests were held under the observation of a delegation from Egypt.
Cairo is facilitating the indirect negotiations and is reportedly pushing Israel to expand the permitted fishing area off of Gaza's coast to 14 nautical miles – still short of the 20-mile zone stipulated under the Oslo accords signed by Israel and the Palestine Liberation Organization 25 years ago.
According to Beirut's Al-Akhbar, under the draft agreement Israel will allow an initial group of 5,000 laborers from Gaza under the age of 40 to work there.
The agreement is also said to compel the Palestinian Authority in the West Bank to pay 80 percent of the salaries of its employees in Gaza – doubling its current rate – and not prevent Qatar from transferring back pay for Hamas civil servants in Gaza.
Egypt would permanently open Rafah, Gaza's main crossing for travelers, and work towards reaching a three-year truce between Hamas and Israel under international supervision by the United Nations and Russia.
The agreement would also include opening of the commercial crossings with Israel, support for Gaza's power plant and other infrastructure, and projects to provide job opportunities to some 30,000 recent university graduates to alleviate one of the highest unemployment rates in the world.
Obstacle
The Palestinian Authority remains a primary obstacle, however, as its leader Mahmoud Abbas has persisted in his refusal to reconcile with Hamas, insisting that international projects in Gaza remain under the auspices of his Ramallah government.
The Palestinian Authority reportedly demands that Hamas hand over police power in Gaza, as well as responsibility for the collection of taxes, the courts, crossings and ministries.
Meanwhile electricity in Gaza has increased from four hours per day to up to 16 hours per day after Israel began delivering Qatari-funded fuel that has increased capacity at the Strip's sole power plant as part of a UN and Egypt-mediated deal.
But Al Mezan warned this week that only half of Gaza's energy needs are currently being met, and that pressure on electricity infrastructure will increase with colder winter temperatures.
The rights group said that since 2010, 32 Palestinians in Gaza, including 25 children, "have died in incidents involving the use of unsafe alternative energy sources, especially candles, which are the affordable choice for families."
Tags