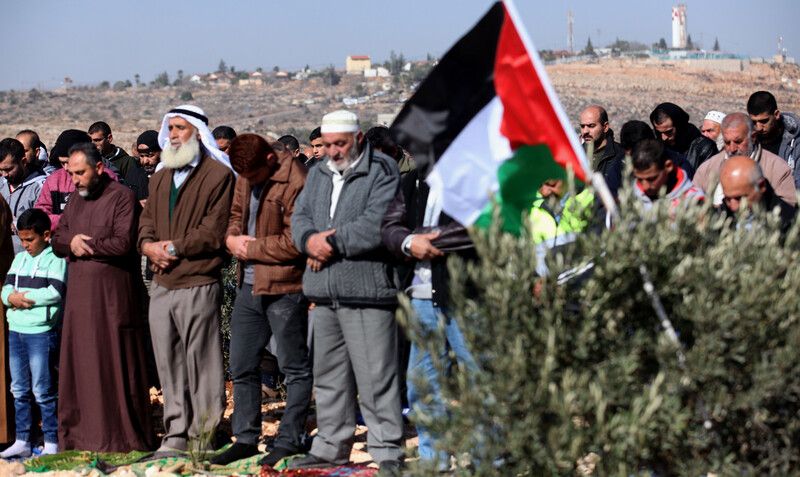 A Palestinian – but not yet any Israeli – faces serious charges over an encounter between settlers and residents of a West Bank village that left a Palestinian farmer dead last month.

Muhammad Wadi has been charged with attempted murder by an Israeli military court.

The indictment over the 30 November incident in Qusra village states that Wadi entered a cave where a group of children and one adult had taken shelter and threw large rocks at them from close range, wounding the head of the adult, the Israeli daily Haaretz reported.

Nineteen other Palestinians were arrested on suspicion of involvement, the paper added.

The deadly confrontation occurred when a group of children were led on a hike near the Palestinian village as part of a bar mitzvah celebration.

The settlers claim that Qusra residents attacked them, and that one of the hike chaperones fired his gun in self-defense, killing Mahmoud Zaal Odeh, 48.

The shooter was questioned by police on suspicions of negligent homicide and subsequently released.

Israel's defense minister, Avigdor Lieberman, said that the Israeli man had acted in "self-defense," claiming that a group of Palestinians had attempted to "lynch" the children.

"My thanks and recognition to the armed escort who saved the hikers from a clear and present danger to their lives," he added.

Qusra residents, however, told media that Odeh was working his land when he was shot.

The Israeli military took Odeh's body to Tel Aviv for autopsy without his family's knowledge or permission, according to the rights group Adalah, before it was released to the family for burial.

A week later, dozens of settlers came back to Qusra to resume the hike under heavy military guard and in the company of Israel's deputy foreign minister Tzipi Hotovely and agriculture minister Uri Ariel:

Also with them was Itamar Ben-Gvir, a settler, extreme right-wing activist and attorney who is considered the "go-to man" for Israelis who have committed violence against Palestinians, including two teens suspected of involvement in an arson attack that killed three members of a Palestinian family in a West Bank village in 2015.

Sarit Michaeli, international advocacy officer for the Israeli rights group B'Tselem, characterized the hike as a "settler provocation parade":

The hike ended in a photo-op and rally at the cave where settlers accused Palestinians of laying siege to the group of children.
Settler violence
Residents of Qusra have long been subjected to violence, property damage and harassment by settlers.

In September 2011, the village's mosque was vandalized and torched with burning tires as a "price-tag" or revenge attack after police demolished three structures in the unauthorized Migron settlement outpost.

That same month, Qusra resident Issam Badran was killed by Israeli soldiers during confrontations that erupted after settlers entered village land.

A military investigation into Badran's killing was closed without an indictment being filed.

In January 2014, Qusra residents detained more than a dozen settlers who had raided the village and attempted to uproot olive trees.

Qusra residents have also been subjected to night raids on their homes by Israeli forces as part of their "mapping procedure" to surveil the entire Palestinian civilian population.

Meanwhile, an Israeli minor from the nearby Itamar settlement who assaulted a human rights activist and threatened him with a knife was sentenced to community service for the October 2015 incident.

The teenager had attacked Arik Ascherman, then head of Rabbis for Human Rights, while the latter was helping a Palestinian farmer harvest olives.

The incident was recorded on video:

The judge who handed down the sentence against the youth "wrote that she opted for community service because a conviction could hamper the teen's chances of getting drafted into the Israeli army, and because she believes he has a good chance at rehabilitation," Haaretz reported.

The teenager was represented in court by Itamar Ben-Gvir.

Palestinian children who are arrested by Israel on charges such as throwing stones at soldiers do not enjoy such leniency.

A growing number of US lawmakers are sponsoring a bill that would require the secretary of state to annually certify that no US funds allocated to Israel are used to "support military detention, interrogation, abuse, or ill-treatment of Palestinian children."

The bill condemns Israel's prosecutions of Palestinian children in military courts while Israeli settlers in the same territory live under civilian law.

Israel operates a two-tier legal system in the occupied West Bank; Palestinians are subject to military courts where they are denied basic due process and face near-certain conviction, while Israeli settlers are under the jurisdiction of Israel's civil police and courts.
Tags