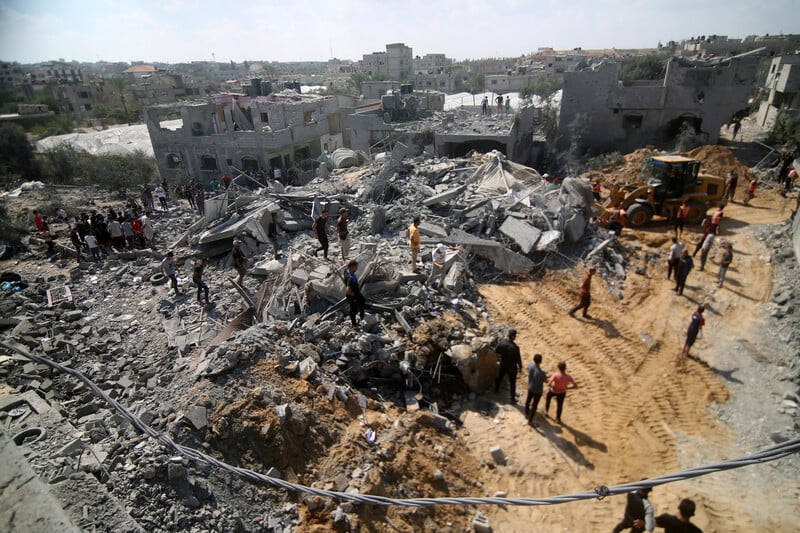 While Israel appeared to be readying for a ground invasion of Gaza, Palestinians were digging through the rubble for survivors and victims of Israeli airstrikes with their bare hands on Thursday.

Forty-four families have lost most of their members in individual attacks since Israel began its campaign of death and destruction by air, land and sea in revenge for a surprise offensive led by Hamas guerrillas from Gaza on Saturday.

The intensive strikes targeting civilians and civilian infrastructure have been accompanied by genocidal rhetoric from Israel's political and military leaders.

Meanwhile, the healthcare system in Gaza was on the verge of collapse and the territory was under a full electricity blackout since Wednesday afternoon. The electricity outage has "brought essential health, water and sanitation services to the brink of collapse, and exacerbated food insecurity," the UN said.

The International Committee of the Red Cross warned on Thursday that "hospitals risk being turned into morgues without electricity."

But Israel said that it would not suspend its relentless strikes to allow aid into Gaza until after captives being held in the territory were freed. Both Israel and Hamas have said they would only negotiate the release of captives until after the military confrontation was over.

Israel said that it had identified nearly 100 captives being held in Gaza after a stunning breach of Israel's well-fortified boundary around the besieged territory on Saturday.

The Washington Post said it had found evidence that "fighters took at least 106 people captive" during the initial attacks and that it believes that at least 64 of those captives were taken into Gaza.

"Among them were 49 people who appeared to be civilians — nine of them children — and 11 who appeared to be members of the Israeli military," the paper said.

The Red Cross continued to ask for the release of captives unharmed and to access those captured.

Meanwhile, Israel was holding some 2.3 million Palestinians – half of them children – hostage under a situation of total war and complete siege.

Western states appeared to have completely abandoned Palestinians in Gaza, who were being deprived by Israel of food, water, electricity and fuel and had been largely cut off from communication with the rest of the world.

More than 300 Palestinians in Gaza were killed between Wednesday evening and mid-afternoon Thursday, the health ministry in the territory said.

By the end of the day Thursday, the ministry had recorded more than 1,500 fatalities in Gaza since Saturday, including 500 children.

Some 6,600 people in Gaza have been injured and more than 423,000 people in the territory have been displaced, with most of them sheltering in UN schools.

Palestinian rocket fire from Gaza continued on Thursday, although "with lesser intensity than in previous days," the UN reported.

Israeli media have said that 1,300 people in the country have been killed since Saturday, with most fatalities occurring in the initial attacks, from which more than 420 people remained hospitalized, around 110 of them seriously.

Reuters, citing Israel's public broadcaster, said on Thursday that most of the dead in Israel "were civilians gunned down in their homes, on the streets or at a dance party."

Israeli media reported that the bodies of more than 850 Israeli civilians and police killed in attacks on Saturday had arrived at a victim identification center. The Israeli military said that the families of 222 soldiers had been informed of their deaths.

Meanwhile, more than 30 Palestinians have been killed by Israeli occupation forces and settlers in the West Bank since Saturday.

International aid for Palestinians in Gaza sent by Jordan sat in a warehouse in al-Arish, Egypt, after Israel bombed the Rafah crossing earlier in the week to prevent the delivery of urgently needed assistance. Israel bombed shelters housing the hundreds of thousands of displaced people in Gaza, rights groups said.
Israel uses white phosphorus in Gaza, Lebanon
Human Rights Watch said on Thursday that it had confirmed Israel's use of incendiary white phosphorus weapons in Gaza and Lebanon earlier in the week.

"White phosphorus is unlawfully indiscriminate when airburst in populated urban areas, where it can burn down houses and cause egregious harm to civilians," said Lama Fakih, a program director with the New York-based group.

Israel has prevented foreign correspondents from entering Gaza, leaving Palestinian journalists on their own to cover the destruction of their communities, and the killing and maiming of their neighbors, family and friends, in real-time:

The Committee to Protect Journalists said that Ahmed Shehab, a journalist for Voice of the Prisoners Radio, was killed along with his wife and three children in an airstrike that hit his home in Jabaliya, northern Gaza, on Thursday.

At least 10 Palestinian journalists in Gaza have been killed since Saturday, according to the press freedom watchdog.

Palestinian human rights groups documented severe Israeli attacks targeting residential areas, slaughtering people by the dozens, between midday Wednesday and midday Thursday.

Dozens of Israeli airstrikes in Gaza's northern district destroyed two homes in Beit Lahiya with their occupants still inside and targeted other residential areas, with "numerous missiles … employed without prior warning," killing 55 Palestinians, including 10 women and 19 children.

The Gaza City district was pounded by airstrikes targeting residential neighborhoods and intense shelling from land and sea.

Those attacks "killed 78 Palestinians, including 40 children and 16 women," while the bodies of 28 Palestinians, including seven children and two women, from previous Israeli attacks were received at al-Shifa hospital, some of them "recovered from the rubble."

In central Gaza, Israeli strikes hit "neighborhoods, houses and agricultural lands," with the bombing particularly concentrated in densely populated refugee camps. Multi-story residential buildings belonging to the al-Bardawil, Baraka and Abu Dayya families, with 35 Palestinians, including 14 children and seven women, among those killed in the area.

Some people remained under the rubble in central Gaza and rescue teams were unable to reach some houses "due to limited resources."

More massacres of families inside their homes occurred in Khan Younis, southern Gaza. Thirty-six Palestinians, more than half of them children, and eight of them women, were killed when Israel "targeted several homes and residential apartments belonging to the al-Bashiti, al-Najjar, Abu al-Rish, Abu Daqqa and Abu Mustafa families, while their residents were still inside."

"Israeli forces continued to target entire residential neighborhoods with aerial and artillery bombardment in the eastern areas of Khan Younis," the Palestinian human rights groups said. "Most of the residents of those areas had already left their homes earlier having received warnings and orders to evacuate."
In Rafah, southernmost Gaza, Israeli airstrikes destroyed houses belonging to several families with their residents still inside.
"The attacks killed 25 Palestinians, including nine children and four women. Civil defense and medical teams are still searching for missing people under the rubble."
Meanwhile, Syria accused Israel of bombing its airports in Damascus and Aleppo, "putting both out of service," Reuters reported. The news agency noted that it was "the biggest sign yet of the conflict potentially spilling across borders."
Antony Blinken, the US secretary of state, arrived on what was billed as a solidarity visit to Israel on Thursday. He urged Israeli Prime Minister Benjamin Netanyahu to exercise restraint "even when it's difficult."
The State Department meanwhile announced on Thursday that it would begin chartering flights to evacuate US citizens out of Israel. US officials said that 27 US citizens were killed in Israel and that 14 of its nationals remained unaccounted for.
Israel faces "formidable" enemy
Netanyahu has led the chorus of the political establishment in Israel seeking to satiate the desire for revenge among the public by calling for the eradication of Hamas.

But Hamas is an organization that is made up of and exists among the people. Eliminating Hamas means eliminating the Palestinian people, regardless of their political leanings. Israel has no apparent military strategy in Gaza beyond yet another spasm of industrial-scale death and destruction.

For all its threats and bluster, Israel's endgame in Gaza remains unclear, probably because it doesn't have one.

The ground invasion being staged around Gaza's periphery would certainly result in numerous Palestinian casualties. But it would also likely bring about yet another spectacular humiliation of a reservist military ill-prepared for urban combat with a guerrilla army on their home turf.

As Reuters observed on Thursday, "an Israeli invasion of Gaza will face an enemy that has built a formidable armory with Iran's help, dug a vast tunnel network to evade attackers and has shown in past ground wars it can exact a heavier toll on Israeli troops each time."

Saleh al-Arouri, the deputy leader of Hamas, affirmed this in an interview broadcasted by Al Jazeera on Thursday. "The occupation knows that its invasion of Gaza will turn the battle into a catastrophe for its army," he said.

He added that the Qassam Brigades, Hamas' armed wing, launched what it called Operation Al-Aqsa Flood ahead of what he claimed was an attack on Gaza planned by Israel for after the Jewish holidays.

Al-Arouri said that the plan was for Qassam guerrillas to storm the boundary and attack the Gaza division of the Israeli military, which has enforced the siege on the territory in place since 2007 and has assassinated resistance leaders and carried out massacres against civilians.

The Qassam fighters were surprised by how quickly the Gaza Division collapsed.

Hamas has been accused of massacring and abducting civilians during its storming of Gaza-area settlements on Saturday.

Videos from Saturday and photos of the aftermath appear to show that civilians were killed in their cars and at bus stops, and that civilians were attacked and captured in their homes and at an all-night dance party.

Al-Arouri insisted that Qassam's forces were under strict protocol to not harm children and women. But he said that people in Gaza rushed the boundary area after learning it had been opened, causing chaos.

Al-Arouri said that this caused Qassam fighters to engage with settlement guards and armed residents, "which led to civilian deaths."

The Hamas leader noted with surprise that many of the soldiers wearing Israeli military uniforms captured by Hamas are citizens of other countries.

Alluding to the settler-colonial nature of the Israeli state, and comparing them to foreign ISIS fighters in Syria, al-Arouri said, "how can it be fair if it turns out that these soldiers are Americans, French and Italian?"

He also rejected the Israeli and US government talking point comparing Hamas to ISIS in an effort to divorce Hamas from its context as an organization aimed at the national liberation of the Palestinian people.

Abu Obeida, the Qassam Brigades spokesperson, meanwhile said in a speech broadcast on the Hamas-affiliated Al-Aqsa TV that its defenses were ready for a ground invasion.

He stressed that "our current battle began where Operation Saif al-Quds ended," referring to the events of May 2021, during which Israel faced a simultaneous Palestinian unity uprising in the West Bank, including Jerusalem, in Gaza and among Palestinians in Israel.
Despite the weight of a state bent on their destruction bearing down on their necks, a Palestinian survivor of one of Israel's latest massacres in Gaza had a message of defiance to share with the world:

After his building in Gaza City's Beach refugee camp was targeted in an Israeli strike, apparently killing his children and brothers, the survivor told Al-Ghad TV that "the Palestinian people won't be defeated and we will be triumphant, sooner or later."

"This battle is the battle of triumph," he said. "Even if they proceed to kill us mercilessly, by God, we won't give up."

"They don't know the nature of a Palestinian. … This time around it's on us, firm on our land, for Palestine, for Jerusalem," he added.

"No matter how much more they mercilessly murder us, murder the children, murder the women, we will not surrender."

"And we will not leave this land."
Tags