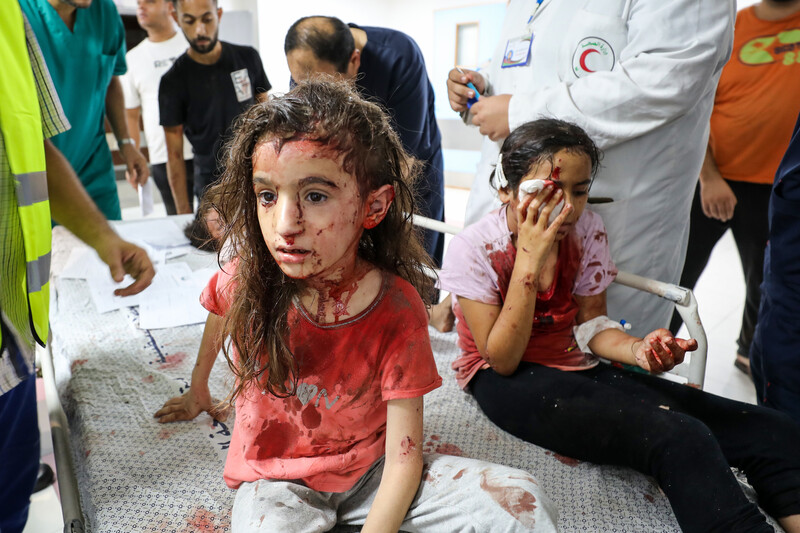 Israel declared a complete siege and total war on Gaza on Monday as it relentlessly bombarded the coastal enclave for the third consecutive day.
Nearly 700 Palestinians were reported to have been killed in Israel's reprisal strikes by air, sea and land at the close of Monday, the third day of the current battle between the Israeli military and the Palestinian resistance led by Hamas in the Gaza Strip.
The death toll in Israel rose to 900 on Monday as Palestinian guerrillas continued to operate in Israeli territory near the Gaza boundary. The Israeli military told the public to stock up on food and water as it mobilized for a ground assault in Gaza, where Palestinians were holding dozens of Israelis captured on Saturday.
Meanwhile on Monday, Israel moved tanks and soldiers to the border with Lebanon, where its forces killed multiple fighters from Hizballah, which fired a salvo of rockets in response, threatening a wider escalation. Israeli media later reported that an Israeli soldier was also killed in the exchange of fire.
The West Bank was under blockade on Monday, with Israel preventing Palestinian movement between cities and the closure of the Allenby Crossing to Jordan and Qalandiya checkpoint between Ramallah and Jerusalem.
"That's getting people scared here," Al Jazeera correspondent Imran Khan said during a live broadcast. People were stocking up on food as "there's a real sense of fear that this is by no means over," he said.
At least five Palestinians were shot and killed by Israeli troops in the West Bank on Monday: Muhammad Hammad, 20, in al-Aroub refugee camp; Muntasir Zaaqiq, 31, in Beit Umar; Ahmad Abu Turki, 28, in Hebron; Adam al-Julani at Qalandiya checkpoint between Ramallah and Jerusalem, 16; and Rajeh Taha in Hebron. The official Palestinian news agency WAFA said that 18 Palestinians in the territory, including three children, were killed since Saturday.
Israeli media meanwhile reported that the Israeli army would provide settlers in the territory with around 1,000 rifles, likely provided as US military assistance to Israel – further arming and emboldening settler vigilantes who have waged multiple deadly pogroms in Palestinian communities in recent months.
Israeli leaders vow war crimes with genocidal language
While Palestinians in Gaza were pulling victims of Israeli strikes from the rubble, Israeli defense minister Yoav Gallant announced on Monday that "we are imposing a complete siege on [Gaza]. No electricity, no food, no water, no fuel – everything is closed."

"We are fighting human animals, and we act accordingly," he said of Gaza's population of more than two million Palestinians, half of whom are children, and most of whom are refugees from areas beyond the Gaza boundary breached by guerrillas on Saturday.

Benjamin Netanyahu, Israel's prime minister, used similarly dehumanizing language in his official declaration of war on Monday, describing "an abominable enemy, human beasts who celebrate the murder of women, children and the elderly."

Netanyahu thanked "many world leaders," naming US President Joe Biden specifically, "for your unprecedented support for Israel" – suggesting that Israel's powerful allies have given the prime minister carte blanche to do whatever he pleases in Gaza, no matter the cost to the civilian population.

Indeed, both the US State Department and and the US government's Office of Palestinian Affairs deleted statements posted on social media encouraging Turkish efforts towards a ceasefire and urging restraint.

Those statements were replaced by unequivocal condemnations of Palestinian attacks and support for Israel's "right to defend itself."

The leaders of the US, UK, France, Germany and Italy dropped their usual pretense of caring about the protection of civilians and issued a joint statement on Monday unequivocally supporting Israel's "right to defend itself" and blaming Hamas for the Israeli war crimes to come.

"All of us recognize the legitimate aspirations of the Palestinian people, and support equal measures of justice and freedom for Israelis and Palestinians alike," the leaders stated.

"But make no mistake: Hamas does not represent those aspirations, and it offers nothing for the Palestinian people other than more terror and bloodshed."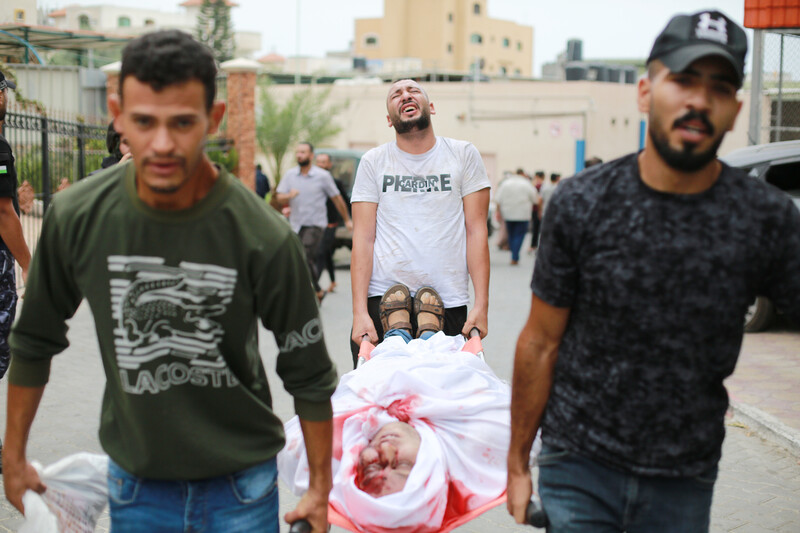 New York-based Human Rights Watch said the Israeli defense minister's statement amounted to "a call to commit a war crime," and urged the International Criminal Court, whose current chief prosecutor has seemingly deprioritized the tribunal's Palestine investigation, to "take note."
Al-Haq, a Palestinian human rights group, said that Gallant's statement "includes genocidal language."
The call to cut off basic needs for human survival amid broad and systematic attacks against civilians "may meet the threshold of 'extermination,'" Al-Haq added.
The rights group said that Netanyahu's call to reduce Gaza to "rubble" is "reminiscent of the 'scorched earth' policy prosecuted at Nuremberg."
"Scorched-earth policy" is "the military tactic of destroying everything that enables the enemy to wage war, including crops, livestock, buildings and infrastructure," as Britannica states.
Leaders and officers of the Nazi regime were prosecuted at Nuremberg for grave crimes including scorched earth campaigns. Those trials would provide "the basis for the modern law of war crimes and crimes against humanity, and a model for recent international prosecutions for such crimes," as the Harvard Law School explains.
Israel will strike Hamas, even if it harms captives
A senior Israeli government source told reporters on Monday that Israel would attack all Hamas targets in Gaza, even if doing so might harm Israeli captives in the territory.

Israel had also abandoned its occasional practice of warning Palestinian residents that it was about to destroy a building in a strike.

The Qassam Brigades, the armed wing of Hamas, threatened to execute civilian Israeli captives in response to airstrikes that have killed dozens of Palestinian families in their homes.

Abu Obeida, the Qassam Brigades spokesperson, said that one of its captives would be executed each time Israel bombed a Gaza family's home without warning.

Marwan Bishara, a political analyst for Al Jazeera, said that the threat to execute captives shows that "Hamas is under more and more pressure to react to the ongoing bombardment and onslaught of the civilian population of Gaza."

Bishara observed that there was a direct relationship between the oppression and force used against Palestinians and the severity of tactics of the resistance.

The threat to execute captives – which seemingly had not been acted upon late Monday, even as Israel continued to relentlessly strike and kill civilians in Gaza – was swiftly condemned by human rights groups.

Media reports indicated that prisoner swap talks were underway, with the Reuters news agency stating that Qatar was negotiating the release of women and children held by Palestinian guerrillas in Gaza in exchange for 36 Palestinian women held by Israel.

In an interview with Al Jazeera, Moussa Abu Marzouk, a senior Hamas official, said that the organization was open to a truce with Israel, having "achieved its targets."

Israeli media reported on Monday evening that there had been a two hour-long reprieve from rocket fire after three days of nearly constant salvoes, indicating that Hamas was open to a ceasefire.

Israel had meanwhile reportedly rejected a prisoner exchange and its leaders appeared intent to exact revenge for Hamas' surprise breach of the heavily militarized Gaza boundary by air, sea and land early Saturday.

On Saturday, Netanyahu focused on revenge, stating "we will destroy them and we will forcefully avenge this dark day that they have forced on the State of Israel and its citizens."

According to the Tel Aviv daily Haaretz, Bezalel Smotrich, Israel's extreme-right finance minister, said during a cabinet meeting on Saturday that "we have to be cruel now and not consider the captives overmuch (sic)."

"Those aren't the words of a leader committed to bringing back the captives," Haaretz stated in an editorial on Monday. "Vengeance won't bring them back, only negotiations will."

But Netanyahu told Biden on Monday that "we have to go in [to Gaza]. We can't negotiate now," adding that "we need to restore deterrence."

Biden reportedly did not try to dissuade Netanyahu, despite the high toll in terms of human life that a ground invasion would surely incur.
And indeed a high death toll seems to be the point for Netanyahu, who said "Israel had no other choice but to respond with force because a country can't show weakness in the Middle East," Axios reported.

Netanyahu meanwhile told local politicians in southern Israel on Monday that "I know you've been through tough, terrible things. What Hamas will go through will be tough and terrible."

He added that "I ask that you stand strong because we are going to change the Middle East."

Orly Noy, an Israeli journalist and chair of the human rights group B'Tselem, told the US outlet Democracy Now! that in the wake of a stunning intelligence failure resulting in hundreds of Israeli fatalities, "the Israeli government is doing the only thing that Israel knows to do, which is revenge – and more force and more death."

"There is a very strong sense of demanding revenge within the Israeli public," Noy added.

The grief was palpable in Gaza on Monday, and the air was filled with debris and noxious chemicals from Israel's relentless strikes. Of the nearly 700 Palestinians reported killed in Gaza as of late Monday, 140 were children and more than 100 were women – suggesting that a significant number of the dead were civilians.

At least 50 people were killed in a single Israeli attack in Jabaliya refugee camp, home to 120,000 Palestinians, in northern Gaza on Monday.

Fourteen people in the Madhoun family were killed in an Israeli strike in Beit Lahiya, northern Gaza, WAFA reported on Monday.

Human rights groups continued to report on Palestinian families being obliterated in Israeli strikes on their homes during the day:

The Israeli military's aerial footage showed that it had wiped out an entire neighborhood in Gaza: The Qassam Brigades said on Monday that four Israelis it was holding captive in Gaza were killed in Israeli strikes along with the Palestinians guarding them.
Journalists killed, injured and missing
Since Saturday, Israel has killed, injured and arrested several Palestinian journalists in Gaza, where there is very little international English-language media presence besides Palestinian correspondents who live in the territory.

The New York-based Committee to Protect Journalists said on Monday that it was "disturbed by reports that at least six journalists were among the civilians who were killed, injured or missing in the ongoing conflict between Israel and Gaza."

Three Palestinian journalists were shot and killed while reporting on Saturday: Ain Media photographer Ibrahim Mohammad Lafi, killed at Erez checkpoint in northern Gaza; Mohammad Jarghoun, a Smart Media reporter killed east of Rafah in southern Gaza; and freelance journalist Muhammad al-Salhi, shot dead in central Gaza.

Two Palestinian photographers – Nidal al-Wahidi and Haitham Abdelwahid – have been missing since Saturday. Al-Wahidi's family reportedly stated that he was alive and had been arrested by Israeli forces while covering the takeover of Erez checkpoint by guerrillas on Saturday.

A television crew with Sky News Arabia said that Israeli police assaulted them and damaged their equipment in the southern Israeli city of Asheklon, which had been hit by rockets fired from Gaza.

"The channel's correspondent Firas Lutfi said Israeli police aimed rifles at his head, forced him to remove his clothes, confiscated the team's phones, and made them leave the area under police escort," the Committee to Protect Journalists said.

Shortly before the publication of this story, Al Jazeera reported that several journalists were killed and injured in an Israeli air raid targeting a residential tower west of Gaza City.
Tags