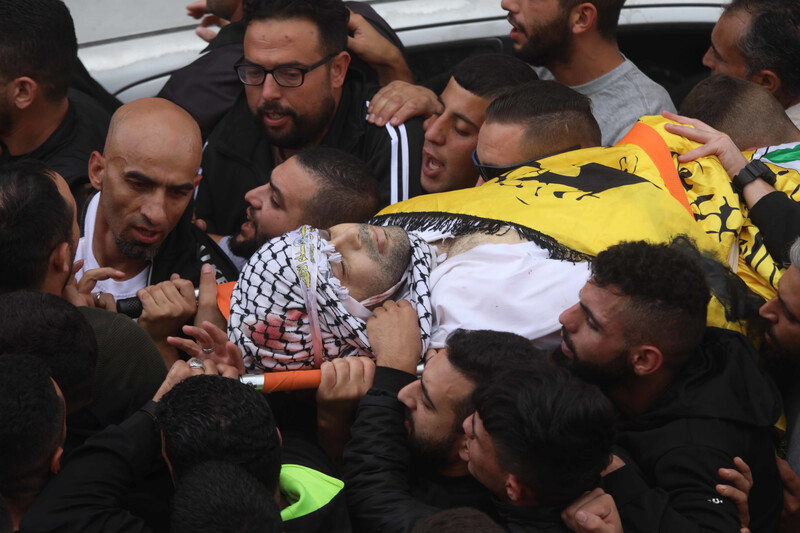 With all eyes on Israel's carpet bombing of the Gaza Strip since 7 October, Israeli settlers have been on a deadly spree in the occupied West Bank with the help and protection of the Israeli army.

Israeli settlers and soldiers have killed at least 35 Palestinians in the occupied West Bank, including East Jerusalem, since Saturday, according to the Palestinian Authority's health ministry.

At least five of those were killed by settlers, the UN monitoring group OCHA reported, and at least seven were children.

Israeli forces have injured hundreds of Palestinians in the West Bank, many of them children.

Soldiers have been firing huge quantities of rubber-coated steel bullets and tear gas canisters at Palestinians.

"Over 35 percent of all injuries were shot with live ammunition," OCHA reported. Some Palestinians have been physically assaulted, the group said.

The Israeli authorities are also imposing severe movement restrictions on Palestinians in the West Bank.

Israel has shuttered several checkpoints and blocked entrances to towns and villages for the fifth consecutive day.

Israel also closed all checkpoints segregating the Hebron H2 area, which comprises 20 percent of the city and is under full Israeli military control, from the rest of the city, effectively segregating and impeding the movement of 7,000 Palestinians in the area.

"In most major routes in the West Bank, the military allows travel only for Israeli settlers," Israeli human rights group Yesh Din, which monitors settler violence in the occupied West Bank, stated.

Palestinian access to the al-Aqsa mosque compound in Jerusalem has also been restricted for the fifth day in a row.

Israeli settlers have been on a deadly rampage in the West Bank with the help and protection of Israeli soldiers.

Israeli settlers are shooting at Palestinians, damaging their property and trees in villages, on roads and in agricultural lands, Yesh Din said.

"There is evidence that soldiers are allowing the violence to continue, sometimes joining in," the human rights group said.

"Settlers are utilizing the fact that public attention is focused elsewhere to continue to remove Palestinians from their land and take it over, and add fuel to the fire of violence," B'Tselem – another Israeli human rights group – said on Wednesday.

Thirty five Palestinian families – more than 200 people in all – began leaving their homes in the Wadi al-Siq and al-Muarajat Bedouin communities, "following systematic harassment and attacks by Israeli settlers, raising concern of a forcible transfer," OCHA said.

Israeli occupation forces said two Israeli officers were wounded in an alleged shooting attack by a Palestinian outside the occupied Old City of Jerusalem on Thursday. Israeli forces shot and killed the Palestinian, who was identified as Khalid al-Muhtasib.

A picture of the makeshift Carlo submachine gun he allegedly used was shared by Israeli police:

Israeli occupation forces fired tear gas canisters near al-Muhtasib's house following his killing, local media reported.

On Thursday, Israeli forces killed Randa Abdallah Ajaj, a 37-year-old woman from the town of Deir Jarir near Ramallah. Her picture was circulated by local media:

The same day, Israeli occupation forces killed teenager Muhtadi Majid Salem in the village of Jayyous near the northern city of Qalqilya, the Palestinian Authority health ministry said. And in Nabi Elias, near Qalqilya, Israeli forces shot dead 22-year-old Samir Saeed Radwan.
Settlers attack funeral
On Thursday morning, Israeli settlers attacked a funeral procession of Palestinians who had been killed by Israeli fire the day before in Qusra, a village near the northern West Bank city of Nablus.

The settlers killed two people – a father and a son – at the funeral.

The men killed were Ibrahim Ahmad Wadi, 62, and his son Ahmad Ibrahim Wadi, 25.

They were attacked as the funeral procession passed through the villages of al-Sawiya and Luban al-Sharkiya near Nablus.

A picture of the father and his son was circulated by local media:

Three Palestinians were killed by Israeli settlers the day before in the same village of Qusra, and a fourth was killed by a soldier. One of the killed Palestinians was identified as Hasan Odeh. At least seven Israeli settlers, some masked, invaded the village of Qusra on Wednesday with the protection of Israeli soldiers, and attacked the home of a Palestinian family, a field investigation by Defense for Children International - Palestine found.

Israeli settlers and soldiers fired "indiscriminately" at Palestinians who confronted the attackers, according to DCIP.

Israeli gunfire killed at least three Palestinians, including 17-year-old Obada Saed Abu Srour, who was shot in the back with the bullet exiting his chest.

DCIP was unable to confirm whether the bullet was fired by an Israeli soldier or settler.

The settlers came from the Israeli outpost of Esh Kodesh, which was established in the year 2000 on Palestinian land stolen from the nearby villages of Qusra and Jalud.

Israelis "illegally settled in occupied territory are armed by the Israeli government as a matter of official policy," said Ayed Abu Eqtaish of DCIP.

"Israeli soldiers, police and private security staff not only protect Israeli settler populations, but they also aid, abet and perpetrate unlawful killings of Palestinians, including children."

The Israeli army reportedly heard gunfire and saw the masked settlers leaving the village in a motorized vehicle, according to an Israeli "security" source who spoke to Tel Aviv daily Haaretz.

Footage shared by an Israeli journalist shows masked settlers shooting in multiple directions near Palestinian homes.

Israeli fire injured 12 additional Palestinians in the same settler attack on Qusra. Settlers also set fire to property, Yesh Din said.

The head of the village said settlers had attacked family houses with children inside, Haaretz reported.

Israeli occupation forces killed a 16-year-old teen in the town of Bani Naim, east of Hebron in the southern occupied West Bank, on Wednesday evening.

He was identified as Munis Ribhi Zeidat by DCIP, and his picture was circulated on social media.

On 10 October, Israeli forces shot 31-year-old Muntasir Abd al-Hamid Zaaqiq in the head in Beit Ummar, north of Hebron. Zaaqiq previously spent seven years in Israeli jails, according to the news agency WAFA.
Killing children
In the early hours of 9 October, Israeli forces shot a 17-year-old boy in the head with live ammunition at the Qalandiya checkpoint, where Israel controls Palestinian movement between Ramallah and Jerusalem.

Israeli forces exchanged fire with Palestinian youth, after which Adam Amjad al-Julani and other young Palestinians threw stones at the checkpoint.

The Israeli forces fired live ammunition at the group indiscriminately, striking Adam in the head and killing him instantly.

Israeli forces killed another teenager at the checkpoint the night before. Yaser Thaer Kasba, 17, threw a Molotov cocktail towards a military observation tower near the checkpoint.

Israeli forces shot him in the back as he fled from a distance of 100 meters.

In Beita village, south of the city of Nablus, Israeli forces killed Imad Jared Adaily, aged 16.

Palestinian youth had confronted Israeli forces near a vegetable market when Israeli forces fired live ammunition from a distance of 100 meters at Imad, hitting him between his chest and neck.

"He laid on the ground bleeding profusely for several minutes," according to DCIP, before he was transferred to the hospital and pronounced dead.

A second teenager was killed by Israeli forces in Hebron the same evening. Israeli forces fired heavily at a group of Palestinian youth throwing stones, injuring Yousef Nader Idris in the chest and killing him.

He was 16 years old.

Another Palestinian 18-year-old, Mahmoud Basem Ikhmais was killed, in the same attack, according to the Palestinian Center for Human Rights.

On Saturday evening, Israeli forces shot 12-year-old Ahmad Abd al-Nasir Rabi near the Eyal checkpoint in the northern occupied West Bank city of Qalqilya.

Ahmad was with other Palestinian youths approaching the crossing when an Israeli soldier shot the boy from a distance of 50 to 100 meters. Ahmad was part of a demonstration in solidarity with Palestinians in Gaza.

On Saturday, Palestinians in Ramallah organized a mass protest that moved towards a checkpoint near the Beit El settlement, north of the occupied West Bank city of Ramallah.

Israeli occupation forces fired live ammunition, rubber-coated steel bullets, stun grenades and tear gas canisters at Palestinians who had set tires on fire, resulting in the death of Amr Yousef Abed, 19, PCHR reported.

In the West Bank city of Jericho on Saturday, Israeli forces attacked another protest, using live ammunition, rubber-coated steel bullets, stun grenades and tear gas canisters. Israeli fire killed 22-year-old Karam Naser al-Aydi.

As Israel's bombardment of Gaza intensifies, the West Bank remains on a cliff-edge.

More than 1,000 Palestinian workers from Gaza who work in Israel have, meanwhile, been expelled to the occupied West Bank.
Tags