Human rights groups are calling for international action as Israel escalates its repression against Palestinians in the West Bank, killing 11 Palestinians in the territory since last Friday.

A 12th Palestinian from the West Bank was killed during an Israeli police raid on workers in the coastal city of Ashkelon on Wednesday.

Five Palestinians were killed in the West Bank late Wednesday and Thursday.

Two Palestinians – Shas Kamamji, 29, and Mustafa Abu al-Rub, 30 – were shot and killed near the northern West Bank city of Jenin on Thursday.

That city has been subjected to severe Israeli movement restrictions as a form of collective punishment after a Palestinian from a nearby village shot and killed three people at a Tel Aviv bar last week.

Following the Tel Aviv attack, Israel's prime minister, Naftali Bennett, granted "full freedom of action to the army, the Shin Bet [Israel's state security agency] and all security forces in order to defeat the terror."

At least nine Palestinian civilians – including two children and two women – have been killed by Israeli forces since Bennett's announcement, according to the Palestinian Center for Human Rights.

Kamamji was killed in Kafr Dan village when Israeli forces opened fire at a crowd of people throwing stones at military vehicles. Another person, reportedly a 17-year-old, was critically injured.

Shas Kamamji is the brother of Ayham Kamamji, one of six Palestinians who escaped from Gilboa prison inside Israel last September in what was viewed as a devastating blow to the reputation of Israel's security apparatus.

Ayham Kamamji remained at large for nearly two weeks before being rearrested in Jenin.

After Israeli forces withdrew from the area early Thursday, Abu al-Rub was found with a live bullet wound to the chest and pronounced dead upon arrival to hospital.

"No eyewitnesses were available to speak about the circumstances of his death," the Palestinian Center for Human Rights stated.

Another Palestinian, 20-year-old Omar Muhammad Alayan, was killed during an arrest raid in Silwad village near the central West Bank city of Ramallah late Wednesday.

The Palestinian Center for Human Rights stated that Israeli snipers occupied the rooftops of three residential buildings in the village as military forces surrounded and fired toward a two-story home before raiding it.

Palestinians confronted the raiding forces as they withdrew from Silwad, throwing stones and empty bottles towards their vehicles, causing one to collide with a wall near a roundabout.

Another video shows an Israeli military vehicle that was damaged in Silwan on Wednesday night being towed the following day: During the raid on Silwad, Israeli forces fired bullets and tear gas towards stone-throwing Palestinians, wounding several, including Alayan, who died after being shot in the chest.
Teen killed over Molotov cocktail
Also on Wednesday night, Israeli forces shot and killed 16-year-old Qusai Muhammad Hamamra as Palestinian youths confronted soldiers near the village of Husan, west of Bethlehem in the central West Bank.

The teen "sustained multiple gunshot wounds from a distance of around 20 meters," according to Defense for Children International-Palestine, which added that "at least one bullet struck him in the head."

The rights group said that Israeli forces prevented Palestinian paramedics from treating the wounded boy and evacuated his body in a military vehicle before returning it to his family hours later.

The Israeli military claimed that soldiers shot at Hamamra after he threw a Molotov cocktail at troops.

The teen is the seventh Palestinian child shot and killed by Israel in 2022 and the third killed after allegedly throwing a Molotov cocktail towards troops during the same period.

Last month, Israeli forces shot and killed Nafez Mahmoud Khanafsheh near a military base in the Jerusalem area, claiming that the 15-year-old was throwing Molotov cocktails.

The military made a similar claim when attempting to justify the shooting and killing of Muhammad Rizq Shehade Salah, 13, in al-Khader village south of Bethlehem in February.

Like in the case of Hamamra, Israeli forces prevented Palestinians from providing first aid to Khanafsheh and Salah as they bled to death on the ground.

Hamamra is the second Palestinian killed by Israeli forces in Husan village this week.

Israeli occupation soldiers extrajudicially executed Ghada Sabateen, 44, after she allegedly acted in a "suspicious" manner as she approached them on Sunday.

Video of the incident shows that soldiers fired on the unarmed widow and mother of six at point blank-range.

The woman was returning home after visiting relatives when she was killed, her family told media, rejecting suggestions that she intended to die in an act of "suicide by soldier."
Eighth fatality in Beita
Also on Wednesday, Israeli forces shot Fawaz Hamayel, 45, in the chest in Beita village near Nablus. The father of three succumbed to his injuries the following day.

Hamayel is the eighth Palestinian killed in Beita since Jewish settlers established Evyatar, an outpost on land belonging to the village, in May last year. Most were killed as Israel violently repressed weekly protests against the settlement outpost, where the Israeli military maintains a permanent presence. A massive funeral procession made its way through Beita on Thursday:
"Institutionalized impunity"
More than 40 Palestinians have been shot and killed by Israeli forces throughout historic Palestine so far this year.
On Thursday, Al-Haq, a Palestinian human rights organization, made an urgent appeal to the United Nations over the "intensifying level of violence against Palestinians by colonial settlers committed with institutionalized impunity."
The group noted intensified reprisal attacks by settlers against Palestinians after an Israeli was killed in the West Bank, allegedly by two Palestinians, in mid-December, and after a series of attacks killing several people in Israel in recent weeks.
The group noted a recent statement by Bennett, the Israeli prime minister, calling on Israeli citizens to carry arms.
"Whoever has a license to carry a weapon, this is the time to carry," Bennett said.
Medical Aid for Palestinians, a UK charity, stated on Thursday that it was "gravely concerned" over escalating violence against Palestinians and "reports that health workers have been prevented from reaching and treating some of the injured."
The Palestine Red Crescent Society said that "since the beginning of April, we have recorded five cases of denied access to treat the injured, as well as three cases of assault on our medical teams, and an attack on an ambulance."
The paramedic group declared a state of emergency in the West Bank on Wednesday night.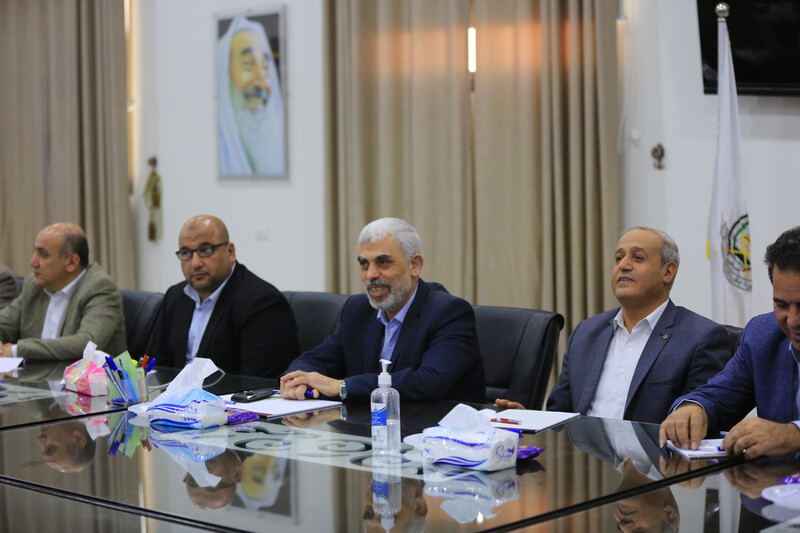 On Thursday night, the Israeli military announced the closure of the West Bank and Gaza Strip on Friday afternoon, the beginning of the Passover holiday.
Friday and the following days are expected to be particularly tense as Passover coincides with the second Friday of Ramadan, when thousands of Palestinians pray at Jerusalem's al-Aqsa mosque compound.
In an inflammatory move, the extremist Temple Mount Faithful Movement group has reportedly offered a "cash prize" to anyone who successfully performs rituals of sacrifice – such as slaying an animal – during Passover at the al-Aqsa mosque compound.
Hamas warned that if those rituals were performed, they would "cross all red lines" and would be considered a "direct assault on the beliefs and feelings of our people."
The leaders of resistance factions in Gaza convened on Wednesday night in a show of unity.
"We are declaring a general mobilization in all places where our people are located. We are calling on the masses to come out in the hundreds of thousands to protect our nation and our mosque," the groups said in a joint statement.
The last major military confrontation between Hamas and other resistance factions in Gaza, on the one hand, and Israel, on the other, erupted after Israeli police stormed al-Aqsa mosque while it was filled with Ramadan worshippers last May.
More than 250 Palestinians in Gaza, including at least 67 children, were killed during the 11 days of intense violence that month.
Palestinian armed groups fired thousands of rockets from Gaza during the fighting, killing around a dozen people in Israel.
Tags