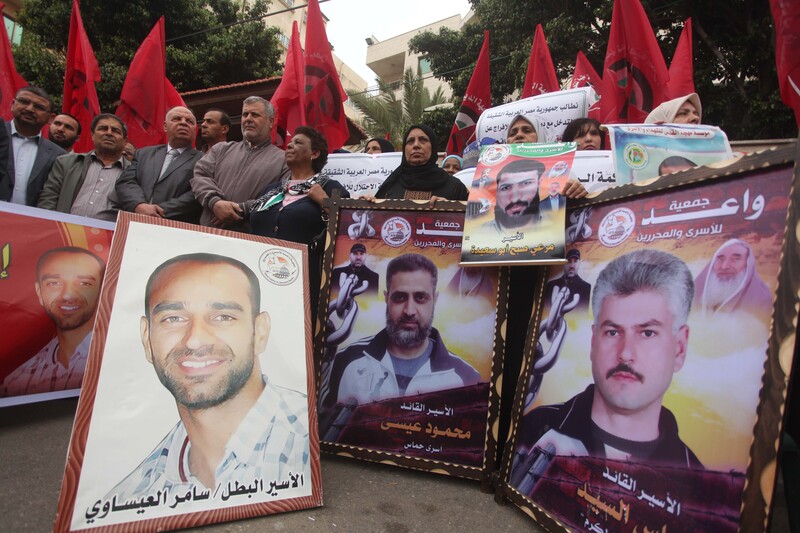 An Israeli military court ruled on Monday to reinstate the lengthy sentence of prominent Palestinian political prisoner Samer Issawi, who had been released following a prisoner swap in late 2011.
Issawi was first arrested during Israel's large-scale invasion of the West Bank in 2002 and was sentenced to thirty years imprisonment on charges of possession of weapons and involvement in armed resistance in Jerusalem.
He was one of hundreds of Palestinian prisoners released in late 2011 in exchange for an Israeli soldier held captive in Gaza.
But just a few months later, Issawi, from the Jerusalem-area village of Issawiyeh, was arrested again after visiting Kufr Aqab, a nearby community within the Israeli-defined municipal boundaries of Jerusalem. Israel claims that he violated the 2011 release deal by leaving the city.
After that arrest in 2012, Issawi launched a 266-day hunger strike protest within Israel's prison walls. He was released in late December 2013 after 17 months of detention without charge or trial, a practice known as administrative detention.
Issawi's latest arrest came in June 2014, when a large force of Israeli soldiers and officers raided his family's home.
Issawi's arrest was part of a wider campaign of collective punishment imposed on Palestinians across the occupied West Bank after three Israeli youths went missing while hitchhiking there. Though Prime Minister Benjamin Netanyahu and the country's military-intelligence apparatus knew that the youths were killed shortly after their abduction, it concealed information from the public and launched the largest military operation in the West Bank in more than a decade.
Military order
More than 560 Palestinians were arrested, 52 of them former prisoners released during the October 2011 swap.
Along with Issawi, four other Palestinians released as part of that deal were ordered yesterday to serve the remainder of their original sentences, according to the Palestinian news agency WAFA.
Those men are Mahdi Assi, Khaled Makhamreh, Nayef Shawamreh and Wael Abu Jalboush, according to WAFA. Another former detainee, Nael al-Barghouti, also released in October 2011 and arrested against last summer, was sentenced to 30 months in jail.
Israeli Military Order 1651 allows former Palestinian prisoners to be retried on previous charges after being released from prison.
At the time of the crackdown last year, Gavan Kelly, an advocacy officer for the human rights group Addameer, told The Electronic Intifada: "It is very important to note that the evidence used against [Palestinians] in these military courts is 'secret.' And most of them risk being reissued prison sentences that are very long."
According to WAFA, the remainder of the prisoners re-arrested after the 2011 release are being held under administrative detention or are still awaiting military court rulings.
Solitary confinement
Meanwhile, Samer Issawi's sister, the lawyer and activist Shireen Issawi, was sentenced to one week of solitary confinement and has had prison visits suspended for one month, according to news reports.
Shireen was arrested in March 2014 for allegedly passing information obtained from Palestinian prisoners in Israeli lockup to "hostile parties," as well as on charges related to transferring money to political groups banned by Israel.
Four other Palestinian women held in HaSharon prison were also subjected to the same punishment as Issawi "following a dispute that broke out between the prisoners and prison authorities," according to the Ma'an News Agency. The women had recently been disciplined for raising a Palestinian flag in the prisoner yard.
Meanwhile, an Israeli court in Nazareth last week rejected a request from the state prosecutor to extend the solitary confinement of Palestinian prisoner Murad Nimer, who has spent more than 19 months in isolation, Ma'an reported.
Another prominent Palestinian detainee, Khader Adnan, was sentenced to two weeks of solitary confinement last month.
Adnan's wife told a Palestinian news site that her husband was punished following a Friday sermon he gave to other prisoners after the death of former prisoner Jaafar Awad, who had contracted a severe illness while in detention.
Adnan's 66-day hunger strike in 2012 in protest of his detention without charge or trial forced the Israeli authorities to release him and sparked a broader prisoners' resistance movement.
Adnan, a baker from Jenin who is affiliated with the Islamic Jihad resistance group, was rearrested in July 2014 and has been held in administrative detention since then. Shortly after he announced his launch of an open-ended hunger strike earlier this month, he was transferred to solitary confinement, his family told the WAFA news agency.
Detained legislator
Meanwhile, Palestinian legislator Khalida Jarrar awaits her fate in Israeli detention. A military court judge decided today to announce a decision on Monday, upon review of secret and open evidence, as to whether the prominent leftist will be detained until the end of trial proceedings or released on bail.
Jarrar, a member of the Popular Front for the Liberation of Palestine, was detained by Israeli occupation forces in a nighttime raid on her Ramallah-area home on 2 April. Charges were brought against her on 5 April.
Addameer, on whose board Jarrar sits, said that "the 12 charges against her revolve around her role as a Palestinian Legislative Council member and political leader and for her campaigning for prisoners. Addameer considers the arrest of Mrs. Jarrar to be a political one, and calls for her immediate release."
Jarrar suffers from chronic health issues and has previously been denied permission to travel abroad for necessary medical treatment.
She is one of twelve Palestinian legislators in Israeli prison, six of whom are held under administrative detention, according to Addameer.
As of 1 March, there were 5,820 Palestinian political prisoners being held in Israeli detention.
The United Nations monitoring group OCHA reports a weekly average of 87 search and arrest raids in the West Bank so far this year, an increase since last year's average of 75 per week.
Tags