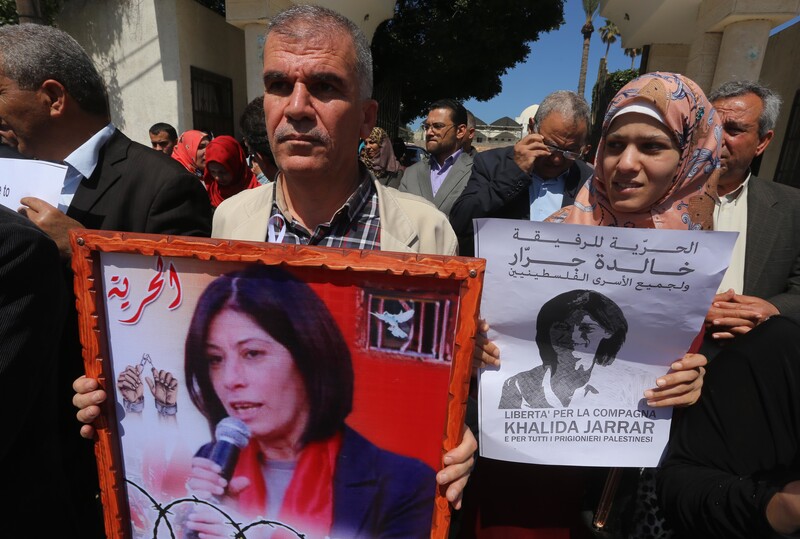 Fifty-eight members of the European Parliament have called on the EU to put "pressure" on Israel to release Khalida Jarrar and other members of the Palestinian Legislative Council (PLC) from its prisons.
Jarrar was today indicted by Israel's military court while another prominent Palestinian detainee, former hunger striker Khader Adnan, has reportedly been placed in punitive solitary confinement.
"We call for the immediate release of Jarrar and all detained Palestinian parliamentarians and an immediate and definitive halt of all measures targeting our Palestinian parliamentary colleagues, including arrests and expulsions from Jerusalem," the European lawmakers said in a 13 April letter to the EU's foreign policy chief Federica Mogherini.
The letter urges Mogherini to rally EU institutions and governments "to take meaningful action to place significant pressure on Israel to ensure the release of Jarrar and Palestinian political prisoners, including all sixteen detained members of the Palestinian Legislative Council."
Military indictment
Jarrar, a prominent leftist advocate for Palestinian prisoners, and a member of the Popular Front for the Liberation of Palestine, was detained by Israeli occupation forces in a night raid on her Ramallah-area home on 2 April.
The Israeli military has since sentenced Jarrar to six-months of "administrative detention."
Palestinian prisoners' advocacy group Addameer – on whose board Jarrar sits – reported that Jarrar was today indicted by the Israeli military prosecutor at a closed hearing at Ofer military prison on twelve charges that "revolve around her role as a PLC member and political leader and for her campaigning for prisoners."
Despite the indictment, the Israeli army officer who acts as a "judge" in the military tribunal maintained the administrative detention order to ensure that Jarrar could not be released on bail.
"Addameer continues to emphasize the political and vindictive nature of Mrs. Jarrar's arrest, which is a grave breach of her rights under international human rights and humanitarian law," the group added.
Israel's military court system has been consistently condemned by local and international human rights groups for failing to meet minimum standards of due process and fairness.
Khader Adnan in solitary confinement
Meanwhile, another high profile Palestinian detainee has reportedly been placed in solitary confinement.
Khader Adnan is best known for his historic 66-day hunger strike in 2012 which forced Israeli occupation authorities to release him from a previous term of administrative detention and helped launch a broader prisoners' resistance movement.
After his release, Adnan remained a prominent campaigner on behalf of prisoners.
Adnan, who is affiliated with the Islamic Jihad resistance organization, was re-arrested in July 2014 and has been held without charge or trial since then. His wife was recently allowed to visit him for the first time since his re-arrest.
Randa Adnan told the Palestinian news website Dunya al-Watan that Adnan was sentenced to two weeks of solitary confinement at Israel's Hadarim prison, starting Monday.
She said that the punitive action followed a Friday sermon her husband gave to other prisoners regarding the death of Jaafar Awad, and Israel's mistreatment of sick Palestinian prisoners.
Awad spent fourteen months in Israel's Eshel prison, but was released in January in critical condition after he fell ill in custody, according to Ma'an News Agency.
Israeli occupation forces opened fire at Awad's funeral in the West Bank town of Beit Ommar last Friday, killing one of his cousins, Ziyad Awad.
Human rights defenders have consistently condemned Israel's practice of prolonged detention of Palestinians without charge or trial.
In a 2012 report, Amnesty International called on Israel to stop using administrative detention – a relic of British colonial rule in Palestine – and urged "the immediate and unconditional release [of] prisoners of conscience held just for peacefully exercising their rights to freedom of expression and assembly."
Number of administrative detainees more than doubles
There has been a sharp increase in the number of Palestinian political prisoners held by Israel over the past year. Addameer put the number at 6,000 as of 1 February, as compared with just over 5,000 a year earlier.
The number of administrative detainees has shot up from 175 to 454. As of February, there were 182 Palestinian children in Israeli jails, according to Defence for Children International – Palestine.
There is no let up in the nearly nightly arrest raids.
Overnight Tuesday to Wednesday, Israeli occupation forces carried out a major raid in Nablus, arresting 31 people, Ma'an News Agency reported.
These arrests could only occur with the acquiescence and complicity of the Palestinian Authority – under its policy of "security coordination" with the occupation – since they took place in areas ostensibly under PA control.
Tags