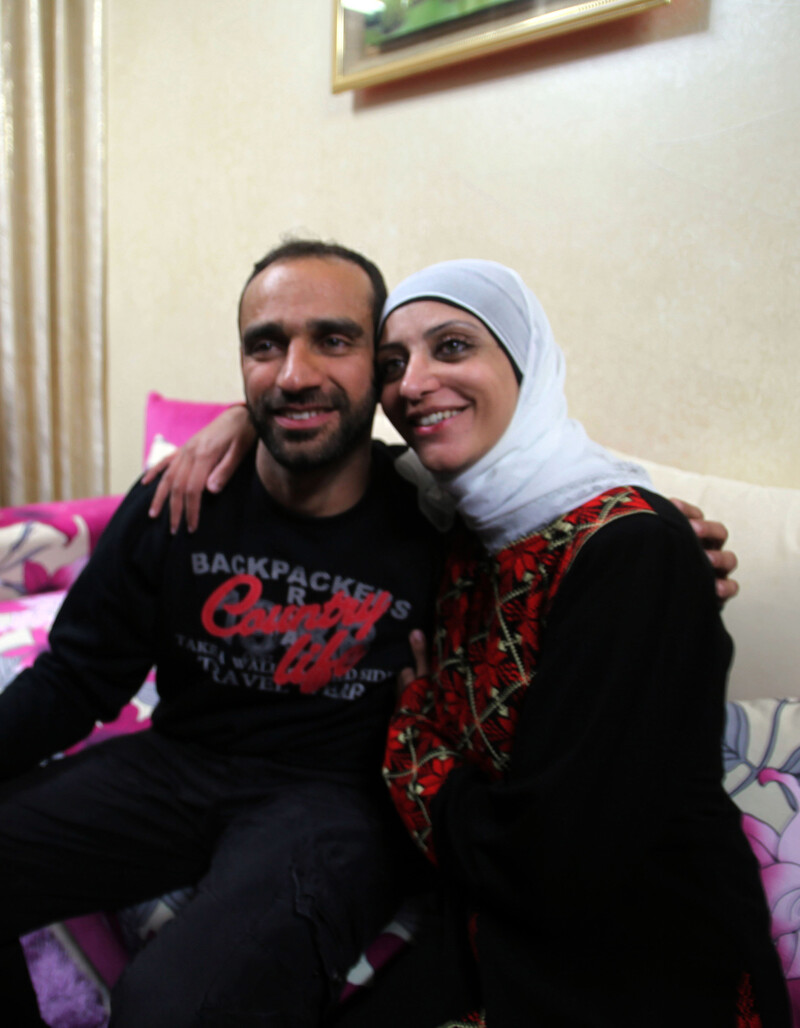 Because her family has been repeatedly targeted for arrest and imprisonment since Israeli forces occupied their village in 1967, Layla Issawi, better known as Um Rafaat, has not shared a meal with all seven of her living children at the same time in more than a decade.
On Wednesday 29 April, an Israeli judge postponed the trial of Um Rafaat's daughter, Shireen Issawi, who is a prominent lawyer and vocal activist. Shireen's next hearing is scheduled for 7 May.
Shireen, who is the sister of the released hunger striker Samer Issawi, was arrested on 6 March and subsequently charged with passing information obtained from Palestinian prisoners in Israeli lockup to "hostile parties," as well as charges related to transferring money to political groups banned by Israel.
"The charges are false," Um Rafaat told The Electronic Intifada. "Shireen hasn't worked as a lawyer for more than three years."
On Saturday 26 April, Shireen's father, Tareq, and Um Rafaat hosted a group of Palestinian students, solidarity activists and journalists and spoke about Israel's detention of Shireen.
Shireen's family has so far been denied requests to visit her in prison. But Mariam Barghouti, an activist who was recently arrested and released on bail, shared a cell with Shireen in Israel's Hasharon military prison in the northern part of the occupied West Bank.
Weight loss
"She stressed that Israel is targeting the lawyers who visit political prisoners and work with prisoners and their families," Barghouti told The Electronic Intifada. "She's very thin and her weight got down to around 39 kilos [86 pounds] at one point."
"She had been held in solitary in Moskobiyeh," she added, referring to the Russian Compound interrogation center in Jerusalem. "She said she is experiencing a lot of back pain from the positions she is handcuffed [in] … we sat on metal chairs in small cells in the buses [in which] we were transferred from detention centers."
At around 4pm on 6 March, as a helicopter circled above Issawiyeh — a village in occupied East Jerusalem — Israeli forces swarmed the neighborhood and surrounded the Issawi home. Um Rafaat was helping her small granddaughter wash her hands when she noticed them from the window.
"They were dressed like riot police with helmets and weapons. They broke down the front door and came into the house," she recalled, adding that she warned Samer to stay put in his room as dozens of Israeli police and intelligence officers began to search the home.
As her granddaughter started crying, an officer presented Um Rafaat with a search warrant in Hebrew, a language that she does not understand.
"They tore apart Shireen's room," she added. "They took her clothes, books, personal possessions, computer and telephone."
The police searched the other rooms and confiscated a number of items, including more telephones, computers and two iPads. These items have yet to be returned to the Issawi family.
Around the same time, Shireen was detained at a checkpoint. Her brother Shadi was arrested elsewhere in Jerusalem that same day, but he was later released.
Little hope for justice
After being transferred to several detention centers in present-day Israel and the occupied West Bank, Shireen was recently moved to Hasharon prison. Her family has not been allowed to attend her hearings in a military court, which generally last between five and ten minutes and result in a postponement.
Um Rafaat has little hope for justice in Israel's military courts, which have a more than 99 percent conviction rate against Palestinians, according to a military document leaked to the Israeli daily Haaretz in 2011 ("Nearly 100 percent of all military court cases in West Bank end in conviction, Haaretz learns").
Five other lawyers were arrested on related charges around the same time. Though Shireen and another lawyer are still behind bars, four have already been released.
One of the five lawyers, Amjad Safadi, committed suicide after allegedly having been tortured during his 45-day detention ("Group: Lawyer commits suicide after 'torture' in Israeli jail," Ma'an News Agency, 29 April 2014).
At the latest hearing, the Israeli prosecution claimed that Shireen should not be released on bail because she has a history of legal problems with Israel's occupation authorities. The prosecution also alleged that she was responsible for the actions of the other lawyers.
According to statistics published by Addameer, a prisoner support group, Shireen was one of at least twenty Palestinian female prisoners held by Israel at the beginning of April. In total, more than 5,200 Palestinian prisoners are detained or imprisoned by Israel — 202 of whom are children.
"It's clear that they are targeting Shireen because of how active she was in raising support for Samer during his hunger strike," said Um Rafaat.
Arrested "again and again"
Israel has time and again inflicted tragedy on the Issawi family, noted Um Rafaat, who said she spent six months in an Israeli prison without being charged following Israel's occupation of the West Bank in 1967.
During the first intifada, the Issawi family suffered frequent raids by Israeli forces, who tore through and confiscated their possessions and searched every crevice of their home. The year 1987 "was the first time one of my children was arrested," Um Rafaat explained. "Rafaat was 14 years old and Medhat 13 years old … they were arrested and missed their school exams."
"Since that time, my kids have been arrested again and again," she said. "It's like I'm not the one who raised them."
In 1994, at a peaceful march against the killing of 29 Palestinian worshippers in a Hebron mosque, an Israeli soldier shot and killed Um Rafaat's son Fadi on his sixteenth birthday.
Another son, Medhat, was arrested yet again on 30 March this year for activities related to prisoner solidarity. He has already spent more than twenty years in Israel's prisons for his involvement in the Democratic Front for the Liberation of Palestine, a left-wing Palestinian political party.
In an article for the Al-Monitor website last year, Shireen wrote, "My brothers Rafaat, Firas and Shadi have spent a combined 25 years in Israeli prisons" ("My mother inspired us to fight for Palestinian rights").
Intimidation
Shortly after Samer's release, Israeli authorities in Jerusalem delivered the Issawi family a demolition order on their home ("Israeli police, inspectors storm home of Samer Issawi," Ma'an News Agency, 21 January 2014).
And Rafaat, the oldest of the siblings, was previously forced to watch Israeli bulldozers level his nearby home on 3 January 2013, although he was reportedly never delivered a demolition order ("House demolitions: Zionism's constant background noise," +972 Magazine, 17 June 2013).
The Issawi family is also being denied many municipal services, such as water, by the Israeli authorities. According to the family, an official from the Israeli-controlled Jerusalem municipality removed its water meter while Samer was on hunger strike.
Rima Awwad, a representative of the Jerusalemites Campaign, a group that advocates Palestinian rights in the occupied city, explained that Israeli authorities crack down on all dissent in Jerusalem.
"Israel targets Jerusalemites who are outspoken against the illegal occupation," Awwad told The Electronic Intifada. "There is a clear pattern here that is aimed at intimidating activists and future activists into silence, or even collaboration."
She added that the families of prisoners were burdened by "a great deal of emotional and financial pressure," including the "inevitable concern for their [imprisoned] relative, the loss of that individual's income, high legal aid and visitation expenses, and further threats and harassment by Israel's occupation forces."
Targeting activists and their families in Jerusalem, said Awwad, is part of a broader policy designed to "create an unlivable environment in Jerusalem" and "drive the Palestinian population from the city."
Despite her family's painful history, Um Rafaat refuses to feel sorry for herself.
"This is not just my life," she said. "This is the life of all Palestinian mothers. There are families in Gaza with three or four martyrs each … and Israel has killed some entire families there."
Patrick O. Strickland is an independent journalist and frequent contributor to The Electronic Intifada. His writing can be found at www.patrickostrickland.com. Follow him on Twitter@P_Strickland_.
Tags