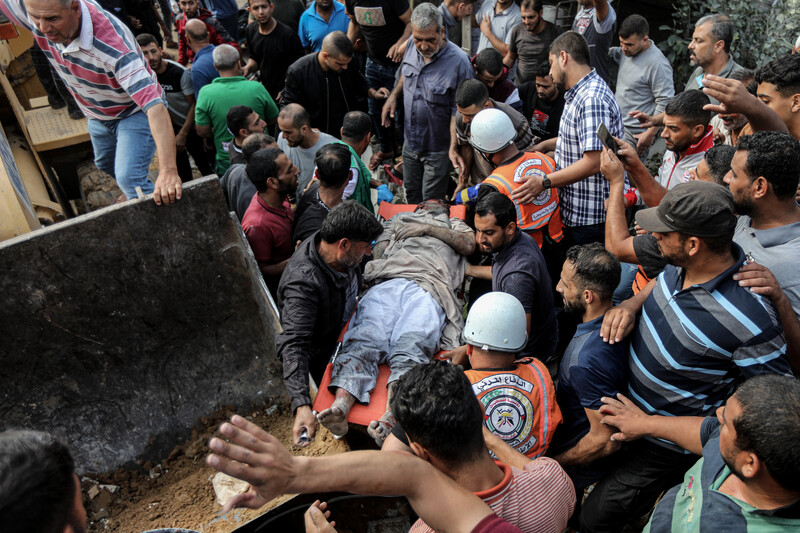 Israel was shaking the ground in Gaza by pounding it from air, land and sea overnight Sunday as a major confrontation that began with a surprise assault launched by Hamas stretched into its third day.
The official figure gave 700 fatalities in Israel but the news outlet Yediot Ahronot said early Monday that it estimated there were 1,000 fatalities at present. The health ministry in Gaza said that there were at least 413 fatalities in the territory by the end of the day on Sunday.
Israel killed multiple members of several families in Gaza when it bombed their homes over their heads without warning, rights groups said.
More bloodshed is all but guaranteed as Israel was reportedly set to launch a ground invasion of Gaza – which has been under a punishing blockade since 2007 and subjected to multiple large-scale assaults during that time – in the next day or two.
Palestinian human rights groups warned that statements by Israeli leaders, including Prime Minister Benjamin Netanyahu, "portend an unprecedented number of killings, with civilians bearing the brunt."
Those groups said that additional civilian casualties and destruction were inevitable so long as Israel continued to evade accountability "for the international crimes committed against the Palestinian people."
Ahead of a closed Security Council meeting on Sunday, Riyad Mansour, the Palestinian Authority representative to the United Nations, said that "we came to the Security Council month after month warning of the consequences of Israeli impunity and international inaction."
"This is not a time to let Israel double down on its terrible choices," Mansour said. "This is the time to tell Israel it needs to change course, that there is a path to peace where neither Palestinians or Israelis are killed."
He added that statements by Israel's allies "about Israel's right to defend itself will be interpreted by Israel as a license to kill."
Mansour said that the way to peace is not "through further entrenching oppression and occupation but by ending it."
US redirects aircraft carrier in support of Israel
But the same Western states that have shielded Israel from accountability at international fora lined up behind it following Hamas' counteroffensive from Gaza against Israel's assaults and settler attacks against Palestinians in the West Bank, especially in Jerusalem and the town of Huwwara.

The US demanded that the Security Council condemn Hamas' "heinous terrorist attacks" but failed to convince all 15 member states to do so.

Washington said on Sunday that it would be "rapidly providing" the Israeli military with additional equipment and weapons and was redirecting an aircraft carrier to the eastern Mediterranean.

Hashem Safieddine, a senior Hizballah figure in Lebanon, which shelled an area of the country occupied by Israel on Sunday, warned the US and Israel that the move would cause a regional escalation.

As of Sunday night, the Israeli army said it was still engaged in battle with Palestinian fighters in now militarized areas surrounding Gaza and claimed that it had killed "hundreds" of fighters since Saturday.

Video showed widespread damage in Ashkelon, a coastal city in southern Israel, after a barrage of rockets was fired from Gaza late Sunday.

Despite lukewarm efforts by military figures to spin events as though they were going in Israel's favor, Israel was on Sunday still grappling to come to terms with what can only be described as a colossal strategic and operational failure. Israeli authorities ordered residents of Sderot, an Israeli settlement near Gaza, to remain in their homes after it was believed to be infiltrated by Palestinian fighters on Sunday.
The military had issued stay-at-home orders to residents of Kibbutz Mefalsim, a settlement near Gaza, as well as Sderot earlier in the day. In total, some two dozen settlements near Gaza were evacuated by the military.
Hundreds of fatalities in Israel
Israel's health ministry reported that the number of fatalities in the country had risen to 700 and the number of injuries to 2,200. Media reports said that 360 people were in critical condition at the end of the night on Sunday.
Nationals of other countries were among the dead, including 10 citizens of Nepal killed in Kibbutz Alumim, a settlement near Gaza.
Three UK nationals were missing or dead as of Sunday, including one who was a soldier in the Israeli military. A French national who was in the Israeli military was also reported killed and several other citizens of the country were missing.
Antony Blinken, the US secretary of state, said that Washington was "very actively working to verify" reports that several Americans are among the dead and those captured and held in Gaza.
Thailand said that two of its citizens were killed and that 11 of its nationals were being held by Hamas in Gaza.
A Cambodian student was also reportedly killed.
Some governments called on their citizens to leave Israel and a few had evacuated their nationals from the country.
Several airlines canceled or drastically reduced flights to and from Tel Aviv, both before and after its airport was targeted in a salvo of rocket fire from Gaza on Sunday night.

Israeli authorities said that the bodies of 250 people were recovered from the site of an all-night music festival that was stormed by Palestinian fighters at the outset of the attack on Saturday.

Video from the festival, held just a few miles from the besieged Gaza Strip, shows rockets streaking across the sky as Palestinian paragliders sail in:

Video appeared to show the body of at least one festival attendee in the bed of a truck driven by militants in Gaza.

Another video showed a festival-goer being taken alive by Palestinian fighters on motorbikes.

The families of missing Israelis held a press conference on Sunday demanding information from the government and a meeting with officials.

Forty members of Israel's Border Police were killed and 120 injured while 18 remain unaccounted for, according to media reports.

Dozens of Israeli soldiers and military officers were killed, as well as dozens of police officers.

On Sunday, at least one Israeli motorist was shot and killed near Ashkelon by police who mistook him for a Palestinian fighter. Another Israeli was shot in similar circumstances but survived in Sderot.

Israel said that more than 100 people are believed to have been captured by Palestinian fighters and taken into Gaza – a figure confirmed by a senior Hamas official late Sunday. Foreign nationals are among those being held in Gaza, including a man and a woman from Mexico,

Some Israelis only learned of the fates of their family members through video footage showing them in Gaza. One woman told Israeli radio that her family was told that her brother, a missing Israeli soldier, was dead after they called his mobile phone and a Palestinian fighter answered.

Indeed, the Israeli military didn't realize that Hamas fighters had infiltrated Gaza-area settlements until after images and videos of Israelis captured and brought to Gaza began circulating on social media.

Bodies remained strewn on a road at the entrance to Sderot, a city near Gaza, for hours on Saturday, "evidence of the failure of the security and rescue forces," the Tel Aviv newspaper Haaretz said on Sunday.

At another location near Sderot, Haaretz said, "car after car contained bodies that had been there for hours after the victims were shot to death."
Israel targets Gaza civilians in reprisal strikes
Israeli leaders promised to use unprecedented force in Gaza in revenge for the surprise attack, with Netanyahu stating that Israel's offensive "will continue with neither limitations nor respite until the objectives are achieved."

So far that has looked like the widespread targeting of civilians and civilian infrastructure in Gaza.

The Israeli military said on Sunday that it had dropped 100 tons of munitions on Shujaiya, a neighborhood east of Gaza City and the site of a massacre of 55 Palestinians by the military in July 2014.

Gaza's health ministry reported more than 400 fatalities in Israeli reprisal strikes on the territory. Among them were 78 children. Another 2,300 Palestinians in Gaza were wounded.

Defense for Children International-Palestine said that it had "confirmed the killings of at least 33 Palestinian children in Gaza" since Saturday morning.

The Palestinian Center for Human Rights, which is based in Gaza, said that Israel's retaliatory strikes targeted "dozens of civilian objects," bombing and destroying "residential towers and houses over their residents' heads."

Palestinian human rights groups called for "immediate and urgent intervention by the international community" and blamed the escalation of violence on "the deliberate failure and unwillingness … to address the root causes of the current situation in Palestine."

PCHR said that the Israeli military called or made public statements ordering Palestinian residents of neighborhoods throughout Gaza to evacuate their homes, "a measure that amounts to a form of forced displacement."

The United Nations said that around 125,000 Palestinians in Gaza had been displaced from their homes as of Sunday evening. Nearly 75,000 people were sheltering in 64 schools.

Medical patients were unable to travel to the West Bank, including East Jerusalem, and Israel for scheduled appointments as the Israeli-controlled checkpoints remained closed.

PCHR warned that Israel's cuts to the supply of electricity of Gaza, a form of collective punishment illegal under international law, "will unequivocally cause a critical humanitarian catastrophe."

The UN said that availability of electricity had been reduced to three to four hours per day and that the Gaza power plant, the sole source of electricity in the territory at present, "could run out of fuel within days."

PCHR said that Israeli companies, which provide 50 percent of Gaza's water needs, had halted supply to the territory.

UNRWA, the UN agency for Palestine refugees, said it had suspended distribution of food assistance to nearly 113,000 families in Gaza. It said that two of its students were confirmed to be among those killed.

The vast majority of Gaza's population of more than two million Palestinians are refugees from lands inside Israel, including areas around the periphery of the coastal enclave.

One of its schools that was sheltering displaced people was directly hit, UNRWA said.

The Palestinian Center for Human Rights emphasized that Palestinians in Gaza – one of the most densely populated places in the world – lack protection "as there are neither public or private shelters nor safe humanitarian corridors."
Families obliterated in Gaza
Since Saturday, several families in Gaza lost three or more members in single Israeli strikes – a tactic used by Israel in previous assaults on the territory.

A three-story home in Abasan al-Kabira east of Khan Younis in the southern Gaza Strip was hit in an Israeli strike without warning on Sunday. Al Mezan, another human rights group based in Gaza, said that 18 members of the Abu Daqqa family were killed in the strike, including women and children.

Seventeen people were killed in an Israeli strike on a home belonging to the Abu Quta family, with "many people still buried under the rubble," human rights groups said on Sunday.

Six members of the Shaban family in Gaza City – two parents and their four children – were killed in an Israeli attack on their home.

Four members of the Abu Aoun family were killed in an Israeli strike on Sunday, as were two parents and five children belonging to the Abu Rakab family in al-Zawaida village in central Gaza.

Israel bombed "a densely populated area" where the office of Hamas chief Yahya Sinwar is located, PCHR said.
Israel bombed the homes of other Hamas leaders, including Ghazi Hammad, Salah Bardawil and Nizar Awadallah, the latter killing his son Muhammad.

Six healthcare workers have been killed and four injured in Israeli airstrikes that damaged seven medical facilities and nine ambulances, the United Nations said.

Gaza's chronically under-resourced hospitals appealed for donations of blood as staff struggled to cope with the huge number of casualties.

Israel bombed multiple banks, mosques and government buildings in the territory and destroyed four commercial and residential towers on Saturday and Sunday. One of the targeted buildings, Watan Tower, "serves as a hub for internet providers in Gaza," the BBC reported.
Palestinian resistances presses forward
Palestinian resistance groups launched fresh salvoes of rockets towards Israel on Sunday as gunmen continued to operate inside settlements near the Gaza boundary.
Islamic Jihad announced that it had launched a wave of rockets in support of Flood al-Aqsa, the surprise offensive begun by Hamas on Saturday morning.
The resistance faction said that it was holding 30 Israelis captive in Gaza and they would only be returned in the event of a prisoner exchange.
Ziyad Nakhaleh, the leader of Islamic Jihad, said that resistance fighters had humiliated Israel, which resorted to calling Washington for help in the first hours of the offensive.
He said that the Israeli "army is weaker than many in the world believe," and urged the government to "surrender to this truth. The easiest way to avoid losing more prisoners is to acknowledge defeat."
Abu Obeida, the spokesperson for the Qassam Brigades, said on Sunday that it had replenished its combat forces and sent additional troops inside Israeli territory.
"Our fighters, within the framework of the ongoing al-Aqsa Flood battle, continue to engage in fierce and heroic clashes, fighting on multiple fronts, inflicting casualties on the enemy," he said.
Abu Obeida said late Sunday that Hamas was able to capture more Israeli soldiers and take them into Gaza that day and that its fighters were still engaged with Israeli forces in several areas and had reached an area near Ashkelon.
He said that Hamas fighters were able to withdraw safely from a military base housing the Israeli military intelligence Unit 8200 "after the completion of their mission there and their liquidation of a large number of enemy soldiers."
Abu Obeida added that Hamas fighters in the battlefield documented several cases in which "the enemy killed a number of its own prisoners after our fighters were able to capture them."
He was referring to the Hannibal Directive – military protocol that authorizes massive firepower to prevent a captured soldier from being taken alive. Israel employed that directive in Gaza in August 2014, killing dozens of Palestinian civilians when Israeli forces aimed at locations where they believed a missing soldier might have been held.
Meanwhile, in the West Bank, Al Jazeera reported that there were at least two dozen shooting operations against Israeli positions in the West Bank, where Palestinians held a general strike on Sunday.
Israeli forces killed several Palestinians in the West Bank on Sunday, including a youth shot in the neck in Beita near Nablus, three people shot and killed during confrontations at Qalandiya checkpoint near Ramallah, a youth in Hebron shot during confrontations, and a youth shot in the neck during confrontations at al-Jalameh checkpoint north of Jenin.
Tags