A Palestinian was killed when Israeli forces deployed the so-called Hannibal Directive to extract two of its soldiers who had mistakenly entered Qalandiya refugee camp near the West Bank city of Ramallah overnight Monday.
The Hannibal Directive is an Israeli military protocol authorizing massive firepower to prevent a captured soldier from being taken alive.
"The initial investigation of the incident revealed that an army driver and squad commander from the Oketz unit entered the camp by mistake while using the Waze smartphone GPS navigational app," the Tel Aviv newspaper Haaretz reported.
"The two separated after their vehicle was attacked in the camp, with the whereabouts of one being unknown for more than an hour. The Hannibal procedure was invoked during the search for the missing soldier," Haaretz added.
Iyad Omar Sajadiyya, a 22-year-old journalism student, was killed during fierce confrontations that broke out when Israeli forces raided the camp to extricate the two soldiers.
"Locals said that Palestinian gunmen held the two soldiers for three hours before an Israeli military helicopter evacuated them, although the Israeli army made no mention of gunmen," the Ma'an News Agency reported.
"During the clashes, Sajadiyya was shot in the head, while another four Palestinians were shot with live ammunition and six with rubber-coated steel bullets. Two young men were also hit by high-velocity tear gas canisters," Ma'an added.
Ten Israelis were reportedly injured during the raid and the two soldiers were extracted unharmed.
The last time the Hannibal Directive was employed was in August 2014, during Israel's massive assault on Gaza that summer. Dozens of Palestinian civilians were killed when Israeli forces aimed at locations where they believed a missing soldier might have been held.
A joint investigation by Amnesty International and Forensic Architecture found "strong evidence" that Israel may have committed war crimes while attempting to kill its own soldier.
Two Palestinians were killed in Qalandiya refugee camp in November when Israeli forces raided to destroy the family home of Muhammad Abu Shahin, who was accused of killing an Israeli months earlier.
US citizen killed
Israeli forces shot and killed a 17-year-old Palestinian who reportedly held US citizenship on Friday.
Mahmoud Shaalan was slain at a checkpoint near the Beit El settlement in the occupied West Bank. The army claimed that Shaalan, from the West Bank village of Deir Dibwan near Ramallah, had attempted to stab soldiers. No Israelis were injured during the incident.
The Palestinian health ministry told media that the boy's body was "riddled with bullets."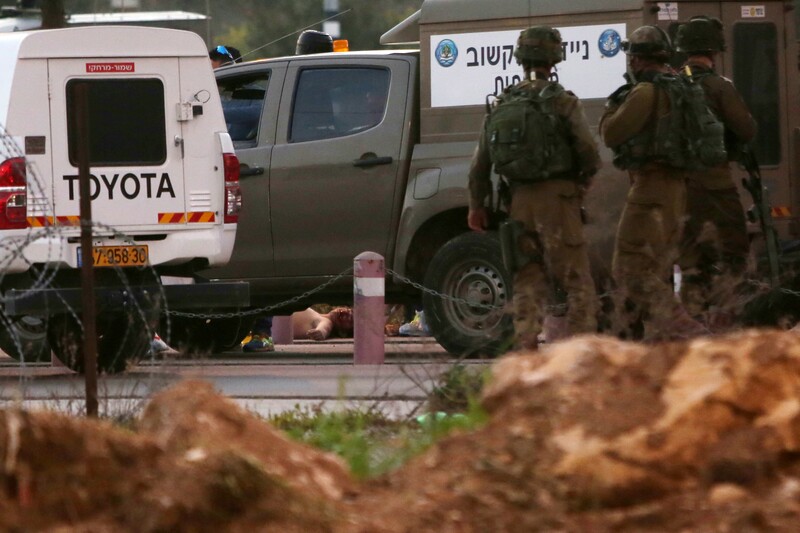 Shaalan is the second US citizen reported to have been killed during the new phase of deadly confrontation in the West Bank that began in October last year.
Abdulrahman Abdulmajid al-Barghouthi, 26, was shot and killed on 4 December after being stopped by soldiers at a checkpoint in Aboud village near Ramallah.
Israel claimed that al-Barghouthi had attempted to stab soldiers, but the Palestinian Centre for Human Rights said al-Barghouthi was willfully killed by the military after he shoved a soldier who had slapped him in the face.
Al-Barghouthi had reportedly traveled to the West Bank to arrange his marriage and was returning from visiting his fiancée's home when he was shot dead.
Five months of deadly violence
Two US citizens have also been killed during attacks waged by Palestinians since October.
Tuvya Weisman, an off-duty soldier in Israel's Nahal brigade, died after being stabbed in a West Bank settlement last month. Ezra Schwartz was killed in a drive-by shooting while he was on his way to volunteer in a settlement outpost in November.
Twenty-eight Israelis and approximately 180 Palestinians, including more than 30 children, have been killed during five months of sharply increased violence.
Most of those Palestinians killed were allegedly waging attacks involving stabbing, shooting and car-ramming when they were shot dead. Most alleged attacks have taken place in the West Bank, primarily at Israel's settlements and military checkpoints.
Human rights groups have condemned Israel's reflexive use of lethal violence when alleged attackers do not pose an immediate danger to anyone's life.
In many cases, Palestinians may not have been attempting any attack when they were slain.
Such is the case with Musab Mahmoud al-Ghazali, 26, who was buried by his family under severe Israeli restrictions on Sunday night after Israel had held his body since his slaying on 26 December.
He was shot dead in Jerusalem's Allenby Square on that date after Israeli police say he pulled a knife on an officer. A witness said that al-Ghazali was not armed when he was killed.
The man's family told the Ma'an News Agency that the young man suffered from intellectual disabilities and accused the police of "executing him in cold blood."
An attorney with the Palestinian rights group Addameer said that Israel breached conditions for the release of al-Ghazali's body, returning it frozen. Israeli forces also demanded to confiscate the cellphones of all those present present until the end of the burial.
Israel is still holding the bodies of nine Palestinians from Jerusalem slain during alleged attacks. One of the bodies has been held for more than four months.
Life-threatening injuries
Dozens of Palestinians have also been slain during protests, and hundreds more injured, since October.
Two were critically injured in confrontations with Israeli forces in al-Khader village south of Bethlehem in the West Bank on Sunday.
Yazan Omar Salah, 16, and Hisham Muhammad Atwan Sbeih, who was sitting in his car when he was wounded, were both shot in the chest by soldiers who had raided the village.
And at 1am on Friday, Zvika Cohen, 47, an Israeli security guard working in a West Bank settlement, was found critically wounded on the floor of a mall after he was attacked with an ax late Thursday.
The suspected attacker, Saadi Ali Abu Hamed, 21, from al-Eizariya village near Jerusalem, was arrested late Saturday.
Haaretz reported that a relative of Abu Hamed called a police hotline to tip them off about Abu Hamed's alleged involvement in the attack.
"Rahamim Cohen, the victim's brother, said in an interview with Army Radio on Sunday that Zvika Cohen knew his assailant and had even 'drunk coffee with him two days earlier,'" Haaretz added.
Nassar al-Asmar, a relative of Abu Hamed, said that he worked two days a week at the Maaleh Adumim mall where the attack took place.
Most of Abu Hamed's family, including his father, were arrested as well, al-Asmar added.
Brothers held
It was reported on Monday that two Palestinian brothers were being held by Israel for their suspected role in a series of shooting attacks in the West Bank city of Hebron late last year.
Nasser and Akram Badwi, 23 and 33, respectively, were behind five shootings that left two soldiers and two youths wounded, according to the Shin Bet, Israel's domestic intelligence agency.
"A homemade sniper's rifle and another homemade rifle were seized following the interrogation of the suspects," Haaretz reported.
The Shin Bet claimed that the brothers "used a makeshift silencer, which they learned to make on the Internet."
While Israel has been unable to prevent the manufacture of improvised weapons in Gaza, it now seems to face the same phenomenon in the West Bank.
Improvised weapons
Two deadly incidents involving improvised firearms took place at the Damascus Gate to Jerusalem's Old City last month.
An Israeli Border Police officer was killed during a shootout with three Palestinian youths armed with Carl Gustav-style submachine guns who were also killed at the scene in early February.
Two weeks later, two more Palestinian youths armed with "an improvised M-16 variant" which they used to fire "scores of rounds at police" before they were shot dead, according to Israel's Ynet.
"Occurring late in the evening after traffic had died down, the gunfire was heard across central Jerusalem," Ynet added.
Tags