Israeli occupation forces killed a Palestinian protester in Gaza on Monday, one day after killing three children in an airstrike.

Muhammad Abd al-Hay Abu Ubada, 27, was fatally shot during a naval march in protest of Israel's air, sea and land blockade on Gaza, approaching its 12th year.

Eighty others were injured during the protests, including 15 wounded by live fire. Seven medical workers, including volunteer paramedics, were injured by live fire and tear gas, according to Gaza's health ministry.

Video appears to show a medic who was shot in the leg on Monday:

Palestinians across Gaza also protested the killing of three teenage boys in the central Gaza Strip on Sunday. Many demanded that Palestinian resistance groups retaliate against Israel: The children – identified as Khalid Bassam Mahmoud Abu Said, 14, Abd al-Hamid Muhammad Abd al-Aziz Abu Thahir, 13, and Muhammad Ibrahim Abdallah al-Satari, 15 – were struck by at least one missile near the Gaza-Israel boundary fence east of Deir al-Balah, according to Al Mezan, a rights group based in the territory.

Israeli forces fired at paramedics and prevented them from reaching the children, who were wounded by shrapnel throughout their bodies, for two hours.

Israel stated that it had targeted a group of Palestinians who were attempting to place an explosive device near the boundary fence.

That claim was rejected by the boys' families, who said that the young friends were trapping birds on land owned by one of the children's families when they were hit.

Hanan Ashrawi, a member of the Palestine Liberation Organization executive committee, condemned the "deliberate" killing of the children and appealed to the International Criminal Court to investigate Israel's "flagrant war crimes being committed against the Palestinians."

The UN's Middle East envoy Nickolay Mladenov expressed his sympathies to the boys' families, saying "such tragedies must be avoided at all costs":

The killing of the three children came after intense military escalation in Gaza overnight Friday.
Military escalation
Israeli warplanes struck dozens of sites across Gaza, including densely populated areas, late Friday and early Saturday after armed groups in Gaza fired rockets into Israel.
Israel's air force said it hit 95 targets on Friday and Saturday before a ceasefire was reached between Israel and Islamic Jihad, a Palestinian resistance and political group in Gaza.
Israeli officials attributed the rocket fire from Gaza to a power struggle between Islamic Jihad and Hamas, which administers the internal affairs in the territory, and has been involved with indirect talks with Israel to ease the blockade and tensions along the boundary.

The Israeli military destroyed a four-story building in Gaza City that it said served as Hamas' general security forces headquarters. Israel has taken the line that it will hold Hamas responsible for any fire from Gaza even if it doesn't believe the group is behind the launching of rockets.

In addition to terrorizing Gaza's civilian population and destroying buildings, the bombing caused schools to suspend class on Saturday.

The Indonesian Hospital in northern Gaza was damaged when Israeli warplanes bombarded a nearby military training site. No injuries were reported.

Photos showed damage to the hospital:

Gaza's health ministry deplored the targeting of the area of the hospital, "causing serious material damage, as well as terrorizing patients and medical crews," and disrupting operations at the facility.

COGAT, the bureaucratic arm of Israel's military occupation, took to social media to defend itself from accusations that it deliberately caused harm to a hospital.

"Israel does everything in its power to prevent damage to hospitals and civilians, however, Palestinian terror groups continue to purposefully place military sites containing weaponry adjacent to civilian infrastructure," COGAT claimed.

During Israel's 51-day bombardment of Gaza in summer 2014, however, 24 ambulances and 70 medical facilities were damaged or destroyed and 11 ambulance drivers and civil defense workers were killed.

In some cases, ambulances and facilities appear to have been deliberately targeted by Israel.

The damage to the Indonesian Hospital comes one month after a school run by the United Nations was hit by an Israeli artillery shell in southern Gaza's Khan Younis.
COGAT decries damaged checkpoint
Meanwhile COGAT decried damage caused by Palestinian fire to the ambulance crossing at Erez checkpoint, where the Israeli military controls movement of people in and out of the Gaza Strip.
COGAT described the crossing as one through which "children in need of life-saving treatment, terminally ill patients for whom this is their last hope to extend their lives, and those in need of the progress of world medicine to provide a response to their diseases, enter Israel on a daily basis."
Israel denied exit permits to nearly 800 patients in Gaza during the first seven months of 2018.
Palestinians in Gaza requiring treatment in the West Bank or Israel have their cases referred to the West Bank-based Palestinian Authority, which pays for the treatment, and then on to Israel, which has the final say in whether an individual may travel.
Patients who require multiple procedures and follow-up care are repeatedly subjected to bureaucratic delays and sometimes even interrogation and arrest at Erez checkpoint.
The result is that patients often die from diseases and conditions that could be treatable under normal circumstances.
"They have not a single drop of compassion for children, the elderly, or the unfortunate patients among them," COGAT stated. "The terrorist organizations harm the residents of Gaza, first and foremost."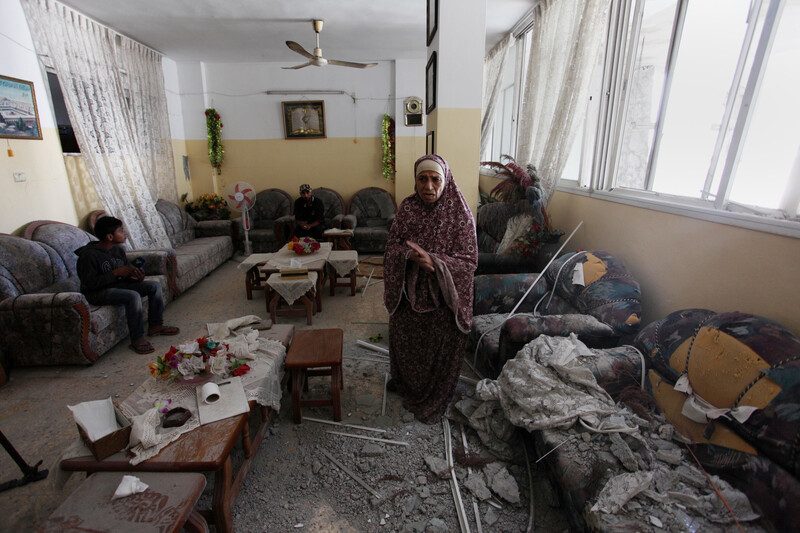 Last year, the World Health Organization documented that 54 Palestinians, most of them cancer patients, died while waiting for Israel to let them out of Gaza for treatment, as the rate of approvals issued by Israel fell to the lowest level since records began.
Meanwhile two Palestinians wounded during protests along the eastern perimeter under the banner of the Great March of Return on Friday died of their injuries over the weekend. bringing to six the number of Palestinians fatally injured during the day of protest.
Mujahid Ziyad Zaki Aqil, 24, from Nuseirat refugee camp in central Gaza, died on Saturday after being shot in the thigh east of Bureij refugee camp the previous day.
Yahya Bader Muhammad al-Hassanat, 37, from al-Mughraqa village in central Gaza, died on Sunday after he was shot in the head east of Bureij on Friday.
Al Mezan called on third states to end the siege on Gaza, which it described as "the gateway to all its economic and social problems," and to take steps to ensure accountability for those suspected of having been involved in violations of international law.
Electricity increases up to eight hours per day
On Sunday, the electricity company in Gaza announced that it would be providing households with power for eight hours, followed by eight hours of outage, an increase made possible by a donation from Qatar to pay for fuel to run a third turbine at Gaza's only generating plant.

For years, Palestinians in Gaza have had as little as two to four hours of electricity per day.

Gaza's Great March of Return protests aim to end Israel's siege, in addition to demanding the right of Palestinian refugees to return to the lands from which their families were expelled during, before and after the establishment of the state of Israel in 1948.

Two-thirds of Gaza's population are refugees, many of them originating from areas just beyond the boundary fence where the protests are held.

More than 225 Palestinians have been killed in Gaza since 30 March, which marked the launch of the Great March of Return protests. Around 170 of those killed were fatally injured during demonstrations, including 33 children, one woman, two journalists, three paramedics and four persons with disability, according to Al Mezan.

Israel announced that it would suspend operations at the Kerem Shalom checkpoint, through which goods are transferred in and out of Gaza, on Tuesday due to local elections.

The Israeli rights group Gisha stated that "there is no justification for denying Gaza's two million residents, most of whom are children, access to … basic provisions" by closing the checkpoint.

"The residents of Gaza have no possibility of participating in and influencing the political system denying them the fundamental human rights they deserve," the group added.

On Monday Israeli protesters reportedly blocked a road leading to the checkpoint in an attempt to prevent goods from entering Gaza.

Video shows dozens of trucks queued on the road leading to the checkpoint on Monday:
Tags