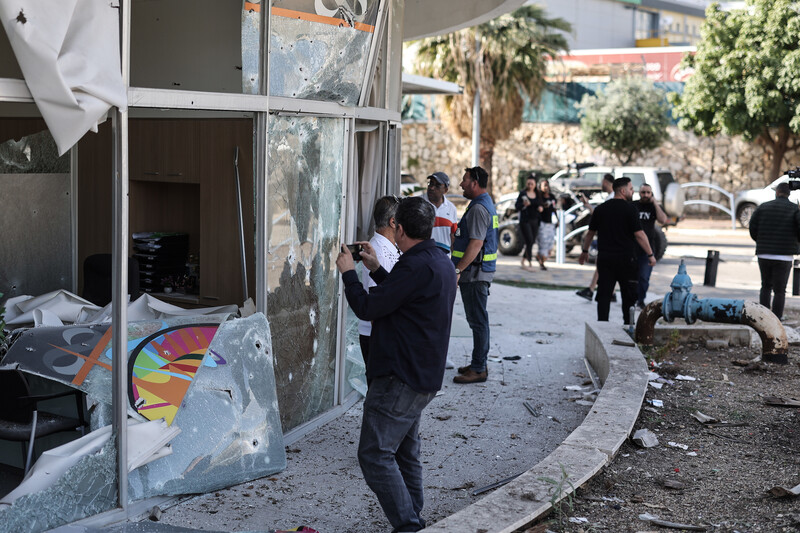 Israel pounded Gaza overnight Thursday as resistance factions pledged their readiness to defend the Palestinian people and their holy sites against "any aggression."

Earlier in the day, Israeli leaders called for disproportionate use of force in response to the largest barrage of rocket fire from Lebanon since a major military confrontation that lasted for several weeks in 2006.

The more than 30 rockets fired from Lebanon – later followed by mortar fire causing no injuries or damage – came in response to Israeli assaults on worshippers at Jerusalem's al-Aqsa mosque for two consecutive nights and as the Ramadan and Passover holidays overlap.

An Israeli military spokesperson said Palestinian factions, particularly Hamas, were believed responsible for the rocket fire, which caused damage to buildings and injuries that were not life-threatening.

No group has claimed responsibility for the rockets and mortar fire.

Israel's decision to quickly blame Hamas may be a face-saving effort to scapegoat what Tel Aviv considers a less formidable adversary than Lebanon's powerful Hizballah resistance group – which humiliated the Israeli army in 2006.

Had Israel blamed Hizballah, it would have put itself in a position of having to retaliate and possibly sparking a war which could result in unprecedented devastation within Israel itself – given Hizballah's large and sophisticated missile and drone arsenals.

Lebanese government leaders warned of Israeli escalation at the border and stressed Beirut's commitment to UN Resolution 1701, which prohibits non-state militant groups from operating in the country, and its intention to maintain stability, Lebanese media reported.

The Lebanese military stated that efforts were underway to dismantle missile launchers and rockets found in the vicinity of where the projectiles were fired.

The head of UNIFIL, the UN peacekeeping force in south Lebanon, said that "the current situation is extremely serious" and urged "restraint and further escalation."

Danny Danon, an Israeli lawmaker with Prime Minister Benjamin Netanyahu's Likud Party, called for a disproportionate response, even if it sparks a regional war.

"We don't need to absorb [these rockets]," he told Israel's Channel 12. "We need to respond in a language our enemies understand – the language of strength."

"We should shock these terrorist organizations," Danon added. "What are we preparing the [Israeli military] for, if when dozens of rockets are fired into Israeli territory we do not react?"

The use of overwhelming force against civilians is a key Israeli military strategy aimed at turning the targeted civilian population against the armed resistance.

That strategy – the "Dahiyeh Doctrine" – is named for the Beirut suburb heavily bombarded by Israel between July-August 2006.

Israel has failed to achieve its aims in both Lebanon and Gaza, where the resistance has only increased its capacity despite repeated offensives claiming thousands of lives.

Most of the some 900 civilian deaths in Lebanon during the 2006 offensive were caused by "Israel's indiscriminate airstrikes," according to Human Rights Watch.
US blocks Security Council statement
On Thursday, the US State Department said that "our commitment to Israel's security is ironclad" and condemned rocket fire from Lebanon and Gaza.

The Times of Israel, citing a senior Israeli official, reported that "the Biden administration blocked the UN Security Council from issuing a statement on the latest uptick in violence between Israelis and Palestinians."

Both the UN secretary-general and his Middle East envoy condemned the rocket fire and called for de-escalation.

The two officials had previously expressed dismay over images of Israeli police beating worshippers at al-Aqsa mosque – although neither explicitly condemned Israel's attack on the holy site.

Francesca Albanese, an independent UN special reporter on human rights in the West Bank and Gaza, deplored Israel's "reckless and unlawful" actions concerning the holy site.

"The well-known desire of Israeli settlers to either destroy the mosque or forcibly convert all or part of the compound into a synagogue, as happened to the Ibrahimi mosque in Hebron, is a source of deep anxiety among Palestinians," she said.

Noting that the lives of both Palestinian and Israeli civilians were in danger, Albanese said that "I am alarmed by the escalation of violence, particularly because of the further devastation it will bring to Palestinians in Gaza, who have been trapped by an inescapable siege since 2007."

Albanese is one of nearly three dozen independent UN experts who recently called on Karim Khan, the International Criminal Court chief prosecutor, over "our concern for the pervasive impunity and ever-deteriorating human rights situation" in the West Bank and Gaza.

The experts said that "many new violations, allegedly amounting to war crimes and crimes against humanity, have been committed" since the ICC opened an investigation in Palestine in March 2021 under Khan's predecessor, Fatou Bensouda.

The experts called for more resources for the Palestine investigation, which appears to have been put on the backburner by Khan, who, unlike Bensouda, has made no statements deterring Israel from committing war crimes.

So far this year, a total of 94 Palestinians, including 17 children, have been killed by Israeli soldiers, police and armed civilians, or died from injuries sustained previously.

There were three times the number of Palestinian fatalities by Israeli hands during the first quarter of 2023 than there were during the same period last year.

Sixteen Israelis or foreign nationals were killed by Palestinians in the context of the occupation, or died from injuries sustained previously, since the beginning of the year.
Settler shoots boy in Jerusalem
On Thursday, the UK charity Medical Aid for Palestinians called for "urgent and immediate action to protect children" in the West Bank after an Israeli settler shot and injured a child outside the Saraya Center in Jerusalem's Old City.

Khader Gharab, 15, was shot in the shoulder by a settler who, like the child, lives near the Saraya Center, which provides psychological support services to "young people growing up in the oppressive environment" of the Old City, according to MAP.

Palestinian outlets published a video clip of a settler firing a gun in the East Jerusalem neighborhood of al-Tur on Thursday: Israel prevented Palestinians under the age of 40 from entering Jerusalem's Old City to observe dawn prayer at al-Aqsa mosque on Thursday. Those who were denied entry prayed outside the Old City walls. Jalal Abukhater, a Palestinian writer from Jerusalem, was among those prevented from entering the Old City for dawn prayer.

"Al-Aqsa is more than a mosque for Muslims to worship — it is where we Palestinians practice some form of sovereignty," he told +972 Magazine.

"When we are losing on all fronts over the years, we hold on tightly to places like al-Aqsa, because if we lose it, we have nothing else to claim for our own," he added.

Late Thursday, Palestinians assembled in the yards of al-Aqsa, chanting their commitment to protecting the holy site with their blood and souls:
Tags