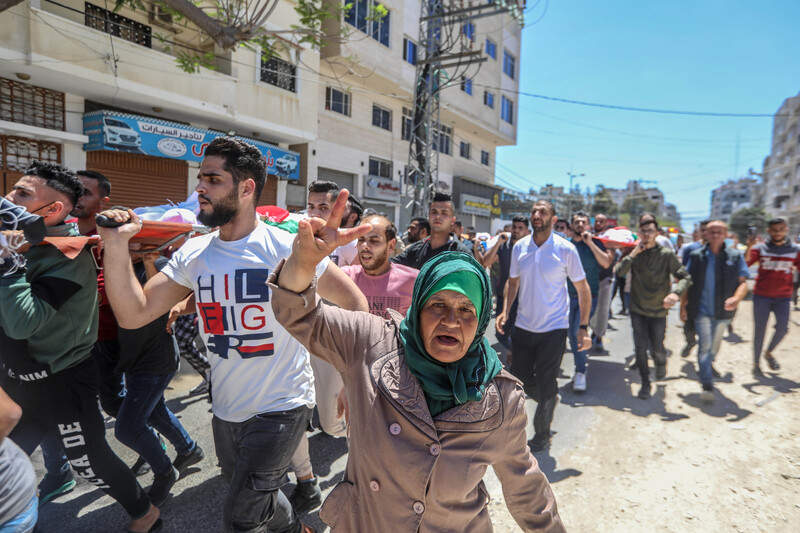 A new statistical report on Israel's most recent assault on Gaza shows the unbearable price paid by Palestinians for the maintenance of a Jewish state in Palestine.
Authored by three Palestinian human rights organizations – Al Mezan, the Palestinian Center for Human Rights and Al-Haq – the report examines the full-scale military offensive endured by Gazans for 11 days in May last year.
The extensive damage that Israel wrought on Gaza "further compounded the long-lasting humanitarian crisis in the Gaza Strip" after 14 years of intensified closure and economic blockade – a form of collective punishment prohibited under international law.
Israel meanwhile closed its crossings with Gaza during the May escalation. Two children referred for medical treatment outside the coastal enclave "died waiting for access," according to the human rights groups.
A rigorous field survey by those groups found that 240 Palestinians were killed by Israeli occupation forces during the 11-day offensive.
Of them, 151 were civilians and 89 belonged to armed groups, though 10 of the latter were not actively participating in hostilities when they were killed.
Among the 151 civilians killed, 59 were children, 54 were men and 38 were women. The vast majority – 111 people – were killed by weapons fired from Israeli fighter jets.
Nearly half of the total of 240 people killed in Gaza during the war, and all but one of the women killed, were at home at the time of the Israeli strike that ended their lives.
One-third of the total of 240 people killed were engaged in military action at the time.
The human rights groups note the "large number of casualties compared to the short duration of the military operation, and the overall number of civilians, including children and women, killed."
The use of overwhelming force against civilians is a key Israeli military strategy.
That strategy – the "Dahiyeh Doctrine" – is named for the Beirut suburb heavily bombarded by Israel in 2006, when it was roundly defeated by Hizballah.
By using indiscriminate and disproportionate force, Israel aims to restore deterrence and turn the targeted civilian population against the armed resistance, whether it be Hizballah in Lebanon or Hamas in Gaza.
In both places, the Dahiyeh Doctrine has failed to turn the people against the resistance, which has in both Lebanon and Gaza increased its capacity and capabilities.
During May last year, Palestinian unity across geographic and political divides galvanized in ways not seen in years and inspired renewed global solidarity.
The May war began after Israeli police stormed Jerusalem's al-Aqsa mosque while it was filled with worshippers, injuring hundreds. Tensions had been brewing in the city for weeks as Israel sought and continues to seek to expel Palestinian families from their homes in the Sheikh Jarrah neighborhood and hand them over to Jewish settlers.
Resistance groups in Gaza fired volleys of rockets towards Jerusalem that night after a warning from the leader of Hamas' armed wing over attacks in the city went unheeded by Israel.
Israel began striking northern Gaza, where at least 20 Palestinians, including nine children, were killed on that first day.
The 11-day escalation ended with no decisive Israeli defeat against the resistance in Gaza – an automatic victory for the latter in the context of anti-colonial guerrilla warfare.
Twelve people in Israel were killed, including two Palestinian citizens of the state, three foreign workers and one soldier.
The Dahiyeh Doctrine hasn't achieved what Israel intends though it has inflicted profound harm on targeted civilians.
"We will have to kill and kill and kill"
But so long as Palestinians rightly refuse to submit to their removal and replacement with foreign settlers, Israel as the colonizing power requires a horrendously violent policy like the Dahiyeh Doctrine.
That was admitted to by Haifa University demographer Arnon Soffer, a close adviser to the late Israeli prime minister Ariel Sharon, ahead of the latter's unilateral withdrawal of settlers from Gaza in 2005 and tightened blockade on the territory two years later.
Soffer anticipated that Palestinians in Gaza, isolated and closed off, and with little other means of leveraging pressure on Israel, would rely on firing projectiles to resist what has become a medieval siege enforced by one of the world's strongest militaries against a population of more than two million stateless people.
"We will tell the Palestinians that if a single missile is fired over the fence, we will fire ten in response. And women and children will be killed and houses will be destroyed," Soffer explained.
Anticipating the humanitarian catastrophe in Gaza, Soffer added, "The pressure at the border will be awful. It's going to be a terrible war. So if we want to remain alive, we will have to kill and kill and kill. All day, every day."
This violence is necessary to guarantee "a Jewish-Zionist state with an overwhelming majority of Jews," as Soffer explained.
That is the logic underlying Israel's violence last May, when defense minister Benny Gantz warned that "no person, area or neighborhood in Gaza is immune."
And so 14 families lost three or more members when Israel bombed their homes.
Half of all fatalities during the May war occurred in Gaza City, where Israel targeted densely populated neighborhoods and wiped out multiple generations of individual families.
In addition to those killed, nearly 2,000 people in Gaza were wounded, among them 941 men, 630 children and 397 women.
Meanwhile, more than 1,300 residential units were destroyed and 6,367 sustained significant damage, mainly in northern Gaza and in the Gaza City area.
Some 420 hectares of agricultural land was damaged by Israeli missiles and artillery shells, or because of obstruction to access, affecting more than 5,350 people.
Additionally, more than 220 livestock and poultry farms were damaged, as were 24 water wells, 169 vehicles, 59 manufacturing plants, 483 commercial facilities and 871 other facilities including banks, daycare centers, private offices, schools, houses of worship and government offices.
"Intent to dominate"
The rights groups that authored the statistical report point to Israel's "broader policy of harm adopted at the highest levels."
"In particular, the widespread targeting of family homes in Gaza has appeared as a key feature of Israel's military attacks," they add.
This conduct "forms part of Israel's institutionalized system of racial discrimination and intent to dominate and oppress the Palestinian people as a whole – a policy that amounts to the crime of apartheid."
Amnesty International recently joined Palestinian human rights groups calling on the International Criminal Court to "investigate the commission of the crime of apartheid."
In Gaza, Israel subjects Palestinians to a "blanket ban on movement" as part of its "intent to separate and divide Palestinians and thereby to assert its domination over them, in furtherance of its overarching settler-colonialist agenda," according to Al Mezan.
The tightened blockade since 2007, along with repeated Israeli military assaults, have "forced Gaza into profound levels of poverty, aid dependency, food insecurity and unemployment, and led to the collapse of essential public services, including healthcare and water, sanitation and hygiene," Al Mezan adds.
Indeed, according to the human rights group, Israel's actions have "rendered Gaza all but uninhabitable."
Israel has killed more than 5,200 Palestinians, including some 1,200 children, during four full-scale military offensives in Gaza since 2008.
The worsening water crisis in the territory is meanwhile tied to Israel's demographic engineering in Palestine.
As Al Mezan notes, Gaza is one of the most densely populated areas in the world, with two-thirds of its people refugees denied their right to return to their lands on the other side of the Gaza-Israel boundary fence.
Israel's targeting of Palestinian homes in Gaza, killing their inhabitants, creates a " 'coercive environment' in which families have no choice but to move," Al Mezan adds.
"This has caused the forced internal displacement of tens of thousands of Palestinian families, a number of whom remain without safe, adequate and/or affordable permanent housing today."
Israeli officials have admitted that the state is "encouraging" emigration from Gaza. Facing some of the highest unemployment rates in the world, and few prospects, young people with the means of leaving Gaza are doing so.
Al Mezan observes: "The aim has been to create and maintain an Israeli Jewish superiority, consolidating effective control and dominance, with the aim of gradually eradicating the indigenous Palestinian people."
One missile, one bullet and one destroyed future at a time.
Tags