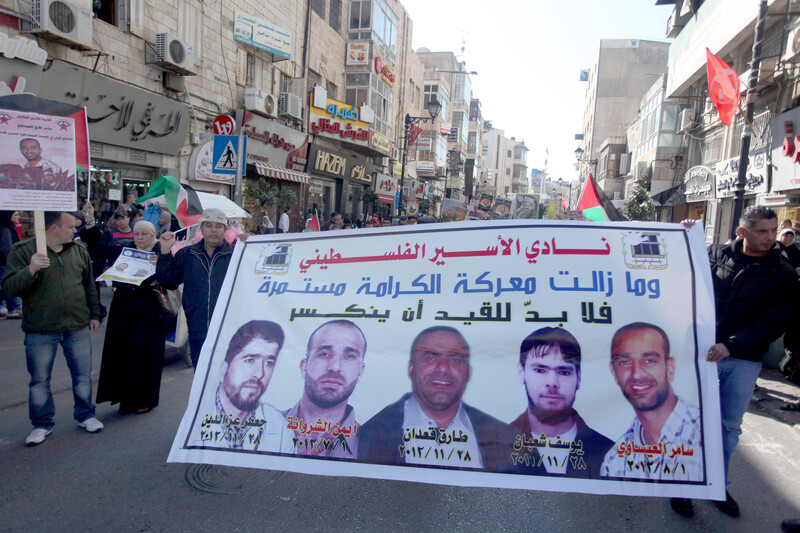 The Palestinian human rights and prisoner advocacy group Addameer is calling today for Egyptian intervention after Israel reneged on an agreement to release Akram Rikhawi from prison and as the health of three other hunger strikers deteriorates.
Addameer stated:
Addameer finds that the continued hunger strikes illustrate the essential need for Egyptian intervention, especially in their capacity as the sponsors of the 18 October 2012 prisoner exchange and 14 May 2012 agreement that ended the mass hunger strikes. They must work in their capacity to enforce these agreements and put pressure on the Occupying power to respect its obligations and quickly release all the ex-prisoners that were arbitrarily re-arrested, restrict its use of administrative detention and immediately release the ill prisoners that have been languishing for years in the Ramleh prison clinic and are dying slow deaths.
The reasons the Israeli Prison Service continue to ignore the demands of the prisoners on hunger strikes are three fold: first, the colonialist, racist nature of the Israeli state, the disregard for the basic right to life for Palestinians and the disregard of international law. Second, the lack of international pressure on the state of Israel that allows it to continue its practices and finally, the deterioration of people's awareness of the prisoners issue and the support for their demands.
Agreement violated
Rikhawi refused food for more than 100 days and ended his protest in July of last year after Israel agreed to release him on 25 January 2013, six months prior to his original release date.
Rikhawi renewed his hunger strike on 24 January in protest of Israel's refusal to release him on 25 January as agreed to last year, according to Addameer. His brother Shadi went on hunger strike on the same day.
Rikhawi was arrested in June 2004 as and sentenced to nine years in prison by Israel's military courts.
Rikhawi's strike was in protest of Israel's medical neglect of disabled and ill Palestinian political prisoners. Rikhawi's wife Najah told The Electronic Intifada writer Shahd Abusalama last year:
"After more than 100 days on hunger strike, Akram is in a wheelchair and cannot move either his left hand or leg," Najah said. "Hunger has perhaps overtaken his body, but can't easily defeat his will."
"Before he started refusing food," she continued, "he wrote a few articles on the suffering of sick prisoners and the medical neglect they endure, describing Israel Prison Service violations against Palestinian detainees."

"He hoped they would pay his critical health conditions more attention and care. Instead, they punished him for speaking out by placing him in solitary confinement."
Najah has been banned from visiting her husband since 2006. Rikhawi is the father of eight children and also cares for his late brother's five children.
Health of hunger strikers deteriorates
Addameer also warned today that Jafar Azzidine and Tarek Qa'adan, both on their 64th day of hunger strike, "could suffer a stroke at any time." The two were visited by Addameer lawyer Fares Ziad, who confirmed that both were transferred to Assaf Harofeh hospital on 24 January.
Azzadine is the father of seven children and has been held without charge or trial — a practice known as administrative detention — since his arrest in the West Bank shortly after a Gaza ceasefire came into effect on 22 November 2012. Israel carried out a mass arrest campaign in the West Bank at the time of the ceasefire. This is Azzadine's seventh arrest; he participated in the mass hunger strike last year, winning his release.
Addameer says Azzidine's re-arrest last November "is part of a broader arrest campaign by Israeli Occupation Forces (IOF) against Palestinians who express any form of solidarity with their fellow Palestinians. It also seems that IOF intend to get revenge on Jafar [Azzidine] since he participated in the hunger strikes campaign, which resulted in his release. The claims against Jafar are based on 'secret evidence' and are inaccessible to either Jafar or his defense making it impossible to defend against."
Tarek Qa'adan was also arrested the night of the Gaza ceasefire and has been detained 13 times since 1989, according to Addameer, and participated in last year's solidarity hunger strikes with Khader Adnan and Hana al-Shalabi. Like Azzidine, he is held under indefinitely renewable administrative detention orders.
Red Cross doctor warns striker's life at risk
Meanwhile, Samer Issawi, who is believed to have refused food in Israeli prison for 190 days, stopped taking vitamins and sugar on 17 January and stopped drinking water on 22 January. "His weight has dropped to 48 kilograms and he needs the use of a wheelchair," according to Addameer, and he is being held at the Ramleh prison clinic.
Addameer adds:
Samer was then examined by a Red Cross doctor on 27 January 2013 who explained that his life was at risk and suggested that he at least begin drinking water again. Following the doctor's advice Samer started drinking water. Samer continues to suffer from various health conditions including low heart rate; heart pain; severe kidney pain; chest pain; muscle pain; severe headaches; and pain in his left eye.
Tags