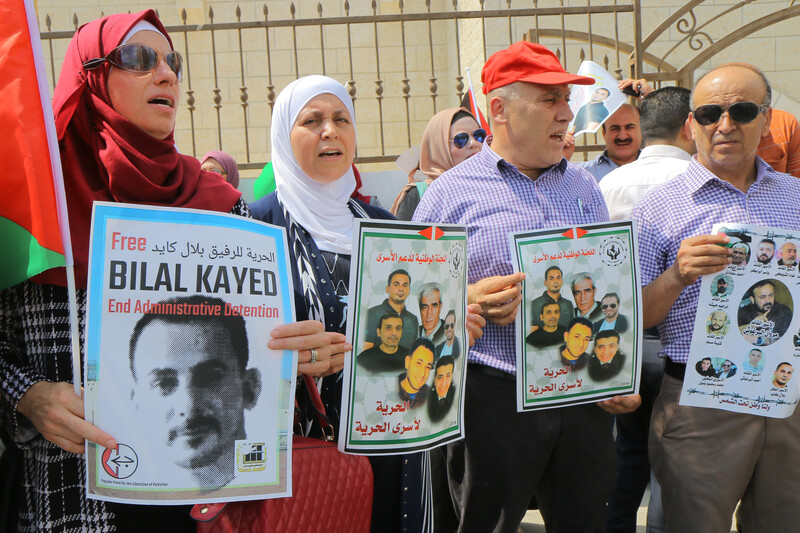 Israel is escalating its crackdown on hunger-striking prisoners by denying them their right to meet with their lawyers.
More than 100 prisoners, according to prisoner advocacy group Addameer, are refusing food in solidarity with Bilal Kayed, who is leading the latest wave of prisoner hunger strikes and has now gone 57 days without food. Last week, Kayed announced he was refusing all medical treatment until he is released.
Approaching two months without food, Kayed's body reportedly oscillates between throbbing with pain and falling numb. He is experiencing blurred vision and suffering from dehydration. His skin has turned yellow and begun to peel, and he is losing hair.
Physicians for Human Rights-Israel say he is at risk of a stroke.
Force feeding
A doctor at Barzilai Medical Center, where Kayed is being held, told the prisoner's lawyer that if Kayed loses consciousness, he will be forcibly treated.
Israeli medical professionals have force-treated Palestinian hunger strikers before. In January, after fewer than 50 days on hunger strike, Muhammad al-Qiq was tied to his hospital bed and a medical team forcibly administered salts and minerals through an IV.
The World Medical Association's Malta Declaration forbids both applying pressure to end a hunger strike and forced medical treatment. The United Nations' Istanbul Protocol stresses the need for physicians to obtain informed consent from competent patients before conducting any medical treatment.
Outside Barzilai hospital on 9 August, supporters of Kayed clashed with right-wing Israelis, some of whom shouted "death to terrorists," according to The Times of Israel. The counter-protesters reportedly threw stones at police when they intervened.
Kayed is protesting being placed under administrative detention – confinement without charge or trial – after he completed an almost 15-year prison sentence.
Detention without charge
But some of the strikers are calling for their own release as well, themselves prominent political prisoners placed under administrative detention for unknown reasons. This widespread practice allows Israel to jail people on the basis of secret evidence.
Last week on 4 August, journalist Omar Nazzal, a member of the Palestinian Journalists' Syndicate and president of the Democratic Journalists Union, launched his hunger strike in protest of both his and Kayed's indefinite detention.
The 53-year-old journalist was arrested on 23 April at the border with Jordan, on his way to participate in a general meeting of the European Federation of Journalists.
Nazzal's wife Marilyn reported that the Israel Prison Service immediately transferred him into a solitary confinement cell after he began his strike.
On 8 August, Israel's high court rejected Nazzal's appeal for release, as it routinely does when Palestinian prisoners appeal their administrative detention orders, which are issued by military courts.
Nazzal is being represented by a lawyer with Addameer, who last week said that "it is already known and expected that Israeli courts will never be fair, but it is my duty to try and defend Nazzal."
But Nazzal is now reporting that the Israel Prison Service has threatened to force-feed him upon his transfer out of solitary confinement. He describes being treated "brutally" and said he was locked in a prison van for hours, until he felt as if he was suffocating.
Brothers on hunger strike
Brothers Mahmoud and Muhammad Balboul continue the hunger strike they launched on 5 and 7 July against their administrative detention, as an Israeli military court upheld their detention orders earlier this week.
Mahmoud, who is working on his master's degree at Al-Quds University, was given five months, and Muhammad, a dentist, was given six months detention.
The brothers were arrested on 9 June, two months after their 14-year-old sister was detained and accused of possessing a knife.
The siblings are the children of Ahmad al-Balboul, a leader in Fatah's military wing, al-Aqsa Martyrs Brigades, who was shot dead along with three other Palestinian leaders by undercover Israeli forces in March 2008.
Al-Balboul was assassinated after he and the Palestinian Authority had failed to secure an amnesty deal for him from Israel.
Family visits
In response to the decision by the International Committee of the Red Cross to halve the number of family visits for male Palestinian prisoners to just one per month, the Palestinian Authority is offering to cover expenses to maintain the second monthly visit.
In May, the ICRC announced that it would cut the number of family visits to Israeli prisons it coordinates due to the burdensome cost and the failure of families to show up to scheduled trips. Families in the West Bank depend on the ICRC to help them procure travel permits to visit their relatives being held in prisons inside Israel.
The Fourth Geneva Convention forbids an occupying power from transferring prisoners outside of an occupied territory. Yet all but one of Israel's prisons that hold Palestinians are located outside of the West Bank.
ICRC provides crucial transportation for families who must travel up to seven hours for a brief meeting with their loved ones. Without ICRC's help, the travel could cost as much as $250.
Qadura Fares, head of the Palestinian Prisoners' Club, said this week that the Palestinian Authority would sign an agreement with the ICRC, promising to pay for half the coordinated family visits to prisons each month.
But with or without the ICRC's assistance, Israel can summarily cancel family travel permits, as it has recently done to more than a dozen families seeking to visit relatives in prison.
Tags