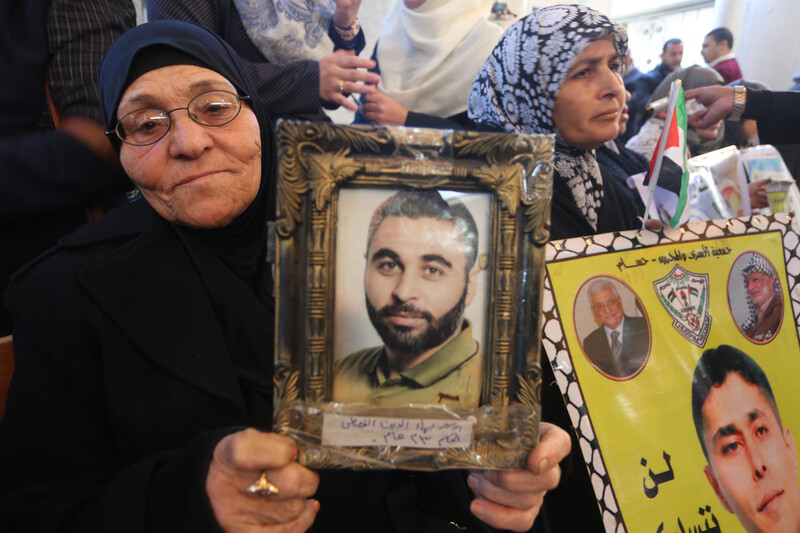 As Palestinian hunger striking prisoners Anas Shadid and Ahmad Abu Fara face the possibility of severe brain damage and permanent organ dysfunction, the Israeli high court rejected on Sunday an urgent appeal to release them.
Qaddura Fares, the director of the Palestinian Prisoners' Society, told a Palestinian radio station that the men are now "facing death."
The Palestinian Committee for Prisoners' Affairs reports that Shadid, 19, has almost completely lost his sight and ability to speak and Abu Fara, 29, has completely lost sight in his right eye.
The two men have refused all food since 25 September, to protest their indefinite detention without charge or evidence. They were arrested at the beginning of August.
According to the Palestinian Prisoners' Society, Israeli military prosecutors are now seeking to renew their administrative detention orders, which can be extended in six-month increments.
Shadid and Abu Fara, both from Dura, a village in the southern occupied West Bank, have vowed to continue their hunger strikes until their detention orders are cancelled and they are transferred to a Palestinian hospital. They are currently being held in the Assaf Harofeh medical center near Tel Aviv.
Last month, the Israeli high court "froze" the men's administrative detention orders.
The Israeli courts can "freeze" detention orders of a hunger striker whose health is in perilous condition, without actually releasing them. This may relax some of the restrictions on a hunger striking prisoner, such as allowing visitors and removing shackles, but it allows for the authorities to reinstate the administrative detention order if the detainee's health improves.
Palestinian hunger strikers, including Shadid and Abu Fara, consistently reject these "freezes" and continue to refuse food. The two men have consumed only water for more than 80 days.
The Israeli high court was expected to issue another decision on their case on Monday.
Releases
Israeli authorities have finally released former hunger striker Bilal Kayed to his home in the northern West Bank.
Kayed launched his hunger strike when Israeli authorities placed him under administrative detention on the day he was scheduled to be released after completing a 14-and-a-half-year sentence.
Authorities claimed he was conducting activities from prison and continued to pose a risk, but gave no further details.
Kayed refused all food and medical treatment for 71 days before reaching an agreement with Israeli authorities in late August. They agreed to release him on 12 December.
Kayed had been initially arrested in 2002 for alleged involvement in the armed wing of the Popular Front for the LIberation of Palestine (PFLP).
His detention sparked broader protests and hunger strikes among Palestinians in Israeli prisons, who saw it as a dangerous precedent for Israel to detain a person indefinitely after completion of a sentence.
Israeli authorities also released Daoud al-Ghoul, a Palestinian youth organizer who has been in and out of Israeli prison and subjected to years of harassment. Al-Ghoul, 33, was ordered to 10 days of house arrest in his home in Silwan in occupied East Jerusalem.
Over the past two years, Israeli authorities have temporarily exiled Ghoul from his home city, barred him from international travel, accused him of affiliation with the PFLP, a banned political party, and he has served 18 months in prison.
Renewing administrative detention orders
Israel has renewed the administrative detention order of circus performer and teacher Mohammad Abu Sakha for an additional six months.
Abu Sakha has been imprisoned without charge since last December. He will now be held until at least 11 June 2017.
The Israeli high court claims that Abu Sakha's "secret file" contains information that he "still poses a threat to the security of the state." Prisoners' rights group Addameer, which is representing Abu Sakha, says this file has reportedly not been updated since December 2015.
Israeli authorities also extended for another six months the administrative detention of Palestinian journalist and human rights activists Hassan Safadi.
Safadi is the Arabic media coordinator for Addameer. Colleagues and friends of Safadi had expected him to be released this month.
Safadi, 24, was arrested on 1 May while returning to the West Bank from an Arab youth conference in Tunisia, via Jordan. He was harshly interrogated for 40 days.
Safadi was placed under administrative detention, while simultaneously sentenced to three months in prison for contact with an "enemy state," Lebanon. Safadi had participated in a Palestine solidarity conference there.
He was one of 21 Palestinian journalists in Israeli prisons this summer.
Tags