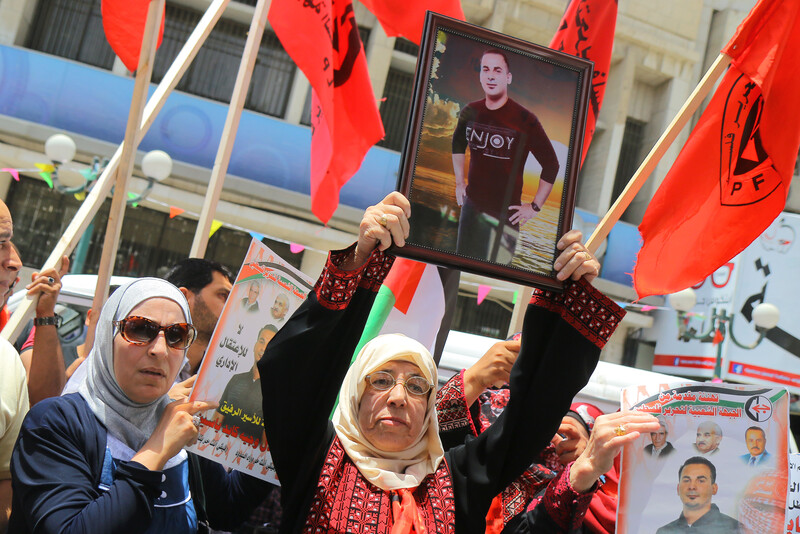 Twenty-nine Palestinian prisoners suspended a hunger strike launched in solidarity with Bilal Kayed, who was ordered to remain in prison under administrative detention after completing a nearly 15-year prison sentence.
But they are set to resume it if Kayed is not freed at a hearing early next month.
Kayed, from Nablus, was imprisoned at age 19 and charged with membership in the Abu Ali Mustafa Brigades, the military wing of the Popular Front for the Liberation of Palestine, which Israel considers an illegal organization, and convicted of attempting to capture an Israeli soldier.
He was scheduled to be released on 13 June, but was instead given a six-month administrative detention order.
Administrative detention is the British-colonial-era practice Israeli uses to detain Palestinians indefinitely without charge or trial, often on the basis of secret evidence.
In the case of Kayed, Israeli occupation authorities claim he was conducting activities from prison and continues to pose a risk, but have given no further details.
After the prisoners began their strike on 19 June, the Israel Prison Service inflicted a series of punitive measures including daily strip searches, solitary confinement, prison transfers, suspension of visitor rights and monetary fines, according to the prisoner rights group Addameer.
Ma'an News Agency reported the prison authorities shut down the prisoners' water and cooling systems.
They have now suspended their strike for ten days until an Israeli military court rules on Kayed's detention. Leaders of the PFLP have stated that they are preparing for open hunger strike in July.
Determined to resist
Raafat Hamdouna, director of the Palestinian Center for Prisoners Studies warned that Kayed's immediate transfer to administrative detention after the completion of a lengthy sentence was a dangerous precedent that prisoners were determined to resist.
Sixty-five PFLP prisoners initially launched the hunger strike, all but five from inside Megiddo prison. In response, the Israel Prison Service moved dozens of hunger strikers to several different prisons in an effort to break the strike.
Prison authorities also placed PFLP prison leaders, including Wael Jaghoub and Salah Ali, in solitary confinement.
Kayed, who launched his hunger strike on 14 June, has been held in isolation for more than a year, reportedly as a punishment for his organizing among prisoners.
Kayed played an integral role in the mass hunger strikes in 2011.
He is demanding both an end to his administrative detention and isolation.
In recent months, Israeli occupation forces have used administrative detention with increasing frequency to target political speech and activism.
Israel detained Palestinian professor and astrophysicist Imad Barghouthi under administrative detention for a month before charging him with "incitement" for statements allegedly made on Facebook.
Youngest administrative detainee
On Monday, Israel renewed the administrative detention order of 16-year-old Hamza Hammad for an additional four months.
Though one of more than 400 Palestinian children currently incarcerated, he is the youngest Palestinian being held without charge.
The 11th grader was first detained in a night raid on his family's home on 28 February, in the occupied West Bank village of Silwad.
Of the 7,000 Palestinians currently held in Israeli prisons, 715 are imprisoned without charge or trial.
Tags