Jo Cox, a Labour Party member of the UK Parliament, was slain on Thursday in what police said was likely the work of a lone gunman.
She was fatally injured as she left a meeting with her local constituents. Some eyewitnesses are reported as saying the killer lay in wait for her.
Shortly after the attack, a suspect was arrested and weapons were recovered, police said at a press conference.
"As this inquiry is at an early stage and we have an individual under arrest, we are not in a position to discuss any motive at this time," said Dee Collins, the acting chief constable of West Yorkshire Police.
Collins said police were not looking for any other suspects. UK media have named the suspect as 52-year-old Tommy Mair.
At least two eyewitnesses said that the killer screamed "Britain first" as he stabbed and shot Cox outside a library where she had been meeting constituents.
Witnesses said the suspect made similar statements as he was being arrested. At the press conference, chief constable Collins declined to confirm these reports: "we're not able to say at present."
Cox's partner, Brendan Cox, tweeted this photo of his wife after news of the attack broke:
Friend of Palestine
Cox had only been elected in 2015. As an MP, she was involved with Labour Friends of Palestine and wrote part of a 2015 report by the group, urging a lifting of the Israeli blockade on Gaza.
She said in February that moves by the Conservative government to use legal threats to curtail the boycott of Israel were "a gross attack on democratic freedoms. It is our right to boycott unethical companies."
Although a new MP, Cox had already developed a reputation as a campaigner for refugees to be given shelter in the UK, especially those fleeing the war in Syria.
Labour leader Jeremy Corbyn said that "the whole of the Labour Party and Labour family – and indeed the whole country – will be in shock at the horrific murder of Jo Cox today."
Cox had previously worked with the international development charity Oxfam. "Jo was a diminutive pocket rocket from the north. She was as a ball of energy, always smiling, full of new ideas, of idealism, of passion," her former colleague Max Lawson said in a statement from the charity.
Arjan El Fassed, a co-founder of The Electronic Intifada, was a colleague of Cox's when he worked at Oxfam's Dutch affiliate.
"Jo was a true humanitarian. She was a caring powerhouse, giving the voiceless a strong, powerful voice. She was able to hold governments to their humanitarian obligations," El Fassed said. "I admire her for her limitless energy to act and for spinning the powerful in a different, more humane direction."
The Electronic Intifada's David Cronin knew Cox when she was the head of Oxfam's office in Brussels more than a decade ago.
She was "a very bubbly friendly character, a very friendly person," Cronin said. "I wasn't surprised that people were saying she was very bright and would go far in Westminster."
White nationalist link?
Although the police investigation is at an early stage, the suspect's alleged use of the slogan "Britain first" could indicate a possible political motive.
Britain First is a far-right group known for spreading Islamophobic memes on Facebook, as well as staging demonstrations at mosques carrying crosses.
It also recently held an "activist training camp" in Wales during which "knife defense" training was given.
In a statement, the group distanced itself from the attack.
No direct link has been made between the suspect and the group, and the killer could have used "Britain first" as an ultra-nationalist slogan rather than as a reference to a specific organization.
Mair's half-brother Duane St Louis told media that he was not aware of Mair having any strong political views. St Louis, whose father is from Grenada, also reportedly said Mair seemed fine with having a mixed-race sibling.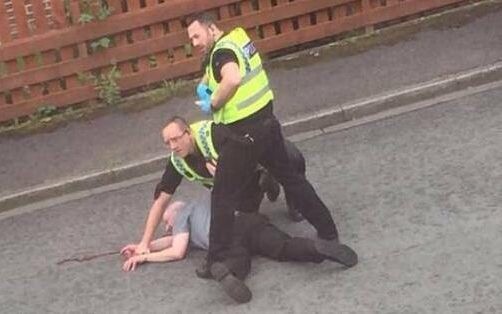 The killing comes as the campaign for next week's referendum on continued UK membership in the EU has become increasingly heated.
Campaigners for a "leave" vote have used shrill scaremongering tactics targeting immigrants and refugees. This could have made Cox, an outspoken advocate for refugees, a potential target of ultra-nationalist ire.
Anders Behring Breivik, the Norwegian jailed for the murder of 77 people in 2011, targeted government civil servants and young activists in the Norwegian counterpart of the Labour Party, blaming them for allowing Muslims into the country.
A 2006 newsletter archived online, identified a Thomas Mair from Batley in Yorkshire as one of the earliest subscribers to a publication called S.A.Patriot.
The white supremacist newsletter expresses disgust at "White sportsmen" who are prepared to wear the emblems of non-racial, post-colonial states in Africa, which it refers to as "terrorist regimes." The newsletter urges whites to emigrate from African countries where they no longer control the governments.
The newsletter sought information on Thomas Mair's whereabouts and gave his last known address as the Fieldhead Estate.
The registered address of the suspect arrested in Cox's killing is the Fieldhead Estate in Birstall.
Batley is adjacent to Birstall, where Cox was killed. Both towns are within her parliamentary constituency.
As well as advocating for refugees, Cox was part of the campaign for the UK to remain in the EU.
Additional reporting by Ali Abunimah.
Tags