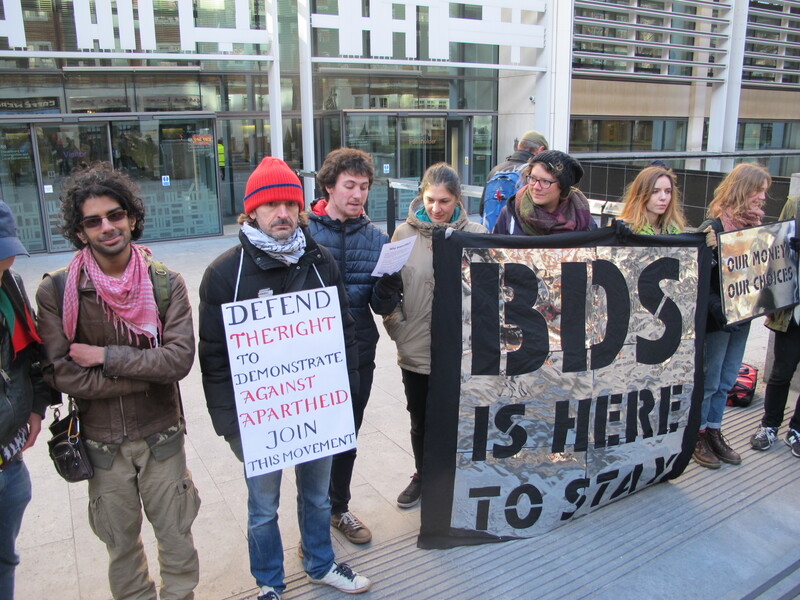 Activists in London on Monday morning protested a government department behind recent moves to curb ethical boycotts such as those aimed at Israel.
In a statement sent to The Electronic Intifada, London Palestine Action said the Department for Communities and Local Government was engaging in "smoke and mirrors" and that the much-touted "boycott ban" was more of an attempt to intimidate than an actual ban.
This is part of a growing pushback against new government procurement guidelines.
Anti-poverty charity War on Want has said that the new rules do not actually stop local councils from making ethical procurement decisions. The government has also faced calls for the policy to face Parliamentary scrutiny.
Smoke and mirrors
A spokesperson for London Palestine Action said in the statement: "The Tories are using smoke and mirrors to smear the huge numbers of people who support the Palestinian liberation struggle and to bully local councils into thinking that they can't take ethical procurement and investment decisions."
She said it was "about protecting Israel from criticism because it's an important military and trade ally."
The Conservative government is planning similar guidelines around public sector pension funds. Campaigners from groups affected by the issue, including the Palestine Solidarity Campaign, War on Want and the Campaign Against the Arms Trade have organized against further such secondary legislation.
War on Want said in a recent statement that more than 26,000 people responded to a government consultation on the plans, proving there was "massive public outrage."
The charity said that the plans would mean giving central government the power to veto local investment decisions made on ethical grounds around issues including human rights, the arms trade and fossil fuels.
Threat
War on Want's Ryvka Barnard said that although it was "a very serious threat and completely anti-democratic," the "campaign to protect local democracy has only just begun."
Newcastle City Council responded to the new measures by passing a unanimous resolution promising to fight the government plan. Mick Bowman, a Labour party councillor for the Newcastle suburb of North Heaton, told the Financial Times that they were "determined to do whatever we can to block this proposal."
Kieran Quinn, chairman of the Local Authority Pension Fund Forum, a group of 64 public pension funds with combined assets of £160 billion ($228 billion), told the Financial Times that "there is significant annoyance [that] the government is pursuing this agenda and anger [that] it does not appear to be listening. If we have to check every week what the government's foreign policy is, it will limit the nimbleness of [pension] plans to make speedy investment decisions. It is not just the principle of it, but the practical impact. This is a daft [policy]."
MPs, councilors, trade union leaders and a number of high profile artists and public figures signed an open letter in opposition.
Ban doesn't ban
According to a new analysis by War on Want, "the boycott ban does not actually ban all boycotts."
The group explained: "We pored over the document, compared it with what's already on the books, talked to trade experts and the sharpest legal minds, and came up with a surprising conclusion: there is nothing new in the new procurement guidance aside from some overblown rhetoric clearly intended to scare campaigners."
But they warned that the new regulations were a threat to campaigners.
Explaining the "remedies available through the courts" threatened in the new guidelines, War on Want say that the penalties are nothing new and come from a World Trade Organization Agreement "which by now has been analysed thoroughly by trade and legal experts for many years." The agreement "absolutely allows for boycotts/exclusions of companies based on their practices, just not based arbitrarily on their countries of origin."
They argue that what is really new new "the inflammatory language against the BDS movement" which "is clearly designed to have a chilling effect on boycott campaigns, and to satisfy the Israeli government that is demanding and, in some cases, bankrolling crackdowns on BDS around the world."
They said Cabinet Office Minister Matthew Hancock's announcement of the new policy at a press conference in Jerusalem with the Israeli prime minister was "a political performance … The Israeli government is also on overdrive cracking down on Palestinian human rights defenders, and even Israeli leftists."
Parliamentary scrutiny
Soon after Hancock announced the new guidelines in Jerusalem in February, the apparent contradiction in the details of the new policy note were challenged by MPs.
Labour's Richard Burden, chair of the Britain-Palestine All-Party Parliamentary Group, criticized the government for the way Hancock announced the new measures. He also called for the government to face parliamentary scrutiny, asking if the government would arrange for Hancock to "finally to come to the House, make a statement and answer questions."
Burden said in a statement that ministers were "ducking Parliament" and that they "have a duty to explain to Parliament what their new rules mean, and to come clean about why they are doing this."
Clive Betts, another Labour MP, pointed out the contradiction between the new policy and previous government guidelines to private companies ruling against investment in Israeli colonies in the occupied West Bank (which are illegal under international law).
Betts asked foreign minister Philip Hammond if the policy stating that the foreign office "do not encourage or offer support" to "financial transactions, investments, purchases [or] procurements … in Israeli settlements or [those] benefiting Israeli settlements" because they "entail legal and economic risks" that apply to local councils as well.
Betts asked, "Do the Government give exactly the same advice to public bodies, including local councils, with regard to their procurement decisions?"
Hammond replied: "Yes, we are clear with local authorities that they are bound by and must follow procurement rules, but we are clear that we do not support boycott movements."
According to Martin Linton, in his Palestine Briefing email newsletter: "The government itself is facing in two directions on this issue, with the Foreign Office and the Department of Business warning companies of the risks of doing business with illegal settlements while the Department of Communities and the Cabinet Office try to make it illegal for public bodies to avoid these risks."
Linton is a former Labour MP and the director of Labour 2 Palestine, which organizes visits to occupied Palestine for Labour activists and MPs.
Tags