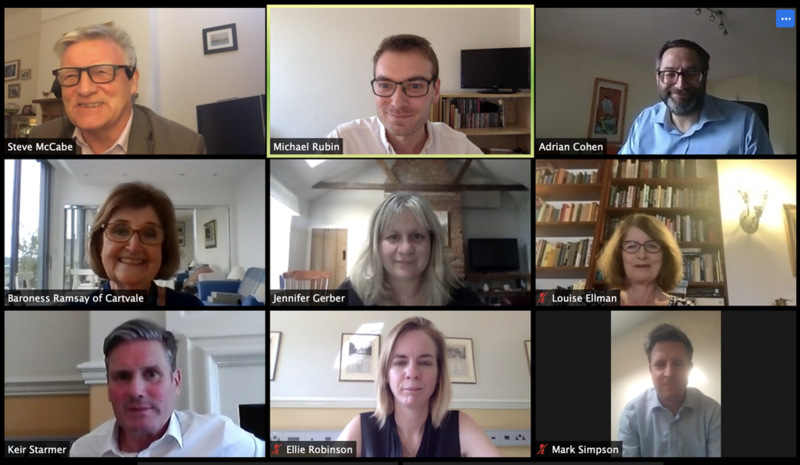 "The Labour Party is under new management," UK opposition leader Keir Starmer told Boris Johnson, the prime minister in Parliament on Wednesday.
It was the regular political sparring match officially known as Prime Minister's Question Time and the discussion that day centered around Russian TV channel RT.
In a pretty blatant swipe at his left-wing predecessor Jeremy Corbyn, Starmer stated that "no Front Bencher of this party has appeared on Russia Today since I have been leading this party."
The very same day, Starmer also met with Labour Friends of Israel, a front group financed and directed by the Israeli embassy in London.
Starmer's jibe that the party "is under new management" could have been just as much a reference to Labour's increasingly right-wing approach towards Israel as much as it was about Russia.
According to Labour Friends of Israel, Starmer thanked them "for the crucial role they play in the Labour Party" and for "contributing to a balanced debate on the Middle East."
They also discussed the BDS movement, the Palestinian-led global campaign for boycott, divestment and sanctions against Israel in support of human rights.
The group did not explain exactly what they discussed about BDS, but it is clear that the pro-Israel lobby group opposes it.
Their chairperson Steve McCabe said, "I made it clear that in relation to Labour's current policy position the LFI does not support any form of boycott or sanctions against the Jewish state."
Neither Starmer nor the Labour press office replied to requests for comment, asking if he supported current Labour policy on sanctions against Israel.
Human rights abuses
Current Labour Party policy, inherited from the Corbyn years, is that a Labour government would implement sanctions against Israel in the form of an end to the two countries' arms trade.
In party conference motions almost unanimously passed in 2018 and again in 2019, members voted to "freeze" arms sales to Israel due to its human right abuses.
Sanctions were also incorporated into Labour's December general election pledges.
The 2019 manifesto said that there would be an immediate suspension of sales to Saudi Arabia of arms "for use in Yemen and to Israel for arms used in violation of the human rights of Palestinian civilians."
Labour Friends of Israel has habitually defended Israeli killings of Palestinians.
In 2018 it posted an infamous tweet in which appeared to blame Palestinians for killings of protestors in Gaza who had in fact been shot by Israel.
"Hamas must accept responsibility for the events," they tweeted, before deleting the posting after a wave of criticism.
At Labour's 2016 party conference, the group's then chairperson Joan Ryan was caught fabricating anti-Semitism claims.
In undercover footage shot for Al Jazeera's 2017 film The Lobby, member of Parliament Joan Ryan reported a Palestine Solidarity Campaign activist to the Labour Party, falsely claiming she had invoked "classic anti-Semitic tropes."
Tags