Update, 31 July
The "Zehava Zoabi" YouTube copy, above, has now been restored. It was briefly taken down yesterday, apparently by YouTube. 5 August: this copy of the video has now been renamed to remove mention to Gaza, but you can see a screenshot of how it was originally titled here.
Update, 30 July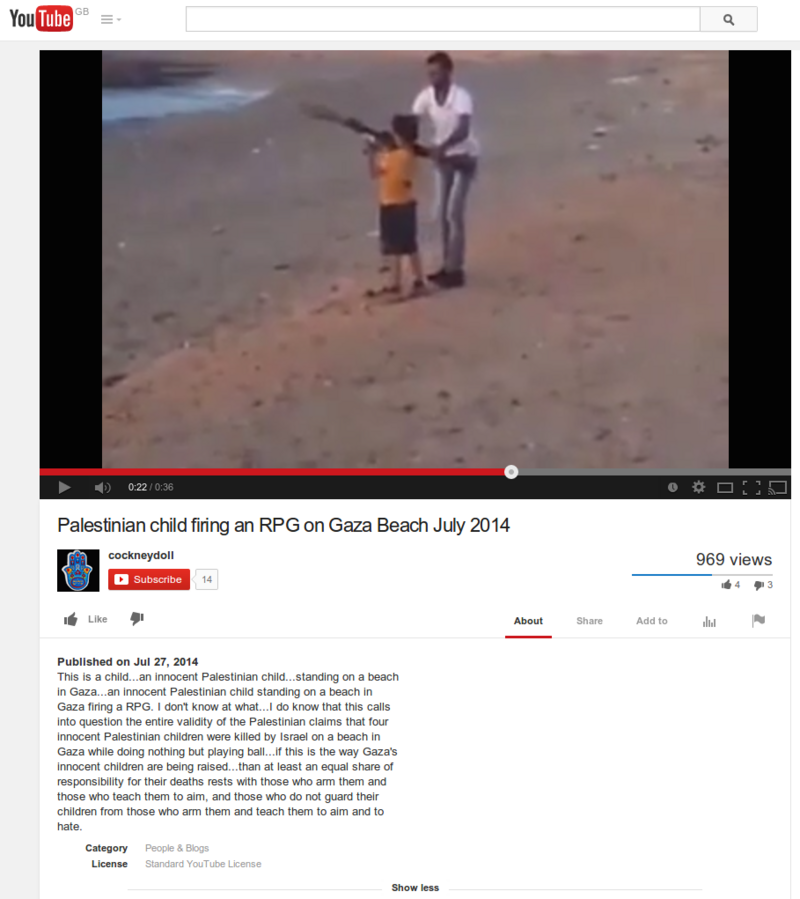 Since this article was published, the hoax video titled "Palestinian child firing an RPG on Gaza Beach July 2014" has been removed, apparently by user "cockneydoll." The other YouTube copy has been also removed, "because its content violated YouTube's Terms of Service." You can still view the video on Facebook here.
Original post, with multiple updates
Earlier this month The Electronic Intifada rumbled a hoax video claiming to show "Hamas using children as human shields" – in fact the video was from Syria.
Two days ago another hoax video, this one titled "Palestinian child firing an RPG on Gaza Beach July 2014," was uploaded to YouTube.
But in fact the video is not from from Palestine at all.
The original appears to have been uploaded to LiveLeak three days ago. The description of the video says it may have been from Libya.
The New York Daily News yesterday said the video was from Libya. In the UK, The Mirror also reposted the video yesterday, but was unclear where it had come from, saying (correctly) that "wherever in the world this happened, it was wrong." However, the Mirror reporter appears to have made no effort to verify where the video actually came from.
The video shows two (highly irresponsible) men on a beach loading up a rocket-propelled grenade into a launcher held by a young boy. The boy then fires the RPG into the sea.
All Arabic speakers I asked said the accents in the video sounded north African, not Palestinian. Rana Baker, one of our bloggers, who is from Gaza, said the landscape and architecture viewable in the background did not look like Gaza: "We do not have houses like this on the beach. We do have tents for families to enjoy summers, but not concrete."
Uri Horesh, a lecturer in Arabic, and language coordinator at Northwestern University, Illinois told me: "based on a few pronunciation cues and also the architecture on the beach, my colleague and I are of the opinion that Libya makes more sense than Lebanon or any other hypothesis."
Update: Maha Rezeq, a Palestinian journalist based in London, grew up in Libya and tells me: "It's Libya. The Arabic dialect is clearly Libyan. Plus, the shore and houses are 100 percent Libyan."
Propaganda
YouTube user "cockneydoll" clearly intended to deceive by altering the LiveLeak description to invent the idea that the video is from Gaza, in order to justify wanton Israeli murder of children in Gaza.
In the video's description, the user claims the video "calls into question the entire validity of the Palestinian claims that four innocent Palestinian children were killed by Israel on a beach in Gaza."
If it is not clear enough, this is a blood-curdling reference to the deliberate murder of four young Palestinian boys by Israel while they were playing on a Gaza beach. The infamous 16 July massacre was witnessed by much of the world's press since it happened right next to a hotel popular with journalists.
In the last two weeks, the anonymous user has uploaded two other videos intended to demonize Palestinians and their supporters.
But the trail does not stop there: I noticed that The Mirror copy of the video credits a Hebrew-language YouTube channel named "Zehava Zoabi" (although The Mirror has spelled it backwards using left-to-right Hebrew characters).
From that, Israel expert Dena Shunra was able to find another copy of the video titled "Hamas Use children at Gaza beach חמאס משתמש בילדים בחוף בעזה." This copy was uploaded the same day as the "cockneydoll" copy, so it is unclear whether "cockneydoll" copied it from there or independently made a hoax based on the original LiveLeak video from Libya.
Both YouTube copies with faked descriptions post-date the LiveLeak copy.
And there is more: the "Zehava Zoabi" YouTube channel is incredibly active, with ten videos uploaded today alone. This could be an indication that this activity is linked to an organized propaganda initiative, possibly with Israeli state backing.
As has been well covered by The Electronic Intifada, Israel has set up several initiatives for the spread of false propaganda online in recent years. The latest of these is the "Hasbara war room" at the Interdisciplinary Center Herzliya.
Update
An academic associate of Uri Horesh (who wishes to remain anonymous) has traced the origins of the video to an Arabic Facebook posting dated 24 July, which states the video was filmed in Sirte, Libya. Horesh's contact says "lots of the comments in Arabic (rightly) find what's happening to the kid gross."
Horesh's contact also found a copy of the video uploaded by Israeli Facebook user Shuki Shinfeld.
Shinfeld does not state where the video is from, commenting sarcastically "look how innocent of any crime they are." Hebrew comments on the video (translated by Dena Shunra) are virulently racist, and conflate all Arabs together, with "Alla Mdr" even stating, "Lebanon, Gaza, what does it matter, it's the same organization, the same demands, the same slogans, and the same people."
Frame Zalmim says, "When it comes down to it they never change, their education is a disgrace to humanity." Alon Avidor says, "they should have been gunned down as soon as possible." Adele Haya Vekayama says, "they don't have souls," and Kfir Ben Haim says "That's why they should be killed when they're still small."
This Hebrew Facebook copy was uploaded the same day as the two hoax YouTube copies. It is unclear which of these three came first, but the Hebrew Facebook copy went far more viral than the English YouTube copies, receiving almost 15,000 shares and 768 "likes" to date.
In any case, the Arabic Facebook copy stating it is from Sirte, Libya, predates all the Israeli copies, as does the LiveLeak copy.
Update 31 July
In a Tweet to The Electronic Intifada, BBC Trending journalist Ravin Sampat said he has found traces of the Libyan original going back as far as January.
Justification for massacre of children
A propaganda theme common with Israeli spokespeople is that Palestinians in Gaza are responsible for their own children's deaths, since they are used as "human shields" by armed Palestinian groups.
This calumny is used to justify the high death toll in Gaza – which as of this evening in Gaza stood at more than 1,200 persons, the vast majority of them civilians. According to the UN, at least 226 of these were children.
Here are two examples of how the video is being shared on Twitter by apologists for Israeli war crimes:
Update: Twitter user "Bellar" has now deleted her tweet promoting the hoax video, tweeting a further justification of promoting the hoax instead. Here is a screenshot of her original tweet:
Update, 31 July: Twitter user "NuritLiat" appears to have deactivated her entire account Here is a screenshot of her original tweet:
With thanks to the commenter who originally alerted me to this hoax today.
An earlier version of this post stated that 1,200 civilians were killed in Gaza at the time of publication. This post has been updated to clarify that this is the total estimated number of Palestinians killed in Gaza.
Tags