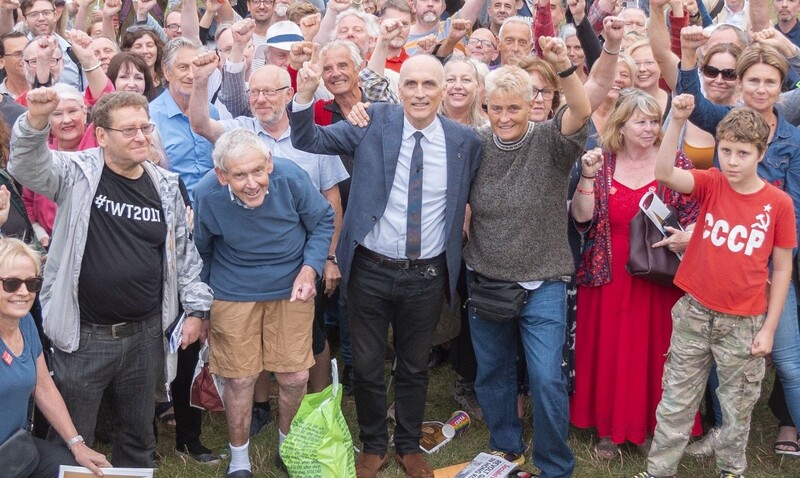 Socialist member of the British Parliament Chris Williamson has begun a legal action against Labour for its "unconstitutional decision to 're-suspend' me from the party I love," he said on Tuesday.

At the time of writing, a crowdfunder has raised more than $26,000 in legal costs in less than 24 hours.

Williamson told The Electronic Intifada on Wednesday that he was "absolutely overwhelmed and inspired" by the support he's received.

He said the campaign was not just about him, but about a long line of Labour Party activists who have been suspended or expelled since 2015 in the course of the right-wing backlash against leader Jeremy Corbyn – a veteran Palestine solidarity activist.

His suspension was "a line in the sand," he said.

"Grassroots members have had enough," he explained, "and they've said, this far and no further." Members will "fight for the soul of the party, and for democracy and decency, and tolerance and free speech."

Williamson has lodged legal papers with the High Court, the BBC reported.

He was suspended from the party earlier this year, before a disciplinary panel in June readmitted him with a warning.

Extraordinarily, this decision was overturned within two days, after an outcry by pro-Israel lobbying groups and the rest of the right-wing.

Labour bureaucrats had originally suspended Williamson in February days after he booked a room in Parliament for the screening of WitchHunt, a film about Labour's anti-Semitism "crisis" and the long campaign against Jeremy Corbyn.

The Campaign for Chris Williamson said that "after months of personal distress, Chris has been forced to take legal action against the party that he has dedicated his life to. He is challenging his 're-suspension' as unlawful."

Williamson's suspension by Labour has encouraged threats and harassment against him.

Three speaking venues in Brighton canceled on Williamson's supporters, after they organized a meeting addressed by him this month.

At least two of the venues did so after "foul-mouthed abuse and threats, online, by telephone and in person," said Greg Hadfield, a local left-wing Labour activist.

The meeting ultimately went ahead on 8 August, but was forced to do so in the open air.
Tags