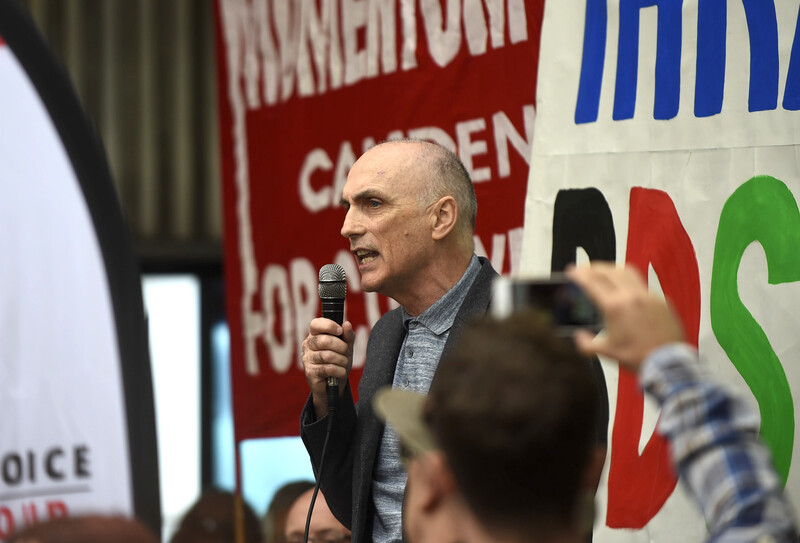 Chris Williamson, one of the Labour Party's leading supporters of left-wing leader Jeremy Corbyn, has been readmitted to the party.

PoliticsHome broke the news Wednesday afternoon based on an anonymous Labour source – before Williamson himself had even heard.

He is one of the most high-profile victims of the witch hunt against the left and Palestine solidarity activists that has been raging in Labour in recent years.

Williamson told The Electronic Intifada soon after the story broke that the party had yet to inform him of his readmission which he first learned about from journalists.

The Skwawkbox reported that Williamson would be "issued a formal warning, following advice from independent barristers."

Williamson told The Electronic Intifada that if confirmed, he was "absolutely delighted" to be back as a Labour MP.

A member of Parliament for the city of Derby, Williamson described his suspension and being falsely accused of racism as "an incredible trauma."

But he credited the "incredible, overwhelming outpouring of solidarity" from Labour members for keeping him going for the past four months.

Many Labour grassroots activists have pressed the party bureaucracy for Williamson's reinstatement, including through social media, motions in local party branches and at trade union meetings.

Transport union RMT passed a motion in support of Williamson at its annual delegates meeting Wednesday, before news broke of the MP's reinstatement.

They called the anti-Semitism allegations against him "totally unfounded."
Public enemy number one
Williamson was suspended as a party member – and thus as a Labour MP – in February, after a long-running campaign by pro-Israel lobby groups.

His supposed infraction was unspecified, but was purportedly a "pattern of behavior" – an insinuation of anti-Semitism.

Echoing the frustrations of many members, he had told a meeting the party had been "too apologetic" over allegations of anti-Semitism.

Williamson is the only MP who has publicly dared to speak out against the witch hunt in Labour over the last few years against the left and supporters of Palestine, under the pretext of an "anti-Semitism crisis."

In a 2017 interview with The Guardian, he condemned "lies and dirty tricks" around the "anti-Semitism smears," saying that "many people in the Jewish community are appalled by what they see as the weaponization of anti-Semitism for political ends."

Since then Israel lobby groups have made Williamson public enemy number one – almost more than Corbyn himself.

They reacted with fury to news of his readmission.

"This decision stinks," said the Jewish Labour Movement, which repeated its claim that Labour is "institutionally racist against Jews."

The group was refounded in 2015 as part of the Labour right's war against newly elected leader Jeremy Corbyn – a veteran Palestine solidarity campaigner.

The Jewish Labour Movement has intimate ties with Israel and has acted as a proxy for Israel's embassy in London.

The Board of Deputies, a Jewish communal organization that also advocates for Israel, claimed it was "yet more damning evidence" of "anti-Semitism in the Labour Party."

As a leading leftist, Williamson has been a strong supporter of greater internal democracy within Labour, calling for all parliamentary candidates to be subjected to greater scrutiny and accountability.
Tags