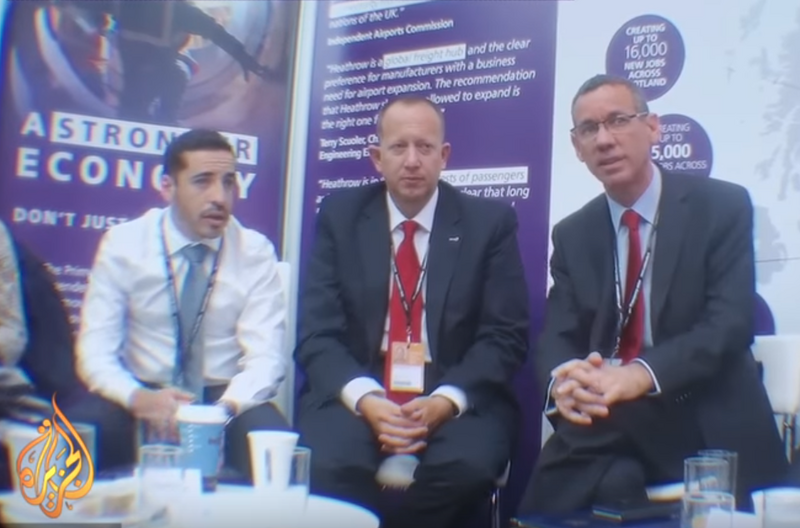 The Jewish Labour Movement was revived in 2015 to battle Jeremy Corbyn, The Electronic Intifada can reveal.

A right-wing organization with intimate ties to the Israeli embassy, the Jewish Labour Movement claims to have been affiliated to Labour for a century.

But a transcript of an undercover recording, obtained by The Electronic Intifada, casts doubt on this narrative.

It indicates that the dormant Jewish Labour Movement was revived by political allies of Israel as a weapon against Corbyn, the left and the wider Palestine solidarity movement.

Jewish Labour Movement chair Jeremy Newmark told a members only function on 13 September 2016 that "a bunch of us sat in a coffee shop in Golders Green" around September 2015 to "talk about re-forming the JLM to do something with it," the transcript of unused footage shot by Al Jazeera shows.

The 2015 plan to reconstitute the Jewish Labour Movement came against the backdrop of what Newmark described as "the rise of Jeremy Corbyn" and "Bernie Sanders in the states."

Corbyn, a longtime supporter of Palestinian rights, was first elected Labour leader in September 2015.

Newmark was forced to resign as head of the Jewish Labour Movement last year amid accusations of financial improprieties.

He is now being investigated by police for alleged fraud.

Newmark is still the lead Labour councillor in a North London suburb.

For more than a decade, he has been an Israel lobby operative and has close ties to the Israeli government, including its London embassy.

Newmark told the September 2016 gathering – a barbecue for members of the Jewish Labour Movement youth wing – that his group of associates had planned on "utilizing the rights and privileges it [JLM] enjoys as a socialist society" within Labour.

Unlike Labour Friends of Israel, the Jewish Labour Movement is formally affiliated to the Labour Party.

It has regularly used these "privileges" to arrange meetings with Corbyn, other Labour leaders and members of Parliament.

The Jewish Labour Movement has been a leading force pushing the false "Labour anti-Semitism crisis" over the last three years.

The transcript shows that Newmark described this as the "start of a struggle and a battle we will all be engaged in for months and probably years ahead of us."

Around the time of the September 2015 coffee shop meeting, Newmark published an article urging Jewish members of Labour to stay in the party and "fight" alleged anti-Semitism.

But the agenda he set out was really about advocating for Israel. Newmark claimed, for example, that Corbyn was compelled to back off support for an academic boycott of Israel "because of the political job that was done around that issue."

"We now need to replicate that on broader issues," Newmark said.

Newmark asserted that "behind the scenes lobbying and the legal legwork," as well as the involvement of a group called Engage, "the left-wing campaign against anti-Semitism," were key to this pro-Israel strategy.

"We built a robust political discourse, rooted in the politics of the left and deployed it in their own backyard," he wrote.

If people walked away from the party, Newmark argued, "Israel's case will be lost by default."

Part of the Jewish Labour Movement youth gathering at which Newmark spoke was featured in Al Jazeera's 2017 undercover investigation, The Lobby, which you can watch in the video above.

In the same transcript, the group's youth officer Liron Velleman said that the event was the "first Young Jewish Labour Movement event in 32 years, potentially more than that."

These statements seem to contradict the group's current insistence that it has been in Labour for almost 100 years.

So does a now-deleted page on the Jewish Labour Movement website, where the group's then chair Louise Ellman – still an MP and opponent of Corbyn – described JLM as having been "founded in 2004 as the successor to Poale Zion, a pioneering organization within the Labour Zionist family."

"In July 2004, our launch at the House of Commons was a highly successful event, with the Israeli ambassador," Ellman added.

Yet this month, Jewish Labour Movement vice-chair Mike Katz described it as a "bare faced lie" to say that the group was founded in 2004 – insisting that Poale Zion had merely "changed its name."

He did not reply when confronted with a copy of Ellman's own description.

Jewish Labour Movement officers Peter Mason and Adam Langleben also described it as a lie, and did not reply when shown the deleted web page.
100 years in Labour?
The Jewish Labour Movement's revisionist claim that it has been in Labour for almost 100 years appears to be a recent talking point evidently aimed at bolstering the organization's legitimacy.

As recently as July 2016, however, the group claimed on its website that it was "founded in 2004."

Another undercover transcript, obtained by The Electronic Intifada last year, casts light on the change in narrative.

Ella Rose, then the Jewish Labour Movement's full-time director, explains to Al Jazeera's undercover reporter that the dormant Jewish Labour Movement had been "run by Louise Ellman who obviously is great but is also an MP and didn't have time to run the sort of political operation that was needed."

Ellman stepped aside in 2015, "and a sort of new guard came in – Jeremy [Newmark], Peter [Mason], Adam [Langleben], that crowd – and they sort of thought at some point, okay, we're gonna hire someone.'"

Rose, then an officer at the Israeli embassy, was subsequently hired by Newmark as director.

Peter Mason became the organization's secretary in 2014, but has become a more prominent face since Newmark's departure.

Why does the debate over how old the Jewish Labour Movement is really matter?

The group is now threatening to disaffiliate from Labour – another move that would generate a crisis for Corbyn.

It would undoubtedly provoke media claims that Jewish members are leaving, or worse being driven out of Labour, a narrative that is even more compelling if the Jewish Labour Movement can claim to have been part of the party for a century.

On Wednesday, the group met to decide on whether to remain affiliated to Labour. After the meeting, it announced that "the future of our movement" would be decided next month – dragging the drama out.

Since the start of February, prominent Jewish Labour Movement figures have been resigning from the party – the latest push in the campaign to smear Labour as endemically anti-Semitic and unwelcoming to Jews.

Despite the Jewish Labour Movement's openly hostile role in the party over the last three years, Corbyn has reportedly written to the group that it is "heartfelt wish" that they stay.

This is in keeping with Corbyn's longstanding policy of appeasing bad-faith claims of anti-Semitism, a strategy that has failed to stem the attacks on him.

As this writer accurately predicted last summer, the Jewish Labour Movement is attempting to manufacture a narrative about a Jewish exodus from Labour.

Yet Jewish Voice for Labour, a relatively new non-Zionist organization, disputes the Jewish Labour Movement's claims about institutional anti-Semitism.

Last month it publicized a letter signed by more than 200 prominent Jewish supporters of Labour criticizing "a disproportionate focus on anti-Semitism on the left."

The letter endorses Corbyn as "a crucial ally in the fight against bigotry and reaction," including anti-Semitism.

The Jewish Labour Movement has been asked to comment on the latest transcript.
Tags