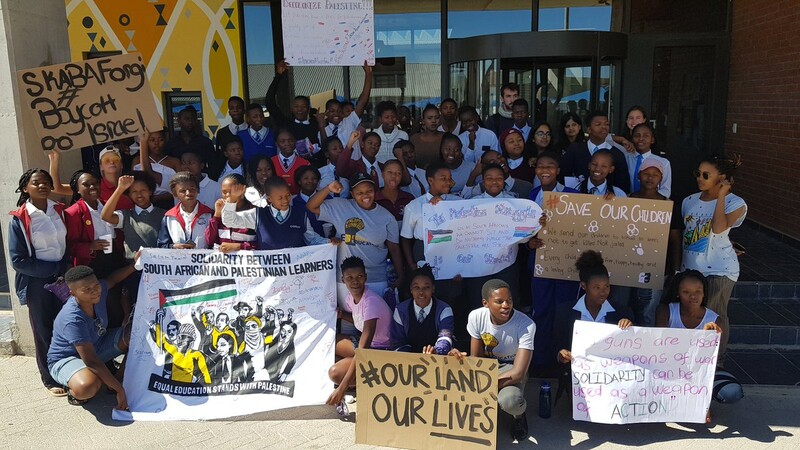 I just returned from South Africa and I can report that Palestine solidarity is alive and growing.
People have held more than 150 events across the country for Israeli Apartheid Week.
These include everything from political meetings and marches, to film screenings, to the "Apartheid Ain't Funny" comedy tour by top comic Mashabela Galane, to a freedom soccer tournament.
Open doors
I was invited to South Africa to take part in some of these events by the University of Cape Town Palestine Solidarity Forum and BDS South Africa, groups that support the boycott, divestment and sanctions movement.

It was inspiring to see how much the Palestine solidarity movement has grown since my first visit to South Africa in 2010. Everywhere we went, we found open doors and open hearts:

In the township of Khayelitsha in the Western Cape it was particularly moving to see a banner that Ahed Tamimi had signed when she and members of her family had visited there a few months ago. Young representatives of the advocacy organization Equal Education, some of whom had met the Palestinian teenager, asked me what would happen to her next. (On Wednesday, Ahed was sentenced to eight months in prison by an Israeli military tribunal for slapping and shoving an occupation soldier last December.)

I was invited on to the national broadcaster SABC's prime time news for an interview about Israeli Apartheid Week:

And media, including local papers and South Africa's vibrant Islamic outlets covered the events.
Presidential support
On my final day in the country, Kgalema Motlanthe, South Africa's former president, deputy president and secretary general of the ruling African National Congress (ANC), received me to talk about the urgent need for greater international solidarity with Palestine.

Motlanthe also posed for photos with BDS South Africa organizers – and with the "Boycott Israel" tote bag they gave him as a gift.

The meeting was a measure of Motlanthe's ongoing concern for justice in Palestine; last year he launched Israeli Apartheid Week with a speech suggesting that the best way forward would be a "democratic one-state solution."

In my meeting with Motlanthe, I told him many Palestinians would be encouraged to hear him pursue this line of thinking.
Moment of hope
There is no doubt that popular support for Palestine is strong in South Africa.

But the question I heard from many lips is whether this support will be translated into effective action from the ANC government.

Many people I spoke to felt that South Africans are living through a moment of optimism following a lost decade under the corrupt rule of Jacob Zuma.

This period saw the erosion of South Africa's hard-won institutions and little progress in narrowing the shocking economic inequalities that persist a quarter century after the end of political apartheid.

Zuma's successor, President Cyril Ramaphosa, is talked about as someone likely to administer the country more competently, and to restore the rule of law.

But Ramaphosa, a former trade unionist who led the ANC's negotiating team with the apartheid regime, is now one of South Africa's richest men.

Public expectations are sky high, but few people I spoke to expect Ramaphosa to launch radical redistributive policies or to rock the boat with international capital, whose support he will see as vital to deliver even modest economic reforms.

A former minister told me that Ramaphosa is likely to be more skilful as a politician, verbally appeasing demands for stronger support for Palestinians.

The ANC has faced a challenge from the left-wing opposition party the Economic Freedom Fighters, which has called for radical land redistribution at home and for cutting ties with "apartheid Israel" abroad.

Some young activists I spoke to see the EFF's positions as more representative of their views.

But the bottom line is that the ANC is not likely to lose power any time soon, including at next year's general election, and the extent to which the new Ramaphosa government will be prepared to translate fine words about Palestine into real action depends on continued pressure from below.

As I wrote for the Mail & Guardian while I was in the country, South Africa has recently taken somewhat bolder positions.

These include the ANC's resolution to downgrade diplomatic ties with Israel. Yet this decision still has to be implemented.
African solidarity
In January, South Africa's representative told the UN Human Rights Council in Geneva that "Israel is the only state in the world that can be called an apartheid state."

Some of my conversations in South Africa revolved around whether this statement truly represented a shift in the government's position or was merely a maverick departure by an individual official.

Doubts can now be put to rest: This week, an even more senior representative, South Africa's ambassador to the United Nations in Geneva, Nozipho Mxakato-Diseko, repeatedly emphasized in an address to the UN Human Rights Council how Israel's gross violations of Palestinian rights are "akin to apartheid."

"For a long time, apartheid was at war with African children," the ambassador stated. "This is what is happening in Palestine."

South Africa's statement came as the 54-member group of African states issued a strong joint condemnation of Israel's violations of Palestinian rights, and reaffirmed their support for "the historic fight of the Palestinian people to realize the right to freedom and self-determination as well as the right to live in peace and justice."

The AfroPal Forum, a group that advocates for Palestinian rights across the continent, observed: "While North African countries have typically been vocal on the Palestinian issue, sub-Saharan countries are now speaking out more strongly against Israeli violations of human rights, and US-Israeli attempts to change the status quo of Jerusalem."

It is good to see that Israeli Apartheid Week is also being marked in Kenya.

This is significant, since Israel has been engaging in an aggressive charm offensive to win the backing of sub-Saharan states.

While Israel's push into Africa has seen setbacks – perhaps also because of its racist mass expulsion of African refugees – it is not likely to give up.

As I argued in many of my talks and interviews, Israel won't abandon its propaganda efforts in Africa, especially in South Africa.

Israel fears that if South Africa takes a much more active global role in confronting Israeli apartheid it would break the taboos that have ensured Israel's international impunity.

The stakes are even higher as South Africa is expected to be elected to the UN Security Council for a two-year term starting in 2019, which will amplify its voice even more.
A moral superpower
Apartheid is one of the top-level crimes against humanity listed in the Rome Statute of the International Criminal Court.

South Africa may not be an economic or military giant, but when it comes to opposing apartheid, it stands apart as a moral superpower that can and must do much more.

If South Africa has declared Israel an apartheid state – and it has – its words must be followed by actions that match their weight.

As comrades in South Africa reminded me often, their country would not be free today without effective international solidarity and pressure. Yet a generation after South Africa's apartheid regime ended, Palestinians remain in bondage.

The enduring lesson from South Africa is that Israel will only be willing to respect Palestinian rights when it is made to pay a much higher price for its crimes through international isolation.

As I told my hosts, I hope that my next visit to South Africa will not be to mark another Israeli Apartheid Week but to celebrate with them Palestine's freedom.

After this visit, I am more optimistic than ever that South Africa's people can push their government to rise to the urgent challenge of effective solidarity and hasten the end of Israeli apartheid.
Tags