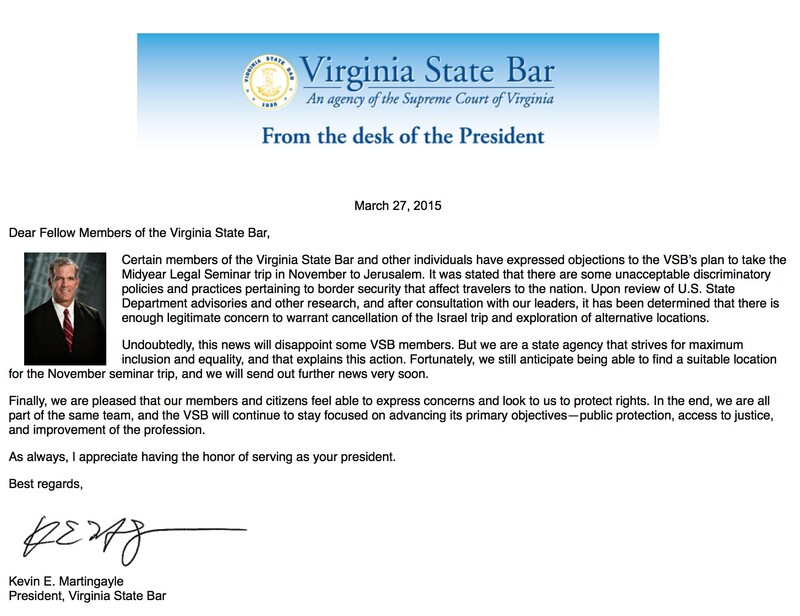 The state agency that regulates the legal profession in Virginia has canceled a planned seminar in Jerusalem following objections over Israel's discrimination against Americans of Palestinian, Arab and Muslim ancestry.
"Certain members of the Virginia State Bar and other individuals have expressed objections to the VSB's plan to take the Midyear Legal Seminar trip in November to Jerusalem," Kevin E. Martingayle, the agency's president, wrote in an email to members today. "It was stated that there are some unacceptable discriminatory policies and practices pertaining to border security that affect travelers to the nation."
"Upon review of US State Department advisories and other research, and after consultation with our leaders, it has been determined that there is enough legitimate concern to warrant cancellation of the Israel trip and exploration of alternative locations," Martingayle said.
"Undoubtedly, this news will disappoint some VSB members," Martingayle added, "But we are a state agency that strives for maximum inclusion and equality, and that explains this action."
Dozens of lawyers who are members of the VSB had signed an open letter detailing Israel's discriminatory practices, citing reports from the US government and Amnesty International.
The Electronic Intifada has also reported extensively on Israel's discriminatory denial of entry and other forms of abuse and harassment of Palestinian Americans and other travelers.
Tags