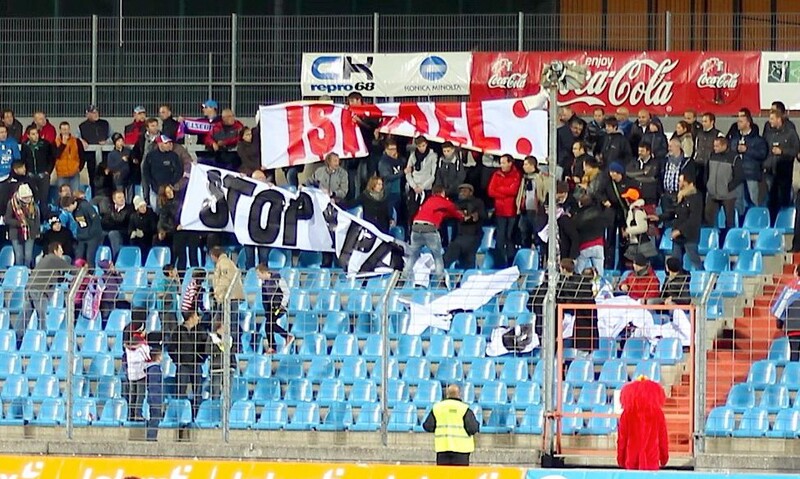 As the Israeli national anthem played, protestors unfurled huge banners saying "Israel: Stop Apartheid" and "Israel: Stop Occupation" at the opening of an international football match between Luxembourg and Israel in Luxembourg City on 12 October.
The demonstration so angered one fan that he physically assaulted those holding a banner and violently tore it out of their hands, video shows (watch video).
The protest was held by the Comité pour Une Paix Juste au Proche-Orient (Committee for a Just Peace in the Middle East) which said in a French-language press release translated by The Electronic Intifada:
On the occasion of the Luxembourg-Israel match on 12 October, European citizens, for the most part Luxemburgers – and not Palestinians as one newspaper claimed – distributed flyers in front of the stadium, held flags and unfurled banners saying, "Israel: Stop Occupation" and "Israel: Stop Apartheid" inside and before the match. This nonviolent action was not aimed at the Israeli players but against the policies of a state.

We regret that several excitable fans – apparently Luxemburgers – demonstrated a degree of violence towards us. The majority of fans knew how to handle it and even expressed their solidarity. We were stunned however that Luxembourg police prevented fans at the back of the stadium from holding simple Palestinian flags. Do the wide variety of [other] flags that are regularly carried in stadiums not represent a security risk?

Unfortunately, as long as Israel continues to violate international human rights, it is not a state like any other. As long as Israel imprisons Palestinian athletes for years without charge or trial using torture, destroys sporting infrastructure and prevents Palestinian athletes from traveling abroad, it has no place in European competitions. To all those who say that we must not mix sports and politics, we reply that they are linked. In recent history, Western governments have repeatedly used sports for political ends or have boycotted international competitions.

In the Middle East, the so-called "two state solution," verbally supported by the whole international community, is dying amid blood. European governments, despite their often just statements, show paralysis, inaction and unfortunately complicity with the occupier. There is a need for urgent action. It was from a recognition of this sense of urgency that last Friday's action was carried out.
Tags