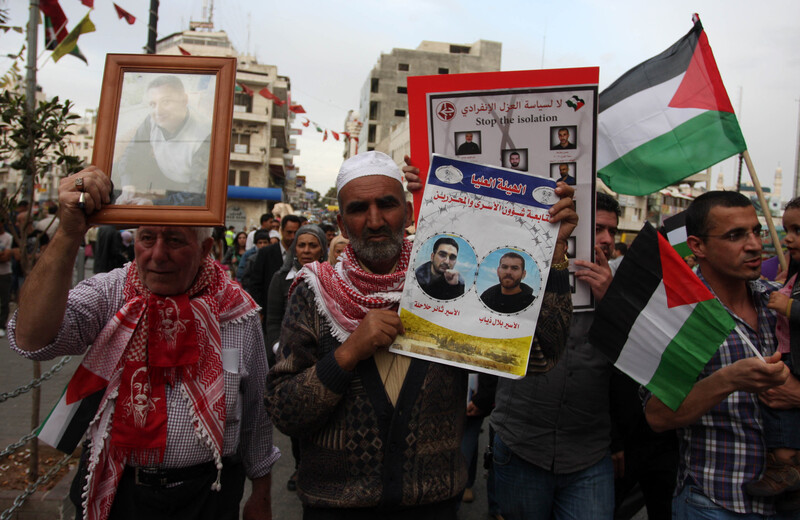 Two Palestinian hunger strikers are at grave risk of death unless urgent action is taken, two human rights organizations, Addameer and Physicians for Human Rights - Israel (PHR-Israel) have warned.
Even with their grave physical conditions, Bilal Diab and Thaer Halahleh are being denied both family and lawyer visits and being subjected to mistreatement and denial of necessary medical care.
Both men are being held without charge or trial by Israel under so-called "administrative detention."
PHR-Israel, in an email to diplomats, stated that the "hunger strikers are blocked from all contact with the outside world in an effort to break their spirits and their non violent struggle. It is alarming to see that medical professionalism and ethics are severely compromised and lives are put at risk, for political aims. Thaer and Bilal's medical condition is a testimony of how serious the danger is."
Immediate risk of death
In a statement today, Addameer said:
Addameer expresses its utmost concern for the lives of Bilal Diab and Thaer Halahleh, currently on their 63rd full day of hunger strike in protest of their administrative detention. An independent doctor from Physicians for Human Rights-Israel (PHR-Israel) determined yesterday, 30 April, that Bilal is at immediate risk of death and that both he and Thaer must be transferred immediately to a civilian hospital in order to receive adequate medical attention.
The statement added, citing PHR-Israel, that, "both detainees suffer from acute muscle weakness in their limbs, which prevents them from standing. They both are in need of full assistance in daily activities such as showering, though such help is not provided in the IPS Israel Prison Service clinic. They both suffer from an acute decrease in muscle tone and are bedridden, which puts them under dual threat: muscle atrophy and Thromobophilia, which can lead to a fatal blood clot."
Bilal's life-threatening condition "includes sharp weight loss, concern for peripheral nerve damage, extremely low pulse (39 beats per minute) and blood pressure, severe dehydration, and possible internal bleeding."
Transferred to hospital and then back to prison
According to Addameer the PHR-Israel doctor:
stated that Bilal should be transferred to a hospital immediately and receive full monitoring of his heart. Following the doctor visit, Bilal was transferred to a civilian hospital, only to be transferred back to Ramleh prison a few hours later. After collapsing this afternoon, he was transferred again to Assaf Harofeh hospital, where he currently remains. These frequent transfers only serve to further endanger his fragile condition.
The PHR-Israel doctor reported that Thaer Diab is also in grave condition. In addition to severe weight loss and other symptoms, Diab suffers pain in his upper back which "may indicate inflammation of the pleura [membrane around the lungs] or even a blood clot, which can be lethal without proper medical attention."
PHR-Israel concluded that Thaer needs medical attention unavailable in an IPS prison clinic.
Fears over hunger strikers' safety
Both Addameer and PHR-Israel have expressed urgent concerns about IPS practices that further endanger the lives of the prisoners.
"In addition to the reckless transfers back and forth to the hospital for Bilal," Addameer noted, "both Thaer and Bilal reported that prison guards had recently entered their cells and carried out violent searches. Thaer also reported being abused by an IPS doctor two days prior."
Denied lawyer and family visits
According to Addameer:
Bilal and Thaer's lawyer Jamil Al-Khatib attempted to visit Bilal this afternoon in the hospital and was refused by the IPS. He was told he had to submit a "special request" to the legal advisors of the IPS. Bilal and Thaer's petitions to the Israeli High Court against their administrative detention orders will be heard on 3 May. A request for family visits to Bilal was also rejected today by the IPS, who stated that he was officially being denied family visits from 9 February to 9 July for "violating an IPS order" by being on hunger strike.

The IPS continues to employ every obstacle at its disposal in preventing access for lawyers and doctors to hunger striking prisoners. These tactics are designed to isolate the hunger strikers as much as possible from trusted sources of support and medical information, in complete disregard to their most urgent condition.
PHR-Israel sends urgent appeal to diplomats
Following its physicians' visit to Thaer and Diab yesterday, only the second that has been permitted since their hunger strike began, PHR-Israel sent an appeal to diplomats via email urging rapid intervention.
The email, a copy of which was received by The Electronic Intifada, included additional information on the physical and medical condition of the two detainees and set out the following urgent demands:
PHR reiterates that hunger strikers are in grave danger. Thus our demands are of urgent nature:

The IPS must immediately transfer Diab and Thaer to a hospital.

The IPS must immediately transfer other hunger strikers to hospitals based on medical ethics and professional medical standards and not on political considerations. It is clear that for lack of access PHR-Israel might not have full information of other strikers that are in progressed stages, and might also be in danger. The Israeli Medical Association had informed PHR Israel that they fully support the transfer to a hospital.

The IPS must allow regular visits by independent doctors, without the need for a court decision for each visit.

The IPS must allow access of lawyers to the strikers.

The IPS must allow family visits.

Some 320 detainees are being held in Israeli prisoners under the Administrative Detention . Israel must stop its excessive use of this opressive measure. It has a horrendous effect on the lives of both individuals and their communities.
Addameer added that it
calls on the international community to demand that both Bilal and Thaer be immediately admitted to civilian hospitals, without further transfers, and that they have unconditional access to independent doctors and their lawyers. Addameer urges the European Union, the United Nations and the International Committee of the Red Cross to take immediate action and intervene with Israel in the strongest manner possible to save Bilal and Thaer's lives before it is too late.
Tags