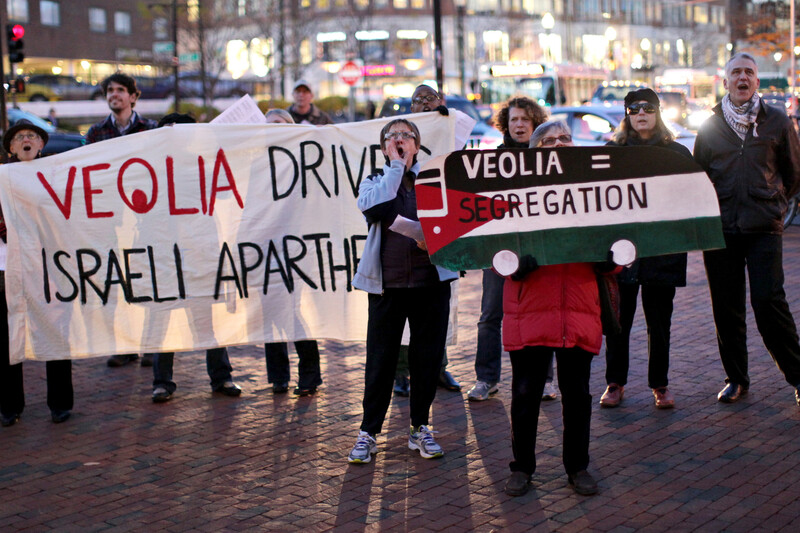 Palestinian campaigners have chalked up an important win as the French municipal services conglomerate Veolia has sold off most of its businesses linked to the Israeli occupation in the West Bank.
The company reported that it sold its "water, waste and energy activities in Israel" to Los Angeles-based private equity firm Oaktree Capital Management.
But Veolia remains involved in one major colonization project: the Jerusalem Light Rail.
Under boycott pressure
The company has been a principal target of the Palestinian-led boycott, divestment and sanctions (BDS) movement for several years.
"Grassroots BDS activism across the world made it very difficult for Veolia to win public contracts in some parts of Europe, the US and the Middle East, leaving the company no choice but to significantly scale back its involvement in illegal Israeli projects," Mahmoud Nawajaa, the general coordinator of the Palestinian BDS National Committee (BNC), said in a statement.
"Around 10 authorities in Ireland and the UK introduced official policy barring Veolia from public contracts," the BNC statement notes. "Councils in at least 25 cities including London, Stockholm and Boston opted not to award or renew contracts with Veolia following public campaigns that were backed by local community leaders, churches, trade unions and mainstream political parties."
Various pension and investment funds have also divested from Veolia over its role in Israeli settlements on occupied Palestinian land.
A Veolia official has admitted that the global campaign has "lost us important contracts."
The boycott Veolia campaign was launched in Bilbao, the Basque Country, in November 2008, to pressure the company to end its involvement in illegal Israeli projects that serve settlements in the occupied Palestinian territories, the BNC notes.
Veolia, which profits from the privatization of public services, has also been the target of actions over its labor and environmental practices.
Reparations
But, says the BNC, "Veolia continues to remain involved in the illegal Jerusalem Light Rail that links Israeli colonies to west Jerusalem through its holdings in Veolia Transdev."
The company has however announced its intention to sell its holding in the railway. Nonetheless, the BNC's Nawajaa said that the campaign against Veolia would continue.
"The sole purpose of the Jerusalem Light Rail is to increase the appeal and facilitate the expansion of illegal Israeli settlements through the theft of Palestinian land," Najawaa said. "We will continue to boycott Veolia until it ends its participation in the Light Rail project and pays reparations to those Palestinian communities impacted by its support for Israel's colonization of Palestinian land."
"International corporations cannot simply profit from Israel's war crimes and then leave when the going gets tough, without being held accountable," Nawajaa added.
As The Electronic Intifada has reported, the Jerusalem Light Rail has colluded directly with Israeli occupation forces in the detention of Palestinian children.
Still, Veolia's retreat from Israel and its colonies is powerful evidence that even the most well-financed and well-connected international corporations cannot remain immune to sustained grassroots pressure.
Tags