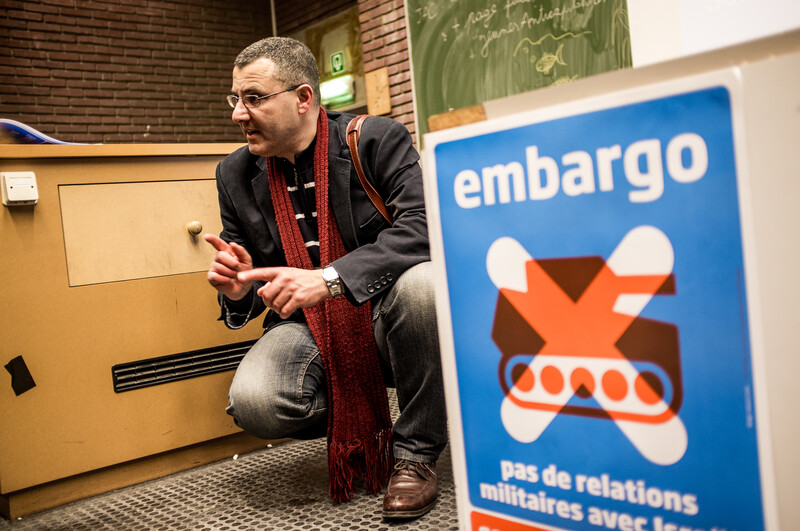 The Trump administration has prevented the entry of a prominent Palestinian human rights activist to the United States.
On Wednesday, Omar Barghouti "was denied entry into the United States at Ben Gurion Airport despite having valid travel documents," the Arab American Institute (AAI), the organization that had invited him to Washington for a series of talks, stated Thursday.
Barghouti is a co-founder of the boycott, divestment and sanctions (BDS) movement, which seeks to advance justice, equality and freedom for Palestinians by putting pressure on Israel to comply with international law and human rights through nonviolent activism.
Barghouti explained the strategy in a talk at a conference in Dublin last May:
BDS is modeled on the tactics used to help end apartheid in South Africa and racial segregation in the United States, but Israel and its allies have declared war on the movement, falsely portraying it as discriminatory and anti-Semitic.
Despite the Trump administration's ban, Barghouti's first scheduled US speaking event did go forward, albeit by video conference.
Barghouti said Thursday that the US decision to deny him entry, "which is ideologically and politically motivated, is part of Israel's escalating repression against Palestinian, Israeli and international human rights defenders."
Israel, Barghouti added, is "increasingly outsourcing its outrageous, McCarthyite repression to the US and to xenophobic, far-right cohorts around the world.
Barghouti has for years faced retaliation from Israel for his human rights advocacy.
Israel repeatedly denied him the ability to travel internationally, amid an extensive covert campaign of smear and sabotage against human rights defenders.
In February, Amnesty International called on Israeli authorities to "immediately end their arbitrary restrictions on prominent Palestinian human rights defender Omar Barghouti's rights to freedom of movement and guarantee his right to residency, liberty, security of person and freedom of expression."
He has since then had his Israeli travel document renewed. However this time the obstacle is the US administration.
"As he already possessed a US visa valid through January 2021, plans for his speaking tour were confirmed," AAI stated. "Nonetheless, on 10 April, Barghouti was informed at Ben Gurion Airport by airline staff that the US Consulate in Tel Aviv was directed by US Citizenship and Immigration Services (USCIS) to deny him from traveling to the United States."
Barghouti was not provided an explanation for his denial of entry beyond an "immigration matter," AAI added.
PEN America, a group that defends the freedom of expression of writers and artists, said that if Barghouti was excluded from the US on "ideological grounds," that this would be "a violation of his free expression rights, as well as an infringement on academic freedom and the rights of those who have planned to attend several public events in the US in the coming days to hear him speak."
"The US government needs to explain immediately why Omar Barghouti was blocked today from traveling to the US," said Summer Lopez, senior director of free expression programs at PEN America.
But a State Department official told NPR that "Visa records are confidential under US law; therefore, we cannot discuss the details of individual visa cases."
"Omar Barghouti is a leading Palestinian voice on human rights. Omar's denial of entry into the US is the latest example of the Trump administration's disregard for those rights," AAI president James Zogby said. "It is clear this arbitrary political decision is motivated by this administration's effort to silence Palestinian voices."
Tags