Having seen so much of their country occupied and colonized by Israel, Palestinians have often objected to Israeli attempts to appropriate symbols of their culture as well, including dishes like hummus, falafel and olive oil, as well as dance, music and folklore.
But here's a new twist. The Moshe Dayan Center for Middle Eastern and African Studies at Tel Aviv University has ripped off the name and logo of the well-known Palestinian think-tank Al-Shabaka: The Palestinian Policy Network (for which I am a policy advisor).
The name Al-Shabaka means "the network" in Arabic, reflecting the fact that Al-Shabaka's Palestinian members and contributors are dispersed all over the world.
"Al" preceding the name is the Arabic definite article, roughly equivalent to "The" in English.
At the top of this post is a screenshot from Al-Shabaka's website including the logo it has been using for years.
Uncanny similarity
This month, the Moshe Dayan Center at Tel Aviv University launched a new publication with the name "Shabaka." This is its logo: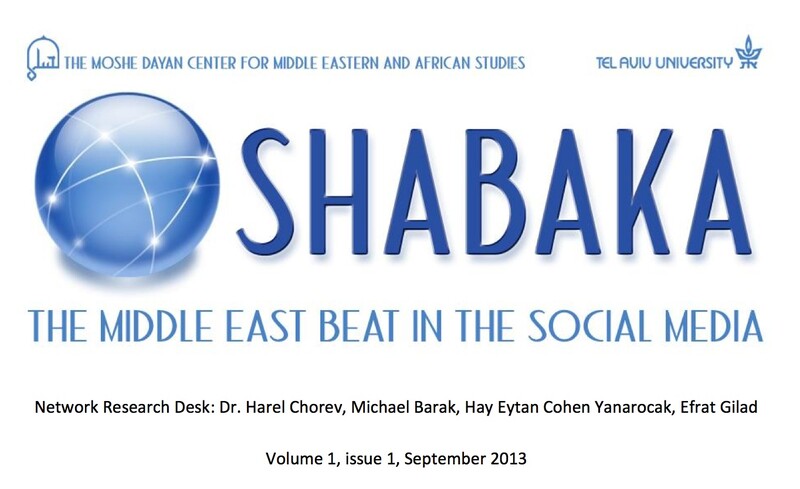 The first issue states:
Shabaka ("Network" in Arabic and Turkish) is a new newsletter published by the Moshe Dayan Center. It will summarize and analyze noteworthy trends of discussion on Arabic and Turkish SNS [social networking sites].
"Blatant lifting"
I asked Nadia Hijab, co-founder and director of Al-Shabaka, what she thought of the striking similarity. She wrote:
We were really shocked and upset to see this blatant lifting of not just our name but also our logo. It looks like the intention is to sow confusion and try to make life harder for a think-tank aiming to put a Palestinian policy voice on the map. But our numbers are growing – members, readers, social media outreach – and that's certainly not going to stop us. We've written to them asking them to cease and desist.
Unlikely to be coincidence
Any Internet search for the word "shabaka" produces a link to Al-Shabaka high in the results. It is not credible that the Moshe Dayan Center would have been unaware of Al-Shabaka when it chose the name "Shabaka."
It is even more implausible that the Moshe Dayan Center independently came up with an almost identical logo.
Tel Aviv University is itself built on stolen Palestinian land belonging to the village of Sheikh Muwannis.
When Israel has already taken so much from Palestinians, perhaps, someone thought, "so what if we help ourselves to a name and logo as well?"
Update
Shortly after publishing this post, I was informed by Nadia Hijab that Al-Shabaka had received an emailed response from Moshe Dayan Center director Uzi Rabi saying that Tel Aviv University is closed this week, but that they will treat this as an urgent matter and provide a full response.
In reaction, Hijab commented: "It's good they're taking this seriously. The similarity between the names and logos is so striking that we feel driven to treat this as an act of infringement on our intellectual property. We trust that they will respond appropriately and that it will not be necessary to pursue this matter further."
Update, 23 September: Dayan Center withdraws "Shabaka" name, logo
Nadia Hijab, co-founder and director of Al-Shabaka, has informed The Electronic Intifada that she received a further response this morning from Uzi Rabi, director of the Moshe Dayan Center at Tel Aviv University.
According to Hijab, Rabi said the issue around the name of his center's "Shabaka" publication was brought to his attention by Hijab's letter and that, in order to avoid future misunderstandings, he has instructed staff to change the name and logo of the publication, effective immediately.
Hijab added: "This is a very satisfactory outcome and I appreciate the swift action taken to directly address this issue. Al-Shabaka can now redouble its efforts to put a Palestinian policy voice on the map, pulling together Palestinian and other expertise to develop strategies and policies for a truly just solution – one that guarantees freedom, justice, and equality."
Tags