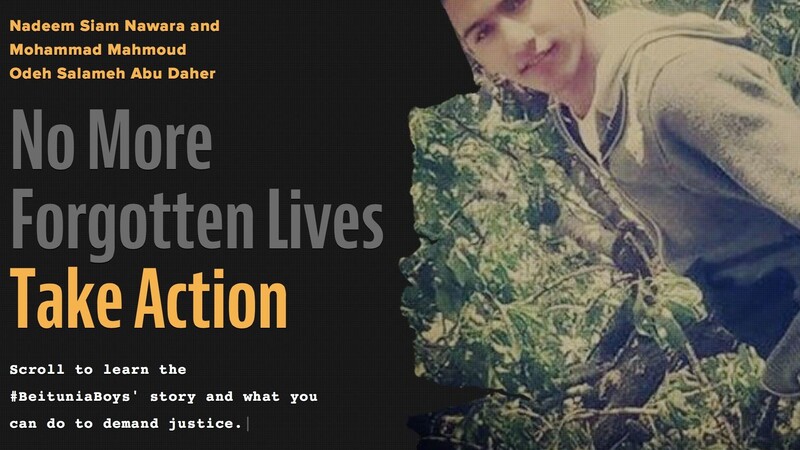 Last May, two Palestinian boys were fatally shot in cold blood by Israeli soldiers, killings that were caught on video for all the world to see.
Defence for Children International–Palestine (DCI-Palestine) has put together a stunning online resource to tell their stories and to encourage people to take action to help call for justice.
Using video, images, words and striking graphics, the dedicated website No More Forgotten Lives takes viewers through a timeline of the fatal 15 May shootings of Nadim Nuwara and Muhammad Abu al-Thahir in the occupied West Bank village of Beitunia.
It also features a new audio analysis of gunshot sounds confirming previous findings by the research group Forensic Architecture that Nadim Nuwara was shot with a live bullet.
Less accountability than ever
On 23 November, Israeli prosecutors brought manslaughter charges against the Border Police officer allegedly responsible for shooting Nadim Nuwara.
"The defendant used the blanks magazine so that his live fire, as opposed to rubber-bullet fire, would not be observed," DCI-Palestine quotes the indictment as saying.
Some Israelis have rallied around the suspect, who has not been officially named, hailing him as a hero and inciting more killings of Palestinians.
No arrests have been made in the killing of Muhammad Abu al-Thahir, however.
And the fact that anyone was charged in Nuwara's death – albeit for a reduced charge of manslaughter instead of murder – is rare enough.
Since 2000, Israeli forces have killed more than 8,896 Palestinians, DCI-Palestine states. At least 1,895 have been children.
In 2014, Israeli occupation forces killed ten children with live ammunition in the West Bank, including Nuwara and al-Thahir.
Between 2000 and 2013, just 5.2 percent of all investigations resulted in indictments.
And over the past three years, the chances of indictments have become slimmer – down to just 1.4 percent.
Take action
When you reach the end of the timeline on the No More Forgotten Lives website, DCI-Palestine asks you to take part in its Thunderclap – a social media campaign that is easy to join using Twitter or Facebook to draw attention to the killings.
This is a beautifully assembled resource to tell a story no one should ever have to tell.
The goal is to bring a measure of accountability and justice for these two boys, and for all the children whose lives have been stolen by the brutality of Israel's occupation.
Tags