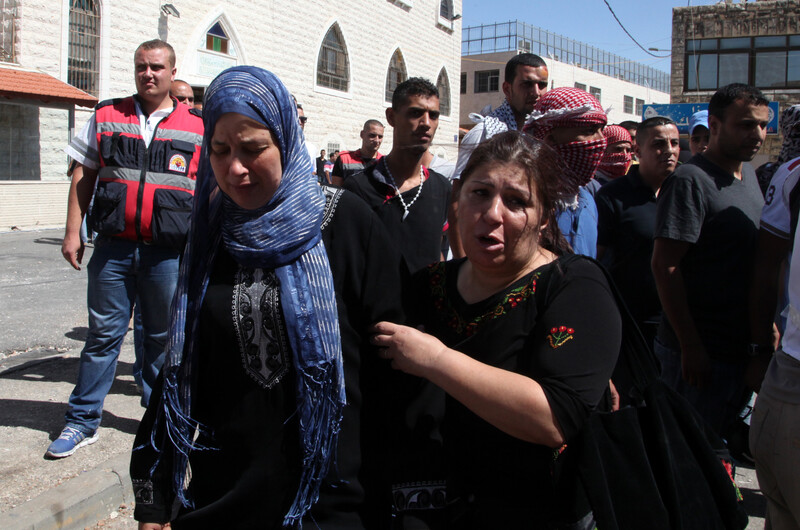 After days of relentless incitement for "revenge" by Israeli leaders and Israeli lynch mobs shouting "Death to the Arabs," it is feared that the worst has happened.

While on his way to early morning prayers today in eastern occupied Jerusalem, Muhammad Abu Khudair, 16, was kidnapped, his family reported. His badly burned body was later found by police in a wooded area and positively identified.

Israeli police suspect that the crime may have been committed in revenge for the killings of three Israeli teens whose bodies were found in the occupied West Bank on Monday.

Israeli army radio says that Israeli media are under a gag order banning reporting of details of the investigation.

Yet incitement to violence against Palestinians continues to surface from Israeli soldiers, politicians and the public.

In this video, the latest of several, a group of Israelis can be seen marching through Tel Aviv on Tuesday evening singing a sing including the lyrics "Give the IDF [Israeli army] a chance to win, fuck the Arabs" and "I hate all Arabs."

Tal Sagie, the Facebook user who posted the video, wrote that the sight shocked her and that violence only breeds more violence. "We can't keep shouting 'Death to the Arabs' and wondering why the other side hates us," Sagie wrote.
Revenge killing suspected
Muhammad Abu Khudair's cousin "said the 16-year-old was grabbed off the street after leaving his home in Jerusalem's Arab neighborhood of Shuafat, to go to morning prayers with friends," Reuters reported.

"Somebody ran into the house to say one of the boys had been dragged into a white van, so (Muhammad's) mother called the police," the cousin, Naima, told Reuters.

As news spread through the neighborhood early on Wednesday morning, even before media began reporting the kidnapping, Palestinians gathered in the streets of Shuafat.

Instagram user Zalameh captured on video the moment the local mosque announced that Muhammad had been kidnapped.

All day on Wednesday, Israeli occupation forces fired tear gas and rubber-coated steel bullets at residents of Shuafat protesting the killing.

Zalameh continued to post images and video on Instragram and on his @BDS4Justice Twitter account.

This video shows a youth, who Zalameh says was not involved in any clashes, being carried away after being injured by Israeli fire.
US condemnation
"The United States condemns in the strongest possible terms the despicable and senseless abduction and murder of Muhammad Hussein Abu Khdeir. It is sickening to think of an innocent 17-year-old boy snatched off the streets and his life stolen from him and his family. There are no words to convey adequately our condolences to the Palestinian people," the State Department stated.
It is extremely rare for the US to criticize an act of violence against Palestinians. Perhaps the US found it a little easier to do because at least for now the identities of the perpetrators remain unknown.
The statement should be seen as a sign that the US understands that Israel's extremism is pushing the country towards an abyss and something – even if merely words – must be done to "calm" the situation.
US leaders will look at the region and the last thing anyone will want is a rampage by Israel to add to the catastrophes in Iraq and Syria.
But the statement also gives Israel undue credit, noting that "Prime Minister Netanyahu has been emphatic in calling for all sides 'not to take the law into their own hands.'"
It fails to note the principal role of Netanyahu himself as well as other government ministers in inciting and promoting an atmosphere of revenge and carrying out collective punishments against Palestinians.
By targeting all Palestinians during the weeks since the Israeli teens were abducted, the Israeli government is the main role model for any potential lynch mobs.
Because of the systematic impunity for Israelis who perpetrate crimes against Palestinians, there is little chance of a credible, impartial investigation by Israeli authorities.
As Israel is an occupying force, there is no trust among Palestinians for the police, and there will be great fears that Israel will cover up incriminating facts about the crime.
"I don't expect any results," Muhammad's father, Hussein Abu Khudair, 48, told The New York Times after spending hours with investigators.
He told the newspaper he had not been allowed to see his son's body, apparently because it had been burned. But identification was made using DNA samples.
Recall that after Israeli snipers fatally shot two Palestinian teens in cold blood on 15 May, a horrifying act caught on video, the State Department also demanded that Israel investigate.
More than a month and a half later, Israel continues to protect the perpetrators of those crimes without a peep from the US.
When the response is restricted to mere words of condemnation from the US and other governments, that is a clear signal to Israel that it can continue to kill and protect killers with impunity.
Incitement
Writing in Haaretz, Israeli commentator Chemi Shalev drew an association between the Israeli mobs chanting "Death to the Arabs" and attacking Palestinians in the streets of Jerusalem, and what Jews had experienced in Nazi Germany.
Cautious to say that he was not drawing a "parallel" with the Holocaust, Shalev states: "I am a Jew, and there are scenes of the Holocaust that are indelibly etched in my mind, even though I was not alive at the time." The scenes in Jerusalem brought those images to mind, he wrote.
Shalev adds:
But make no mistake: the gangs of Jewish ruffians man-hunting for Arabs are no aberration. Theirs was not a one-time outpouring of uncontrollable rage following the discovery of the bodies of the three kidnapped students. Their inflamed hatred does not exist in a vacuum: it is an ongoing presence, growing by the day, encompassing ever larger segments of Israeli society, nurtured in a public environment of resentment, insularity and victimhood, fostered and fed by politicians and pundits – some cynical, some sincere – who have grown weary of democracy and its foibles and who long for an Israel, not to put too fine a point on it, of one state, one nation and, somewhere down the line, one leader.
Two disturbing examples were highlighted by Israeli blogger Elizabeth Tsurkov.

Alluding to a biblical story, Noam Perel, the director of World Bnei Akiva, a Zionist youth movement, and a settler in Hebron, called on Israel to slaughter hundreds of Palestinians.

"Now is the time to go crazy," Israeli politician Uri Bank wrote in a 30 June Facebook posting.

Bank, secretary-general of the Habeyit Hayehudi (Jewish Home party) faction in the Israeli parliament, called on Israel to annex the occupied West Bank, execute all Palestinians in Israeli prisons for murder, and deport families of "terrorists" to Gaza.

This incitement continues relentlessly, on Facebook, including a page called "The people of Israel demand revenge.

It and other pages with the same or similar names contain a constant stream of images posted by Israeli soldiers of themselves or their weapons along with handwritten signs demanding blood and inciting violence.

In this image, the bullets spell out the word "revenge."
The blogger Elizabeth Tsurkov has collected more of these disturbing images here.
Tags